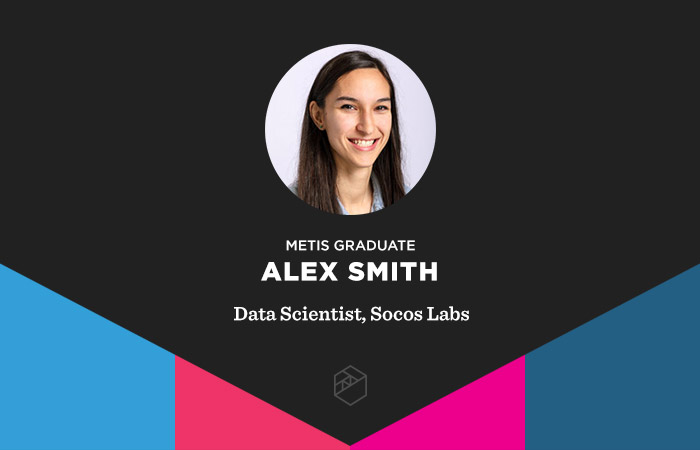 The concept of Artificial Intelligence suddenly grabbed the attention of bootcamp graduate Alex Smith. Questions started running through her mind: What does it mean to be intelligent? Are trees intelligent? Are rocks intelligent? Can we create systems that are intelligent? 
At this point, she was working as a graphic designer and behavior therapist, having graduated from Pomona College with a degree in Studio Art and a minor in Psychology. She started to do some self-study, listening to podcasts and finding other resources that helped her understand AI and how the basics of data science both overlap and differ from it. 
"The more I learned about data science in particular, the more I became convinced not only of its power to solve difficult problems but convinced that I wanted to use this incredible toolset to solve problems that I care about," she said. 
She was drawn to the idea that data science could expand the possibility of working on a variety of problems over time, as opposed to another career path that might limit that possibility due to industry or job specialization. What was then just the spark of an idea is now her reality; she's a Data Scientist at Socos Labs in Berkeley, California, where she works on projects spanning economics, entrepreneurship, diabetes, health, and meta-learning. 
"We work on several projects simultaneously, which is both a challenge and a blessing. It keeps me constantly learning and never bored," Smith said. "We aren't a profit-driven company. We give away what we make for free. We are a think tank. I love that our company works on problems because we believe we can make a difference in people's lives." 
To get to where she is now, Alex needed a significant amount of training, especially considering her humanities background. She continued with her self-study regimen and was eventually accepted into the bootcamp, when she was advised by the Metis Admissions team to consider taking the Introduction to Data Science bootcamp prep course first in order to get up to speed on needed technical skills.
"Since the cost of the class could be put toward the cost of the bootcamp, I thought it could be a great fit for me – and it was," said Alex. "The Intro course gave me hands-on experience with pandas and data science in Python, which was exactly in line with the bootcamp program. Learning this ahead of time gave me a much-needed confidence boost, especially at the start of the bootcamp, because of my humanities background." 
With that head start, she proceeded through the 12-week bootcamp, learning new skills, and working on projects to put them to work. For her final project, she tackled Toxic Waste Removal: Classifying Harmful Comments on the Web, which aimed to address the pervasive issue of verbal abuse online and explore what could be done (with data science) to solve it. 
"My best projects were the ones in which I spent a good amount of time exploring where my interests, good data, and the concepts of the project aligned. When your heart is in it, your mind is too," she said.  
At Socos Labs, her heart and mind are definitely in it. She's technically the only Data Scientist on the team, though she works with a boss who has decades of experience in computational neuroscience, machine learning, and research. 
"I deal with all things data, which varies from project to project but includes finding data sources, creatively combining datasets to extract useful insights, and visualizing data in an effective way," she said.  
At a high level, she describes what she does as problem-solving.

"I solve problems all day long, whether it's how to identify whether the Dani Easton in one dataset is the same person as Danielle P. Easton in another dataset, how to make an economic model resilient to floor effects and outliers, or how to most effectively explore the performance of different populations of entrepreneurs through visualizations," said Alex. 
She's using Python 95% of the time, regularly relying on pandas, NumPy, and several other libraries covered in both the Intro course and bootcamp. From Alex's vantage point, as someone without a technical background in education or profession, data science is more accessible than people might think. 
"What I love about data science is that it takes quantitative and qualitative skills to be successful," she said. "And those skills can be learned from many different experiences and backgrounds.
"
_____
Want to read more alumni stories? Visit here.
---