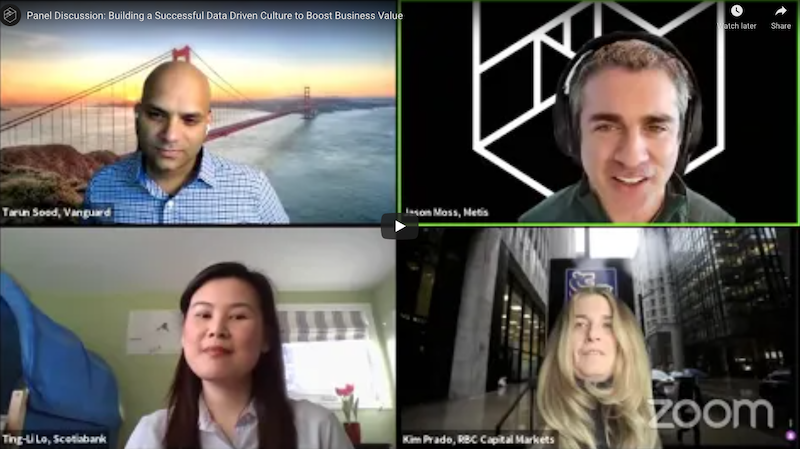 Metis President and Co-Founder Jason Moss recently moderated a panel discussion at CDAO (Chief Data and Analytics Officers) Financial Services Live, talking with data and analytics leaders in the financial industry about what it takes to build, cultivate, and make the most of a data-driven company culture. The discussion, called Building a Successful Data-Driven Culture to Boost Business Value, featured Jason in conversation with Ting-Li Lo, Director, Enterprise Portfolio Management at Scotiabank; Kim Prado, Global Head of Client, Banking and Digital Technology at RBC Capital Markets; and Tarun Sood, Head of Data and Analytics at Vanguard. 
During their time together, they talked about identifying the successful building blocks for a data-driven culture, what it looks like in practice, and how it needs to extend beyond the internal team and out to the consumer, too. 
At Scotiabank, this customer-centricity was recently applied by the analytics team when they used artificial intelligence to identify vulnerable customers at the onset of the COVID-19 pandemic. Ting-Li Lo discussed how the team relied on their strong internal data-drivenness to use multi-channel outreach campaigns to help consumers navigate this period of financial uncertainty. 
Hers is just one example of many discussed during the panel. All three panelists touch on this type of customer experience at their respective financial institutions, and they dive into how others can build cultures that improve outcomes for all, internally and externally. 
It's a fascinating conversation and we invite you to watch the recording in full here.
---