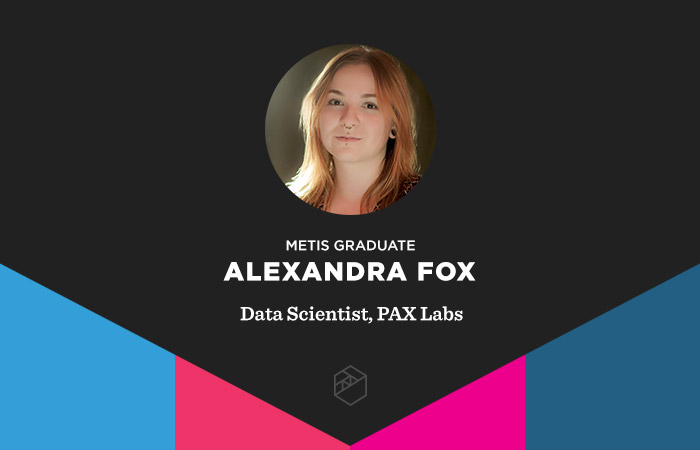 If such a thing as a "traditional path" to data science exists, Alexandra Fox didn't take it. 
She earned a GED rather than pursuing a high school diploma and chose to enter the software industry immediately afterward instead of attending college. The bulk of her professional experience before applying to Metis was as a self-taught Python developer, and her interest in data science came from an on-the-job experience that required her to report on user behavior and track common application issues.
"I wanted to be able to understand and then provide insights into how our users behave, what issues they faced most often, and what might deserve additional resources," she said. "The clear way to accomplish that was to gather and analyze data more effectively and to improve on my skills in that domain." 
She began considering educational options that could provide professional guidance. 
"I understood that I needed a way to prove to employers that I had the foundational statistical, probability, and maths education to serve as a competent scientist without having obtained a diploma, so I sought the most efficient way to communicate that competency to prospective employers," she said. 
After thorough research, she landed on Metis, which she describes as a "period of intense cognitive load" that required her to firmly establish a plan for how to effectively work through the material with a focus of landing a data science job. 
"The most successful bootcamp graduates are the ones who have a game plan going in...it is best to plan for the deluge of information you're about to try to collate and internalize," she said. "Having an approach of just figuring it out as you go – not considering what projects you want to complete, what your job search strategy would be – could lead to a lengthy job search afterwards." 
She planned and set her goal: to get a job as a data scientist immediately after graduation. She considered what she wanted out of the experience, figured out how to effectively prioritize to hit the goal, and proceeded full steam ahead. 
A significant part of the process was building up her project portfolio.
"I took a very intentional approach to my project selections, making sure that I worked with a large variety of machine learning algorithms used in industry in order to show that I was well-rounded and could work on any problem, while keeping them relevant to my personal interests to stay as engaged as possible," she said. 
For her final project, she created a Github user recommendation system that allows users to explore other, similar users in order to facilitate creativity when searching for a new data science project for development. For another bootcamp project, she created Robot Frost, which utilizes natural language processing (NLP) techniques and recurrent neural networks (RNNs) "to generate epigrams (similar to poems) in the styles of different historical and contemporary writers," she explained. 
In sum, her plan worked. She graduated and got her current job as a Data Scientist at PAX Labs within weeks. 
"I decided to take a non-traditional approach to the job hunt, targeting companies that seemed to value creativity and unique perspectives so that I could play to my strengths in the tech field," she said when explaining the details of her plan. "I also wanted to target companies that built things I cared about personally. I find that showing excitement about a company is one of the most valuable skills someone can have as an interview candidate - nothing stands out more to an interviewer than being excited about the product and being able to discuss it in depth." 
At PAX Labs, a consumer electronics company with the mission of establishing cannabis as a force for good in the world, Fox is one of three members of the core data analytics team. Each member performs data science functions like data cleaning, analysis, algorithm training, and more, and Fox's role also involves data engineering and the use of back-end infrastructure skills like pipeline building and data collection due to her previous professional experience. 
"We operate as a lean team at what is still a growing startup," she said. "We utilize a very bleeding-edge technical stack for our ETL (extract, transform, load) and analysis, so my day-to-day work often involves software projects that aren't well documented, are in beta, are still being deployed internally, aren't widely adopted yet externally, and so on."
When her initial interest in data science started to grow and eventually led her to the bootcamp, this is just the sort of edge-teetering work that Fox hoped to find as a working data scientist. 
"One of my favorite parts of working at PAX is the attitude held internally toward doing things the right way instead of the easy way," she said. "For the data science team in particular, in a field that is rapidly changing and seeing new tools built all the time, this means helping to improve and create open-source projects and developing with top-of-the-line tools. This is part of PAX's mission to be a force for good in the world – a sentiment that attracted me to this role and PAX in general." 
_____
Read more alumni stories here.
---