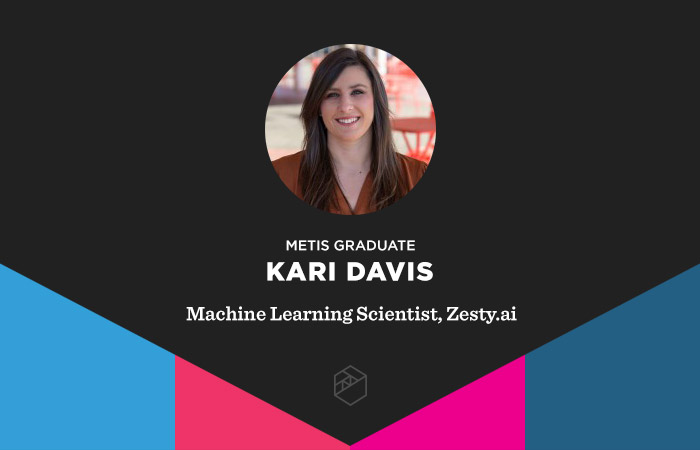 For Kari Davis, there's before the bootcamp, and there's after. A clear demarcation between two paces of professional life – one slower and more bureaucratic, the other fast-paced and constantly changing. 
Before, she worked in government as an Associate Insurance Rate Analyst for the State of California for seven years, heavily drawing upon her knowledge gained as a math and statistics major in college. After, she became a Machine Learning Scientist at Zesty.ai, a risk analysis startup operating at breakneck speed. 
How she got from Point A to Point B involves a significant amount of searching, questioning, and studying. 
"Probably for five of those years working in government, I was looking at data science and just wasn't sure about making the jump, because I didn't have the programming background," she said. 
Nonetheless, her mind routinely wandered back to data science as she thought of projects she could do if only she had more of that programming knowledge to lean on. She started taking Python courses online and some months later, she attended a Metis Bootcamp Info Session, still unsure of what she was ready for. 
"Someone at the session recommended the Metis Introduction to Data Science course that was starting in a month or so," she said. "I ended up taking that because I felt like it would help me really know if I was ready for the bootcamp." 
As it turned out, the six-week intro course gave her that peace of mind and helped her understand what to expect from the bootcamp. 
"Having gone through the bootcamp too, I can say that the course was very similar to the bootcamp, but in a less detailed way," said Kari. "It made me feel like I could do it. I had been most worried about the coding, so I thought, if I can do the amount of Python required for the intro course, I feel like I'd be ready to apply." 
She applied to the next available bootcamp and was accepted. During her 12 weeks of data science study, she expanded her skills and knowledge by way of lectures, projects, hands-on skills-building, and also through conversations with classmates. 
"I was more weighted on the math and stats side, and there were classmates who had computer science backgrounds," she said. "Everyone in the bootcamp was so helpful with their strengths, and I think it was all about learning what everyone's strengths were and asking the right people the right questions."
Now at Zesty.ai, she's again working in the insurance space, though in a much different capacity. She's now building machine learning models using satellite imagery to determine different aspects of property insurance to help clients (insurance companies) better rate their policies. Zesty.ai is largely focused on its main product, which was interesting enough to convince Kari to take the job in the first place. 
"It's a wildfire model that's going to predict – based on where your house is located and different aspects of the house that we get from satellite imagery – how likely your property is to burn down in a wildfire," she explained. 
The project, and the job as a whole, is a challenge, she said – and that's a good thing.
"I'm really happy with this job because I was looking for a position where I could be doing these machine learning models. I've built four models already, which is crazy fast," she said of her seven months on the job. "In reality, it's the same pace as the bootcamp almost. That's startup life. Very different from my past government work, and I like the pace of this a lot better; it's more exciting. I'm learning a lot and that's what I need to be doing right now."
And just as she did in the bootcamp, she enjoys the fact that data science enables her to do that learning communally. 
"I think the coolest thing about data science is that it brings people from different backgrounds together who have different perspectives," she said. "It's super helpful when you're working on projects to talk to more than just yourself."
_____
Want to read more alumni stories? Visit here.
---