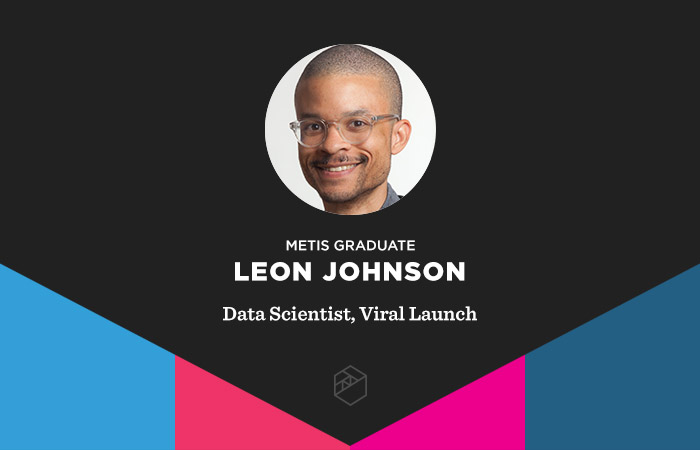 Leon Johnson has some advice for incoming bootcamp students: "Learn, viciously."
"While in the bootcamp," he said, "commit all your brain space to learn anything and everything you can about data science. Whether it's part of the course curriculum or not, use the time there to investigate and attempt to master new subjects."
Johnson is no stranger to dedicating himself in full to professional and academic pursuits. After completing an undergraduate degree in Mathematics at Purdue University, he was commissioned into the Air Force as an Operations Research Analyst. There, he learned how statistics could be applied to the military world.
"It was interesting to perform studies and analysis in a way that could benefit the training in the Air Force for years to come," he said.
But even with a lasting, positive impression of that work, about halfway through his service, he realized that a long term military career wasn't for him.
"I needed to find a way to translate my love for mathematics and philosophy, or abstract thought, into a civilian career. I did some reading into mathematics and statistics careers, A.I., and the developments being made in the field, and data science became infinitely interesting to me," said Johnson. "It was a place where I could code, while also thinking in abstract ways, using mathematics all the while. It seemed perfect."
At this juncture, when the idea of a data science career began to solidify into a new and true goal, Johnson was in the midst of pursuing a Master's degree in (Pure) Mathematics at Texas A&M. He started thinking about his next steps framed as a trifecta:

Military experience + Master's degree in Math + (as yet undetermined additional practical training) = data science career.
"I needed more true experience with data science and machine learning before I could really market myself as a data scientist," he said.
While pursuing that third piece of the pie, he started learning Python on his own, taking online courses and considering certificate programs at universities. Finally, however, serendipity led Johnson to Metis when his landlord – who happened to know someone working at Kaplan (Metis' parent company) – mentioned the bootcamp. Johnson looked into it, applied, and was accepted.
During his 12 weeks in the bootcamp, he worked on a number of interesting projects. He investigated the relationship between profanity in musical album reviews and consumer demand; he looked into whether or not tone used in news/media text could determine a relationship between events and religious leaders; he scraped philosophical conversations found on AskPhilosophers.com to create a visual representation of topics.
"My final project involved using religious texts to create a generative NLP (Natural Language Processing) model that could generate text given about a sentence length seed," said Johnson. "I decided to investigate these because of my interest in philosophy and music. NLP and conversational machine learning is becoming increasingly intriguing to me, and the implications of the fields as they relate to greater society are just groundbreaking. I wanted to use Metis as my start to learning more," said Johnson.
After the bootcamp, he landed his current role as a Data Scientist at the growing startup, Viral Launch, based in Indianapolis. The company helps entrepreneurs and sellers grow their businesses on Amazon via a suite of software and service solutions.
"Working in a startup environment is a lot of fun in that the projects I work on will be integral to the success of the company. When I'm coding a prediction algorithm, I know in the back of my mind that thousands, or even millions, of people will be using a product that depends on my work," said Johnson.
On a normal day, he starts work by coding an ongoing framework. He prefers using JupyterLab, Visual Studio Code, and PyCharm. Typically, his computer is running one of these for 85-90% of the day, he said. But his responsibilities certainly don't end there.
"The data science team at Viral Launch has a wide range of responsibilities, and right now, we're still a new group, so I can only expect the variety to grow," he said. "As it stands, a lot of the work we do is prediction, but my supervisor is working on an NLP-based project, which he'd like us all to get involved in sooner than later."
Viral Launch's philosophy includes a strong bent toward free choice when it comes to how the team gets work done, meaning everyone can choose what tools best suit their needs.
"Right now, I'm using SKLearn, LightGBM, and XGBoost, and I foresee myself using Keras and NLTK/Gensim pretty soon," said Johnson.
And that bent toward free choice extends to ways of thinking, too. When not coding, Johnson's able to exercise a part of his brain that he loves to work out. On a near-daily basis, he's having analytical conversations with the CEO, Chief Data Scientist, and/or other members of the data science team about current projects or new projects and ideas.
"We brainstorm, and we hammer down the details of more amorphous ideas that have been in the hopper for a little. In conversation and project planning, we use applied machine learning theory, a bit of statistics (just enough to discuss abstract concepts in data), and we're starting to get into Graph Theory," he said. "Our company is uniquely poised such that the Data Science team can be small but far-reaching. So, we are fortunate enough to be able to use all kinds of skills and techniques, and we can research more if needed. Having an unstructured mathematical mind is valuable when working here."

__________
Interested in reading more about the student/alumni experience? Check out more stories here.
---