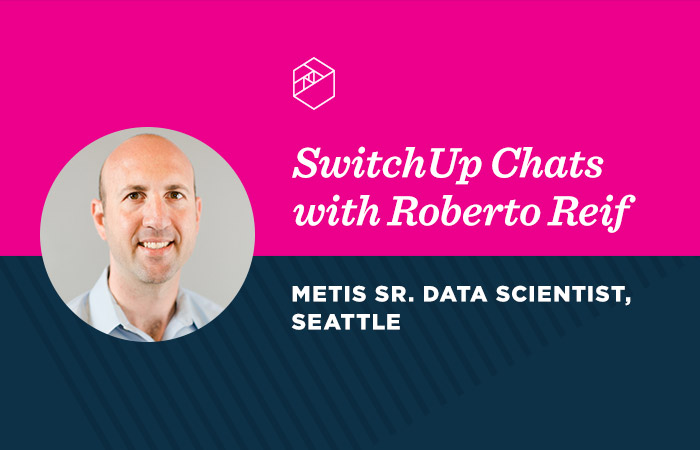 This post was written by Erica Freedman, Content Specialist at SwitchUp.
Roberto is a scientist and instructor at Metis's Seattle location. He has a strong background in data analysis and image/signal processing. His professional career has included work in applications for healthcare, IoT, and business intelligence marketing. His studies included electrical and biomedical engineering.
Working at Metis combines many of his interests, allowing Roberto to lecture, mentor students as they develop their data science projects, work on personal projects, and learn about the newest technologies in the field.   
His preferred tools are Matlab, Python, and Tableau. Read more about his journey to Metis and find out which companies hire Metis graduates in our interview below:
Your Ph.D. is in Biomedical Engineering. What skills from this background help you to help future Data Scientists?
The most important skill that I gained throughout my Ph.D. is to learn how to apply scientific processes to solve problems.  We always start with a hypothesis and are constantly trying to prove or disprove it while gaining new insights along the way.  Data Science is also a science, and the same principles used in research (whether it is in Biomedical Engineering or another field) are applied here.
How did you end up teaching at Metis? What was your journey?
My career has taken several twists and turns.  I have worked in academic institutions, startups, and large corporations.  The common thread throughout is that I have always been surrounded by data.  I love making conclusions backed up by data and communicating these findings.  Similarly, I have always been passionate about teaching.
I was lucky to have been considering a teaching job at the same time that Metis was opening its newest campus in Seattle.  Working at Metis combines many of my interests: it allows me to lecture, mentor students as they develop their Data Science projects, work on my own personal projects, and learn about the newest technologies in the field.   
Do you feel students without a Ph.D. will succeed at Metis?
Absolutely!  We have had successful students with a wide range of degrees and backgrounds.  A Ph.D. is an impressive degree; however, you do not need a Ph.D. to know how to work hard, be a self-learner, and be a problem-solver.
What qualities do you find make up the most ideal student for Metis?
The most important quality I look for in a student is GRIT.  Working on Data Science projects can be a very frustrating process.  You do not know if things are going to work, and you are constantly trying new models, algorithms, tools, etc.  More often than not you are going to hit a wall. The ability to take a step back and power through any problem after failing many times is the most important characteristic that distinguishes students that succeed.  The more challenging a problem is, the more rewarding it becomes at the end.
What do you consider the strongest parts of the Metis curriculum?
The strongest component that we offer in our curriculum is requiring students to build a portfolio of five projects throughout the Bootcamp.  Students are free to pick data sets and challenges that are exciting to them. During the Bootcamp, they learn to embrace the concept of the MVP (Minimum Viable Product), through which they quickly produce an end-to-end project.  This allows students to let go of their natural tendency of perfectionism and focus on practicality, which is a skill required in the real world, where deadlines are short.
You have been a teacher at Metis for over a year. How many students have you seen graduate the program?
Since the start of the Seattle campus, we have graduated 29 students.  We will be graduating more in June.
What is your favorite success story?
There are so many success stories, and it is hard to pick one.  I'm always impressed by the type of companies that hire Metis alumni.  In Seattle alone, they have been working at Amazon, Capital One, Gates Foundation, Indeed, Infosys, Liberty Mutual, Microsoft, Zulily, and others.
One of the most rewarding parts of the journey is seeing how students tackle projects that initially seem impossible. Within 12 weeks, they can accomplish it.  A few examples of these projects include:
Do you have any advice for future students?
I'll use a quote from author Karen Lamb: "a year from now you may wish you had started today."  This quote is on one of the walls at our Seattle campus and I read it every day. My advice for anyone looking to start a career in Data Science is to not procrastinate.  Feel free to reach out to us, do your due diligence, study hard, and take risks. We are more than glad to have you visit our campus, have you talk with our instructors and staff, connect you with our alumni, and more.  It may feel scary today, but it will be gratifying tomorrow.
Do you have any advice for students who have already graduated?
My advice for all our alumni is to keep learning and networking.  Some of the tools and algorithms that we use today will become obsolete tomorrow, so we need to keep up to speed with the latest trends.  The jobs of tomorrow may not even exist today, so embrace the change. Also, you never know when you will need to tap into your network so keep nourishing and growing it.  Metis has an amazing alumni community and a significant percentage of our alumni are hiring each other.
_____

Read what Metis alumni have said on SwitchUp.
---