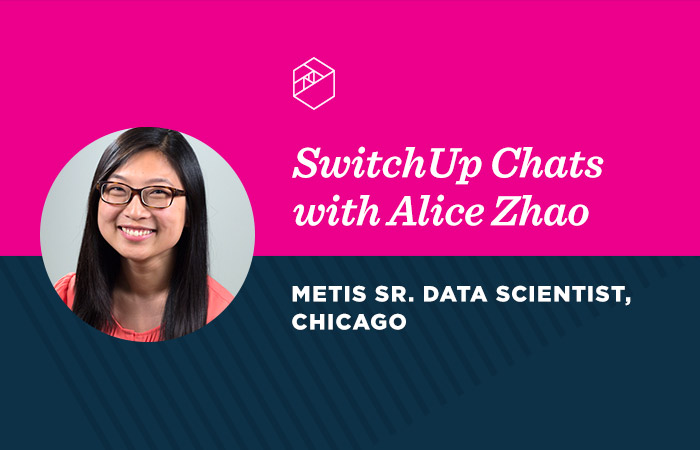 This post was written by Erica Freedman, Content Specialist at SwitchUp.
As a Sr. Data Scientist at Metis, Alice currently teaches the 12-week data science bootcamp at the company's campus in Chicago. She is passionate about teaching, making complex things easy to understand, and supporting women in STEM.
Prior to Metis, she started at Cars.com as their first data scientist. She also co-founded an education startup, Best Fit Analytics Workshop, to teach data science and R to professionals at 1871 in Chicago.  She began her data science career after graduating from the first Master of Science in Analytics cohort at Northwestern University.
In her spare time, she blogs about analytics and pop culture on A Dash of Data. She has been a panelist at Engineering Career Day for Girls, an opening remarks speaker for the Northwestern Analytics Exchange, and a presenter for the Demystifying Data Science conference. Learn more about her experiences as an educator at Metis in our interview below:
Your Masters is in Analytics. What skills from this background help you to help future Data Scientists?
One of my key takeaways from the program was the importance of having a good balance of programming, math, and communication skills. As an analyst, you need to be able to use your programming skills to wrangle data, math skills to find patterns in the data, and finally, communication skills to clearly share your ideas. Data scientists are trained to deal with larger datasets and use more complex algorithms, but at the end of the day, that balance is still crucial.
How did you end up teaching at Metis? What was your journey?
After completing my master's program, I was hired by Cars.com as their first data scientist. A lot of my colleagues were interested in learning about the field, so I started holding workshops in the office to teach people about data science. That then led me to start my own data science education company, Best Fit Analytics, along with two of my former classmates. We taught weekend courses to professionals at 1871, a startup incubator in Chicago. I really enjoyed teaching part-time, so when Metis reached out to me to teach full-time, it was an offer I couldn't pass up.
Do you feel students without an advanced degree can succeed at Metis?
Absolutely. We have a good mix of people with undergraduate and graduate degrees in the bootcamp, with a range of work experience, and from a variety of fields. I always go back to the data science Venn diagram - programming, math, and communication skills. If a student comes to Metis strong in two of the three skills and has a basic understanding of the third skill, we can help them develop that third one and become a well-rounded data scientist. These skills don't necessarily have to come from an advanced degree, but can also come from work experience or self-study.
What qualities do you find make up the most ideal student?
The students who we accept into Metis are motivated to learn and ready to take on the challenge of learning data science in a short amount of time. While technical skills are a must for data scientists, the students who stand out are the ones with strong soft skills as well - those who are coachable and willing to take feedback from instructors and peers, can take an ambiguous problem and scope out a project, and can start simple and iterate on their projects.
What do you consider the strongest parts of the Metis curriculum?
What makes Metis different from a typical academic setting is the focus on practical experience. Over the course of 12 weeks, we have students work on 5 projects for their portfolio. A typical day looks like this - in the mornings, we lecture on the theory behind an algorithm or technique, and in the afternoons, the students apply it to the project they are working on. At least half of each day is dedicated for students to ask instructors questions about their projects. I believe the constant feedback that students get from instructors is what makes it possible for students to learn so quickly and become job ready in a short amount of time.
You have been a teacher at Metis for almost a year. What has been the most rewarding part of teaching at this program?
That's a tough one! There are three things that I'll mention that make my job especially rewarding. (1) It's an amazing teaching environment where both the instructors and students are all highly motivated and invested in helping the students succeed. That's very hard to find. (2) I love watching students present their final presentations on Career Day. I've had several students watch Career Day presentations before joining Metis and thinking, there's no way I can do that. But then after the bootcamp, they complete projects that they didn't even know were possible. (3) When graduates send me notes telling me they've gotten their dream job and thank me for coaching them through their journey, I feel especially proud.
What is your favorite success story?
One of my students had recently finished a graduate program in a theoretical field and was looking to transition into industry. While technically strong, he had a very hard time planning out a project and summarizing his thoughts. His first few presentations were difficult to follow and one of the weakest in the class. My co-instructor and I gave him feedback early and often and made sure to continuously coach him on the business skills, and one day near the end of the bootcamp, it suddenly all clicked for him. He ended up having a stellar final project and was one of the first students to get a job after the bootcamp. He told us that his Metis experience was the best 3 months of his life.
Do you have any advice for future students?
For students who are deciding whether to do a bootcamp or not - I encourage you to talk to bootcamp alumni in your network to see if it's the right path for you. For students who are deciding whether to choose Metis versus another bootcamp - I recommend that you talk to the admission team, evaluate the admission processes, and visit the campuses of various bootcamps and see which one best fits your style. For students who are about to start Metis - We hit the ground running the first week of bootcamp, so come prepared to work hard!
Do you have any advice for students who have already graduated?
I always tell my students two things on graduation day. (1) Look back at where you started day 1 of the bootcamp. Look at where you are at the end of the bootcamp. It's amazing how much you can grow and accomplish with the right mindset, in the right setting. Continue to grow and don't compare yourself with other people, but rather - are you better than you were a few months ago? (2) Keep in touch with the amazing network that Metis provides. The Metis alumni network is a strong and welcoming community. Looking for a new job? Need help on a work project? Want to meet up at a conference? The Metis community is always ready to help and connect.
_____

Read what Metis alumni have said on SwitchUp.
---