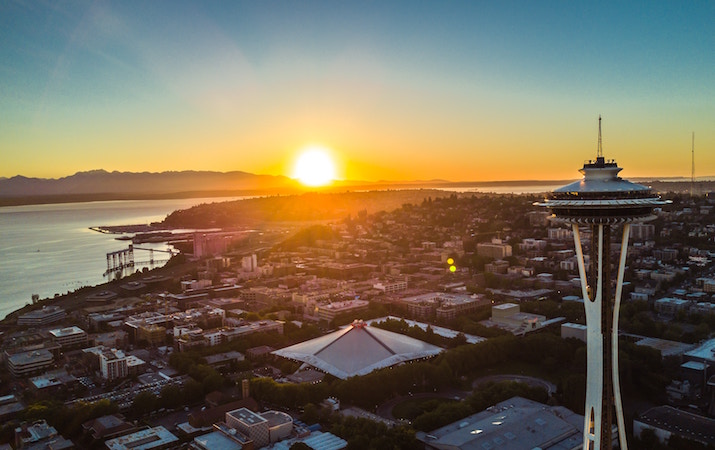 Photo by Alex Mertz on Unsplash
This post was written by Marybeth Redmond, Metis Career Advisor in Seattle. 
When I was young, I could spend hours and hours doing puzzles. I loved to match things and find ways to make it all fit together.
I still love this type of work, and now it comes in the form of helping people find matches in their careers. After 20 years of technical recruiting, I'm now a Career Advisor at Metis in Seattle, where I help our bootcamp students and alumni prepare for the job market and land their dream data science jobs in the Seattle area.
But let's face it: today's job market is confusing – perhaps even more so in data science, where job titles are all over the map, needed skill sets aren't always clear in job descriptions, interviews are famously intense, and so forth.
It's my job (and my joy) to effectively navigate the tricky waters of the job search or career transition for our students and graduates.
Why is Career Coaching Valuable in Data Science?
Completing an immersive data science bootcamp is challenging – and so is landing your first data science job. Many underestimate the amount of work it takes to find the right job for them, because they run into conflicting information. For example, LinkedIn's latest Workforce Report for Seattle shows a skills shortage for Data Science jobs in the city, indicating that local employer demand exceeds local worker supply by nearly 17,000.
So finding a data science job in Seattle should be easy, right?

Wrong!  
I witnessed this disconnect between those hiring and those seeking jobs time and time again while working as a recruiter. I was concerned then that my hiring managers had unrealistic expectations of what a candidate should have walking in the door, and my candidates were often left scratching their heads as to why they didn't get the job. I decided to change from recruiting to career coaching so I can now give the feedback and advice I wasn't able to give as a recruiter, and so I can help close the gap between hirer and hiree.
In data science, one way to fill that gap is to focus on hard and soft skills simultaneously, with a particular eye on communication and storytelling. Data scientists are technically-minded by nature, and many are also gifted storytellers when it comes to data, but telling their own story can be a difficult task. Sometimes the hardest part of an interview is when you're faced with the open-ended phrase: "So...tell me about yourself."
Telling your story with clarity and purpose is important, and as a recruiter, it used to give me pause when candidates couldn't accomplish that. Having a full-time career coach allows our bootcamp students and graduates to prepare for this question and much more during and after the bootcamp. All the while students are working to build data science skills and projects, they're also learning about behavioral interviewing, networking, and more, all of which takes time and practice.
How Does Career Support Work at Metis?
We believe career coaching is a must when it comes to data science, and we're the only bootcamp that provides it full-time and onsite. In Seattle, I provide hands-on training in Networking, Interviewing, Resume and Cover Letter Writing, LinkedIn Management, Salary Negotiations, and Job Search Tips and Tricks. If this sounds like a lot...it is! But we cover it as you go using our careers curriculum, which directly lines up with the progress you're making on the data science curriculum.
Additionally, I coach each student 1:1 during the bootcamp and after until they land their first data science job. And in actuality, support from Metis never really stops. We have a strong alumni community that keeps everyone connected. I love seeing how much our alumni help each other when they have a problem to solve at work and ask for help on our alumni-specific Slack channel. We also host fun alumni events where grads can come and share with their data science journeys with current students, or simply network with them while catching up with other alumni.

Any Job Searching Tips and Tricks for Seattle Specifically?
Here's a huge one: Network, Network, Network! There's an expression here that Seattle is a "big city, small town." As a recruiter, I saw that to be true time and time again; the power of personal referrals is real. If someone referred a candidate to me, that resume went to the top of the pile, meaning it's important to make connections when and where you can. These in-person connections, which can take time to build, are worth the effort. Attending Meetups around Seattle is a great way to network and find relevant groups to join. (Our very own Seattle Meetup group has 3,000+ members and we host events regularly!)

Where Do Some of Our Seattle Grads Work Now?
They're spread out in a variety of industries and companies. We have grads working in Data Science or Data Analysis roles at Textio, Indeed, Zulily, Amazon, Starbucks, Outreach.io, Blueprint Technologies, Element Data, Conversica, Centurylink, AIM Consulting, and the list keeps growing. Cyrus Rustomji (Seattle bootcamp graduate, Spring 2018) said it best:
"The career support staff makes sure to get you connected with individuals at companies that you are interested in. The staff helps you get prepared for interviews by setting up frequent mock interviews. Joining Metis was an overall positive experience, and it changed my life for the better."
_____


Learn more about the Metis Data Science Bootcamp in Seattle here. And keep in mind, the Early Application Deadline for our next bootcamp in Seattle (as well as all our other U.S. locations) is May 6th. 
---