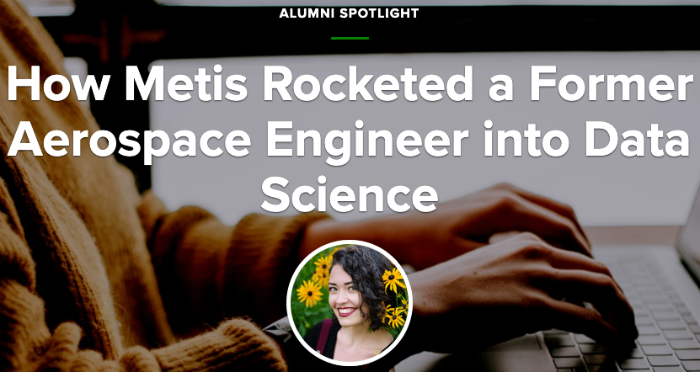 Recent bootcamp grad, Anterra Kennedy, sat down with the Course Report team to discuss how her Metis experience fueled her Data Science career. A former aerospace engineer, Anterra began teaching herself Python and then enrolled in our online Data Science Bootcamp to establish the foundation she needed to start her data science career. 
When asked why she chose Metis as the data science bootcamp, she stated:
"The curriculum at Metis really stood out. Originally, I was planning to self-teach in order to launch my data science career. Based on my own research, I laid out a curriculum for myself that I thought would be effective. When I discovered the Metis Data Science Bootcamp, it's curriculum included everything that I had identified plus so much more! I realized that the robust nature of their program, taught at an accelerated pace by quality instructors, would get me where I wanted to be faster. I would also learn far more tools than if I learned on my own."
Anterra was also very candid when asked how Metis prepared her for the job hunt and noted:
"The support from the Metis careers team was exceedingly helpful. My career advisor walked me through what an interviewer is looking for, like how they want to learn how I think more than they want me to get the right answer to a technical question. This coaching shaped how I went into my interviews. During my interviews, I felt confident to ask questions, walk through my thought process out loud, and ask for guidance when I didn't know the answer. 
I really liked the Round Robin Day that Metis hosted. We went through mock interviews in a high-pressure environment that focused on SQL questions, background discussions, and data science methodology. Beyond the career coaching, the type of work that we did during the bootcamp and working with people through hard problems was great interview prep!"
We appreciate Anterra sharing her experiences so that future Metis students know what it's like to join one of our programs. We highly encourage you to check out the full interview over on Course Report for more insight: How Metis Rocketed a Former Aerospace Engineer into Data Science! 
---
Want to read more about Metis alumni? Then check out our other Alumni Stories! 
---