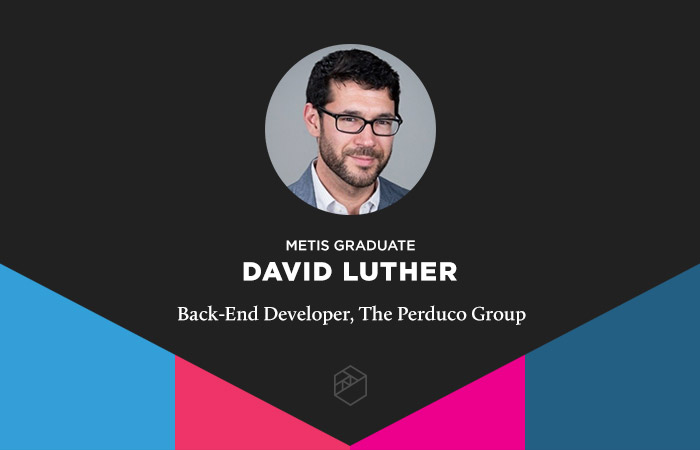 David Luther had been on the road for nearly two decades, touring with musical acts like Meat Loaf and Dweezil Zappa, singing and playing saxophone, keyboards, and rhythm guitar to sold-out crowds around the world. These unparalleled experiences allowed him to make a living doing something he loved, travel to places far and wide, and meet fascinating people along the way. But in time, he began to crave a change. The constant movement and financial instability of the road led to daydreams of something different.
He began thinking back on his time at the University of Michigan, where he graduated with a Jazz Studies degree but had also been heavily consumed by his Physics and Math classes, feeling a natural pull toward the subjects. He'd intended to double major, but the timing wasn't right.
"There were simply too many things to explore at that point," he said of his time in college. "But after over a decade of touring professionally, I got to the point where I thought: remember that time you wanted to get a Physics degree? Maybe it's time to explore some other options."
From there, he launched a two-year process to figure out what steps to take next, all based on the following foundation: he knew he viewed problem-solving from a data-first perspective and also knew he liked to build things from the ground up, particularly in the form of programming.
"As I talked to people who work in those domains, I started to learn about what data science is," said Luther. "It sounded pretty interesting. So for the next six or eight months, I started teaching myself Python, re-learning linear algebra and stats, exploring more about machine learning, and eventually came across Metis, which helped me channel what I needed to learn in order to get in."
But at first glance, he was suspicious of the bootcamp model in general, especially given the relatively brief 12-week timeframe.
"My dad has a master's degree in Math," explained Luther. "He was a programmer for many years, and then a Manager of Information Services — what we'd now call Director of IT — all of which required a deep knowledge that can't be internalized in three months."
In time, however, his concerns eased, as he read online reviews, watched video interviews with staff and graduates, and spoke directly with Metis alumni. 
"People were very open to talk to me and allay my concerns. The Metis team put in touch with other alumni who had come from similar backgrounds and who made such dramatic transitions," said Luther. "In the end, I was the most convinced that the Metis curriculum and approach was the most comprehensive and that it focused on putting people out there who could work and add value right away."
And that last part was important because at that point, Luther had already taken a while to figure out his new career path and he wanted to start working as soon as possible. Within months of graduating from our bootcamp in Chicago, he landed his current role as Back-End Developer with the Perduco Group, a company based in Dayton, Ohio for which he works remotely in Chicago.
He's a member of the company's sports team, made up of seven people developing analytics tools for many aspects of the sports world. His work focuses on fantasy and gaming intelligence websites, which summarize past results, help users put together winning lineups, and identify winning trends, among a number of other features.
"We're trying to predict: what are the scores going to be? How are all the players going to do? Who's going to win and lose? I am currently learning the web framework and developing new code that supports the API," said Luther, who's been on the job for 6 months.
"It's a healthy mix of maintenance and new construction. I'm writing Python code and working with a PostgreSQL database on a day-to-day basis," he added, "My first task was to essentially convert one database in one format into a new one in a different format and then migrate all that data over. Lot's of data engineering and backend work."
Additionally, given the Supreme Court's recent (May 2018) decision to legalize sports gambling, Luther and his team are building out a new API to support a website geared toward this development, including a totally new suite of sports gaming tools.
Though not historically a sports fan ("I've been in music land for so long," he said), Luther is learning to appreciate the intricacies of various games and leagues as he gets increasingly involved and engrossed. But more importantly, his job at Perduco enables him to build things on a regular basis, which is something he sincerely hoped to find in a second career.
__________
Interested in reading more about the student/alumni experience? Check out many more stories here.
---