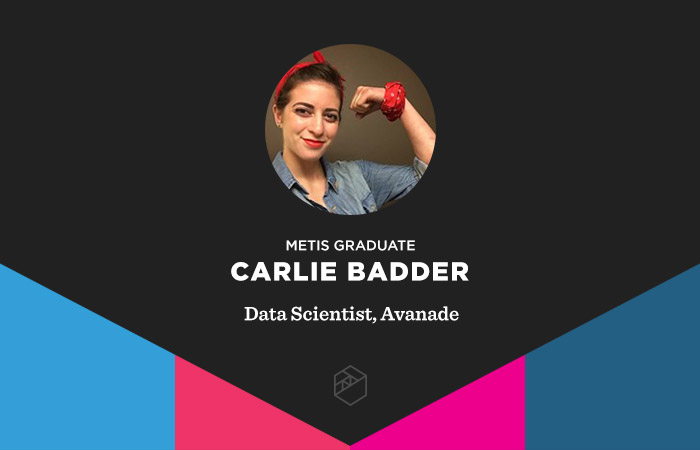 Before finding her way to data science, bootcamp graduate Carlie Badder wondered if she'd thrown her career off track by moving cross-country to Seattle. Before the move, she worked as a Research Scientist at a bio-mechanical lab at the University of Pennsylvania, using her Mechanical Engineering degree and diving into her passion for math and problem-solving. After the move, with no ties to area universities, she struggled to find a similar research role. 
To get her footing in a new city, she worked at a local pizza shop. Beyond deepening her love of food and creative cooking, the opportunity afforded her some time and space to deeply consider what she wanted next. 
"I kept coming back to how cool all of the analytics work I did at the lab was," she said. "If I couldn't do it in a lab, I wondered where else were they doing this type of work."
She started asking around, and as it turned out, data science was growing – and growing quickly – in Seattle, thanks to both large corporations and small startups headquartered there. A lot of the analytics work she'd been doing at the lab was data science, though it hadn't been labeled as such.
"Every friend I talked to who worked at Amazon or Microsoft had something awesome to say about data science," she said. "I knew I should look into it because it sounded right up my alley." 
In time, a bootcamp emerged as the next logical step. 
"At that point, I was about 2 or 3 years out of college and didn't want to go back to school. I wasn't financially prepared for that, and I wasn't ready to take off a bunch of time from work to just study," Badder said. "I had heard of other people doing coding bootcamps, but that wasn't the only thing I wanted to focus on. With coding, I felt that I could learn more on my own, but data science was something I wasn't prepared to teach myself." 
After considering her options and reading countless reviews online, she decided on Metis. The experience was challenging but formative, she said, and for her final project – with her restaurant experience still top-of-mind – she created an algorithm allowing users to transform existing recipes into totally new types of cuisine. 
"It was a lot of fun, and I definitely learned a lot," she said. "The best part of it was looking through all the recipes and seeing it start to work."  
With a newly bolstered project portfolio, she set out to find her first data science job. She interviewed at Avanade, a consulting firm specializing in digital and cloud services, business solutions, and design-led experiences via Microsoft technology, about a month after graduation and landed an internship. The only problem? It didn't start until June. 
It was January. 
But she felt drawn to the company and to consulting in general, so she decided to follow her instincts and accept the offer. In between, she worked as a Teaching Assistant at Metis and spent some time back at the pizza shop, too.
In January, the time finally came to step through the doors at Avanade, and two years later, she's yet to look back. 
"I did the summer internship, and pretty much right off the bat, they treated me like a regular employee. By the end of the summer, I rolled into being full-time," she said. "I hadn't really considered consulting before I applied for the internship, but it's been a really good experience." 
Now a full-time Data Scientist at Avanade, Carlie performs analytics, develops forecasting reports, creates machine learning algorithms to predict customer risk, and much more. Beyond the technical aspects of the job, however, one thing she learned at Metis stands apart from the rest: the ability to tell a data story, which she's found crucial to her success in data science and consulting. 
"One of the skills I use most often from Metis is being able to present and tell a data story, which is pretty much more than half the job of being in consulting," she said. "When the clients have no idea what they want, you have to come in and tell them that it's okay and that you'll be able to get them where they need to go. I love coming in and helping people solve a problem."
_____
Want to read more alumni stories? Visit here.
---