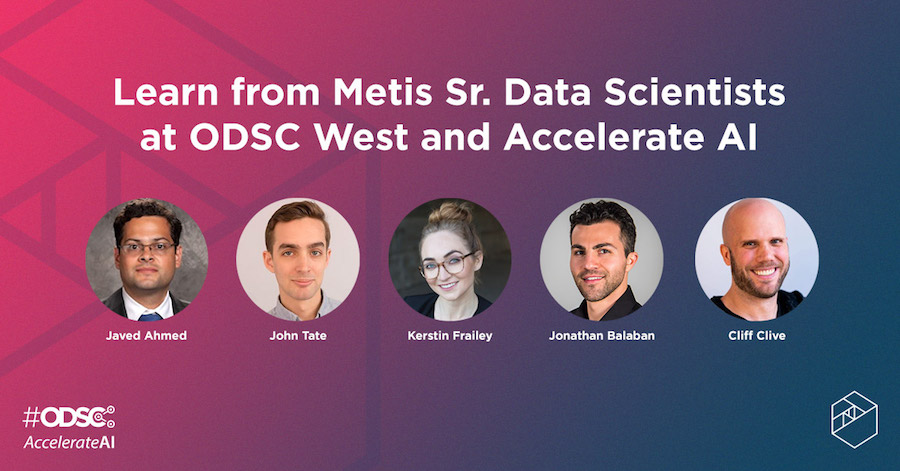 Next week in San Francisco (October 30 - November 1), five Metis team members will give talks or host workshops at the Open Data Science Conference (ODSC) West and Accelerate AI Business and Innovation Summit. Below, read about each – and if you're attending the conferences, be sure to check them out! 


DATA-DRIVEN APPROACHES TO FORECASTING
with Javed Ahmed, Sr. Data Scientist
Wednesday, October 30 at 1:30 pm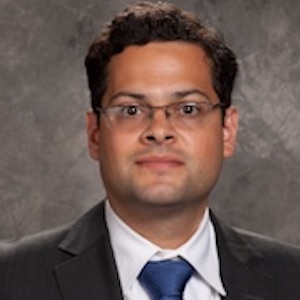 How do we know which forecasts to trust for our most critical business decisions? Whether it's demand forecasting, supply chain management, or any other application, getting it right requires balancing the need for performance with the constraints of implementation and complexity. We will discuss why organizations are turning to data-driven approaches to forecasting, applications and types of solutions, and challenges (both technical and practical) that arise during implementation. Attendees will leave oriented towards identifying types of forecasting applications and issues, understanding the range of techniques available and related challenges, and evaluating potential data-driven approaches for business. 
SCALABLE MACHINE LEARNING WITH KUBERNETES AND KUBERFLOW
with John Tate, Sr. Data Scientist
Tuesday, October 29 at 2:00 pm
In order for data science teams to reap the benefits of Kubernetes for machine learning, they must first overcome myriad engineering and DevOps challenges. This training will provide an overview of the benefits of using containers, Kubernetes, and Kubeflow to build portable and scalable machine learning pipelines, as well as hands-on exercises building, deploying, and consuming Kubeflow-based models on local and public cloud-based infrastructure. 

 ON ROI: THE QUESTIONS YOU NEED TO BE ASKING
with Kerstin Frailey, Head of Corporate Training Executive Programs
Tuesday, October 29 at 3:50 pm


Many leaders have struggled to recognize a return on their investments in advanced analytics, data science, and AI. This talk will walk you through what to ask throughout the lifetime of a data science project and will provide the tools to:
- Identify and assess the possible impact of potential data science projects

- Support projects with a high probability of success

- Transform data science success into success in your business
FIVE WORLD-CLASS VISUALIZATIONS AND WHAT WE CAN LEARN FROM THEM
with Jonathan Balaban, Data Science Instructor
Wednesday, October 30 at 2:00 pm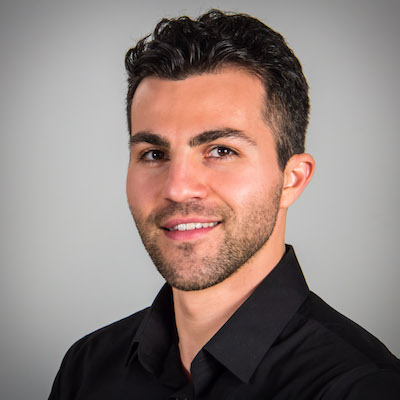 What separates the world's best data visualizations from the rest? This workshop will highlight amazing visuals and dissect best practices in visualization and storytelling. Then attendees will be guided through open-source platforms and code that enable similar, compelling visuals we can use to share our work. Attendees will gain insight into what makes for a compelling visualization and gain experience with multiple open-source, dynamic visualization packages.


THE POWER OF WORKFLOWS
with Cliff Clive, Sr. Data Scientist
Thursday, October 31 at 4:00 pm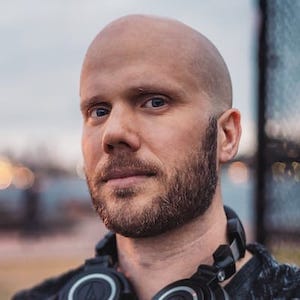 In this workshop, we look into the planning and design process of data science projects and explore strategies for building efficient workflows that lead to fast prototyping and seamless iterations of machine learning models. We also consider the human side of data science research and look at how an increased understanding of our own cognitive processes can limit the impact that our biases and assumptions may have on our current and future work.
_____

Want to know more about what our Sr. Data Scientists are up to? Read our most recent Monthly Roundup here.
---