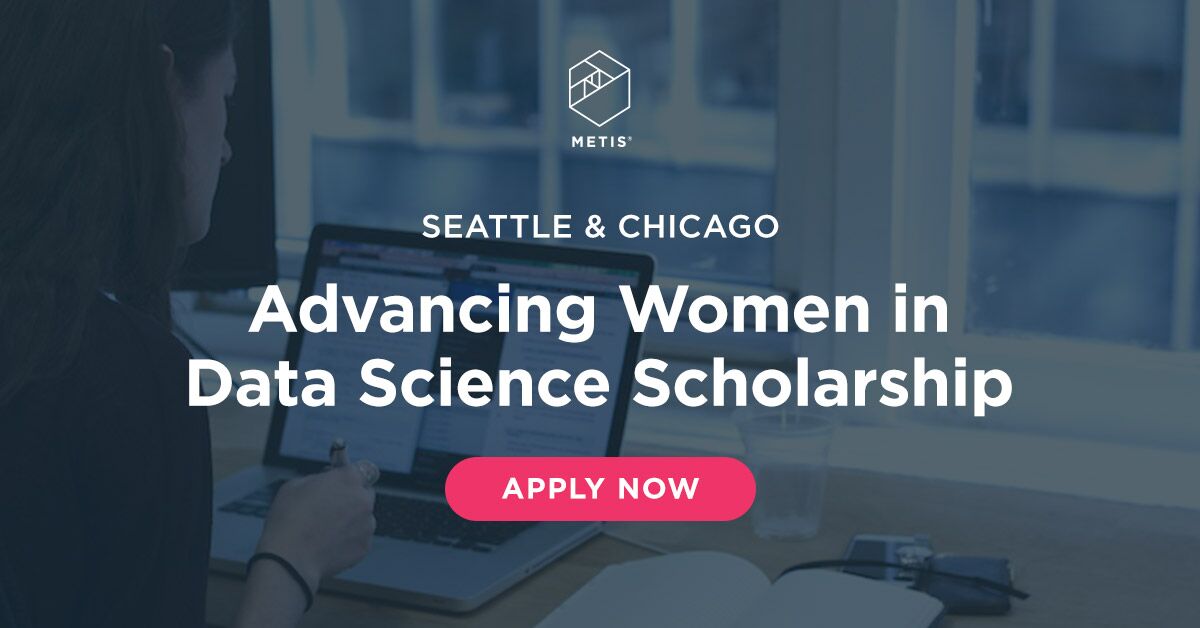 Our brand new Advancing Women in Data Science Scholarship is for women, trans, and non-binary aspiring data scientists who wish to attend our Data Science Bootcamp in either Seattle or Chicago. There are two full-tuition scholarships available in each city for the Fall 2019 bootcamp. 
These scholarships, totaling nearly $70,000, build on our ongoing efforts to create a culture of inclusion and diversity within the growing field of data science. Since we first launched in 2013, we've had the privilege of awarding more than $800,000 in scholarships around the country to those underrepresented in STEM careers. Even so, there's still a too-wide disparity in the industry at large – and within our classrooms. 
According to the 2019 Burtch Works Study, women represent only 17% of the workforce within the data science field. For managers and higher-level positions, the gender gap is even more acute.
"We are incredibly excited about offering these full scholarships to women aspiring to be data scientists and changing the industry's landscape for the better. It's unacceptable that the gender gap in the field is so lopsided. We must reverse this disparity and create more avenues for talented women to enter, remain, and succeed in the data science field," said Debbie Berebichez, our Chief Data Scientist. "These cities are great places to continue these change efforts. We encourage women who qualify to apply and look forward to seeing you there."
According to Indeed, Seattle remains one of the best locations in the United States for data scientists in terms of salary, with annual earnings of $146,088. In Chicago, that earnings figure is $123,713. Metis alumni now work at many of Seattle's and Chicago's leading companies and organizations, including Microsoft, Starbucks, Amazon, Indeed, Capital One, Capgemini, US Foods, United Airlines, and Grubhub.
How to apply?
To be considered for the scholarship, you must submit an application to the Seattle or Chicago Fall 2019 Data Science Bootcamp by our early application date (July 29, 2019) at apply.thisismetis.com in addition to completing the scholarship application form by that same date. Only students accepted to the bootcamp will be eligible to receive the scholarship.
All scholarship applications of accepted bootcamp students will be reviewed by the Scholarship Committee and the winners will be notified on or by August 15th, 2019.
---