Also of interest: read an interview with Jeff Kao about his project's virality and why he chose to focus his final project on the topic of net neutrality.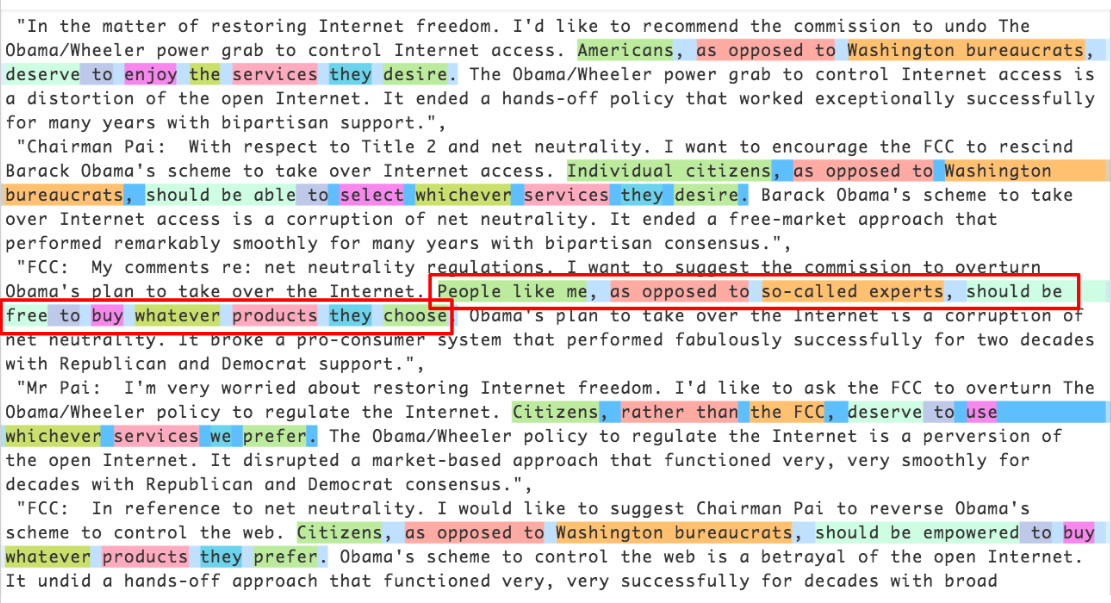 Current Metis student Jeff Kao's recent HackerNoon post, More than a Million Pro-Repeal Net Neutrality Comments were Likely Faked, is making waves around the internet, eliciting shock at the scope of the identified issue, while also extracting further evidence that data scientists are uniquely equipped to tackle complex societal problems through careful analysis in an increasingly data-driven world.
Kao's post was created for a project at Metis, and in it, he writes of exploring and analyzing millions of comments–supposedly both for and against–the proposed repeal of Net Neutrality submitted to the FCC between April and October of 2017. "The results were disturbing," he writes after finding that at least 1.3 million of them were most likely faked.

His post, which includes a detailed analysis of how he arrived at this conclusion, got picked up on Twitter by David Robinson, a popular Data Scientist at Stack Overflow who has more than 16,000 followers on the platform. Robinson's tweet took off, collecting 8,700 retweets and 9,800 likes.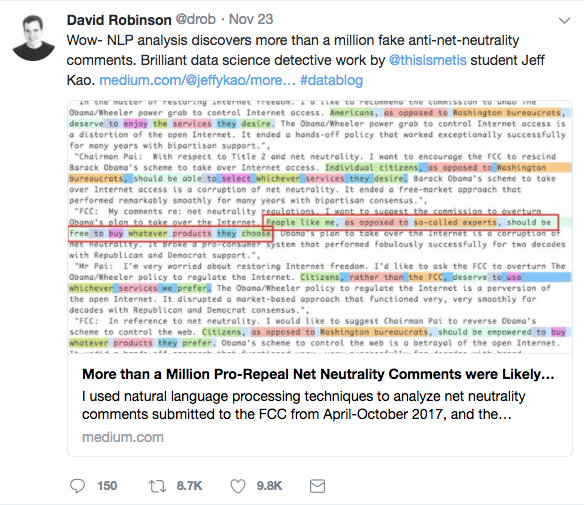 On HackerNoon, the post has more than 30,000 "claps" as of this writing, and as a result of these positive responses, The Washington Post, Fortune, The Stranger, Engadget, and Quartz ran articles citing Jeff's research, and it was featured in a weekly tech roundup newsletter circulated by Business Insider.

If you haven't dug into the post itself yet, please do so. It's robust work and Kao's first-hand explanation of how he arrived at his conclusion is the best way to soak in the fascinating (and alarming) results.
In his introduction, he writes that "a free internet will always be filled with competing narratives, but well-researched, reproducible data analyses can establish a ground truth and help cut through all of that."

We could not agree with that sentiment more. While technology brings with it myriad opportunities to connect, create, and explore, it also comes with increasingly complex and thorny issues. We need civic-minded data scientists to unpack these and uncover truth.

We're proud that a number of our bootcamp graduates are now working in areas of high social impact at companies and nonprofits like the Bill & Melinda Gates Foundation, DataKind, Center for Innovation through Data Intelligence, NYC Dept of Education, American Student Assistance, Memorial Sloan Kettering, Ramboll Environ, and Mathematica Policy Research.

While at Metis, students often use their final projects as opportunities to explore issues related to society, policy, the environment, and other pressing areas of interest. Recently, student Kevin Zhao completed a project called Promoting Smart Energy Consumption, two others (Emily Miller and Daniel Licht) focused their time and energy on issues related to improving natural disaster response, another worked to create an interactive dashboard that filters, tags, and extracts facts from documents reporting on human displacement, and yet another focused on Halting the Spread of HIV. And those are just a few examples.

So here's to hoping that increasing numbers of civic-minded data scientists are currently in training (we happen to know some who are training this very second!). We're going to need them as the volume of data grows, the pace of technology excels, and truth becomes harder to distinguish from falsehood.
In that vein, Jeff Kao writes: "Public participation and civic engagement are fundamental to a functioning democracy. It's scary to think that organic, authentic voices in the public debate — more than 99% of which are in favor of keeping net neutrality — are being drowned out by a chorus of spambots. We already live in a time of low faith in public institutions, and given these findings, I fear that the federal regulatory public comment process may be yet another public forum lost to spam and disinformation." 
_____

See more projects created by Metis students here and read an interview with Jeff Kao about his project's virility and why he chose to focus his final project on the topic of net neutrality. 
---