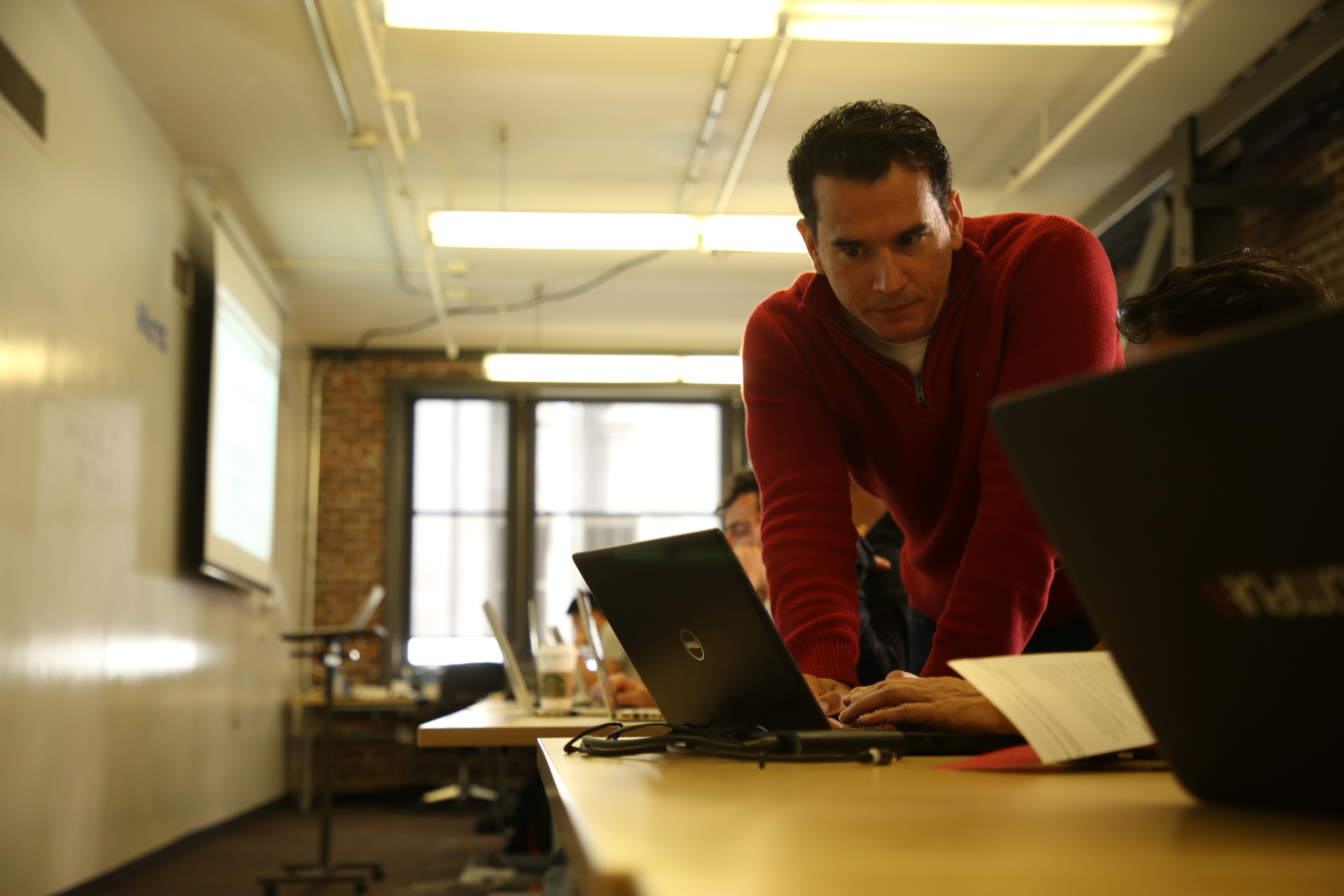 You might already know that the Metis Data Science Bootcamp is a full-time, twelve-week intensive experience that hones and expands the skills brought in by our competitive student cohorts.
You're probably already aware that upon graduating, students have completed rigorous training in machine learning, programming in multiple languages (Python, Unix, JavaScript), data wrangling, project design, and communication of results for integration in a business environment.
But did you know there are many hidden benefits of the bootcamp? Check out the list below to get a better idea of what the bootcamp experience is really like.
From The Get Go
Metis Admissions Prep
Prospective Metis bootcamp students like you often want to know how to prep for the admissions process and how to gauge readiness. Our answer is Metis Admissions Prep, which our Admissions and Senior Data Science teams engineered to help you build the skills you need to improve your application to our bootcamp. This free tool helps you build your Linear Algebra, Calculus, Probability, Statistics, and Python Fundamentals.
Pre-Work Access
Even before you are accepted, you will gain access to your pre-work. This means, you will have more time to prep and set yourself up for success. Metis pre-work is designed to give you a sneak peek into the curriculum and a leg up on topics covered. We also offer a variety of optional educational resources that may provide a deeper look into areas that may interest you.
Slack Access
Along with your acceptance to the Metis Data Science bootcamp, you will also be granted access to your cohort's exclusive Slack community. Access can be gained as early as 7 weeks before the start of your cohort. This is a great advantage as it allows the opportunity to meet other students enrolled in the course, work together to complete pre-work, and feel like you are a part of the community before the first day of class!
Teacher Assistant Access
Within the Slack community, you will also have access to a pre-work Teacher Assistant (TA). Pre-work TAs are available within the Slack chat to answer any course or pre-work questions you might have. This is a huge resource to students that need a bit more prep time before the bootcamp begins.
During The Bootcamp
5 Total Projects - Including Your Passion Project
You will use real authentic data sets to build a five-project portfolio to present to potential employers. Each project is a self-governed, start-to-finish application of the skills needed to be a well-rounded, competitive practitioner in the data science workforce. Your fifth and final project, also referred to as the Passion Project, is a project of your choice. Many students use this final project as a tool on resumes and/or personal blog sites to gain the interest of potential employers.
Speaker Series
Throughout the bootcamp, you are exposed to 8-12 speakers, including ones from our Hiring Network. These speakers provide deep-dives into specific skills and/or career coaching advice. You will have the opportunity to learn more about the kinds of projects our speaker's data science teams work on, along with the opportunity to expand your knowledge, gain insider career information, meet potential hiring managers, and expand your data science network.
Mock Interviews & Career Day Prep
Leading up to career day, you will have the opportunity to participate in mock interviews. This includes a live one-on-one with your Career Advisor, as well as a more technical interview with a Metis Sr. Data Scientist. You will also have multiple opportunities to demo your final project in front of Metis staff, students, and instructors before presenting at Career Day.
Career Day
During your final week, we host Career Day, at which you're introduced to employers actively hiring for data scientists. You present your final project and network with attendees throughout the event. Participating companies have included Facebook, Buzzfeed, JPMorgan, AirBnB, Capital One Labs, Booz Allen Hamilton, Spotify, Zynga, and HBO.
After Graduation
Career Support Until Hired
After you graduate — and until you are employed — you can expect to receive:
- An invitation to join Employ, a platform that allows Metis graduates to connect with hiring companies.
- An invitation to join the Metis Alumni Network, which puts you in touch with all Metis alumni. Our alumni networks is a valuable resource, as alums commonly share job openings at their companies and happily refer Metis grads.
- Access to the Alumni Resources folder. Links to job openings, events, and job searching articles and resources. (These are shared via the messaging service Slack.)
- Information on specific job opportunities that we think will be a fit for you based on geographic or industry preference, or because of the employer's preference for certain skills or work experience.
- An optional one-on-one meeting with your Career Advisor.
- Continued access to our interview practice platform, InterviewStream.
Alumni Community/ Network
Our alumni are our biggest advocates and we could not be more proud to have them be apart of our Metis family. After graduating from Metis, you will join a robust group of energetic and like-minded alums passionate about all things data science. Our alumni host meetups and get-togethers in all of our main markets, and our alumni slack channel is now over 500 members strong.  
Alumni Panels/ Events
Post-graduation, we encourage all of our alumni to stay as involved with Metis as they want. We often collaborate with our alumni to host workshops, alumni speaker panels, and local events. The opportunity to help a student get through the bootcamp process by providing insight and support is something our alumni are proud to assist with time and again.  
Thought leadership Support
Our graduates have gone on to work on some amazing projects, and Metis is proud to amplify their work. A few example of Metis alumni that have become thought leaders are:
- Jeff Kao - Jeff used natural language processing techniques to analyze net neutrality comments submitted to the FCC from April-October 2017,and found that more than a million pro-repeal net neutrality comments were likely faked. His results went viral on Twitter and beyond, and were even mentioned on the Late Show With Seth Meyers.
- Emily Barry - The Supreme Court is arguably the most important branch of government for guiding our future, but it's incredibly difficult for the average American to get a grasp of what's happening. Don't miss how Emily Demystified the Law Using Data Science.
- Matt Murray - Matt was tired of music recommenders that only recommend music that is a new release or currently on the top of the charts. In his project, "Building A Music Recommender with Deep Learning," Matt decided to create a music recommender that comprised of songs that share similar characteristics.
You can say you're #MadeAtMetis
---