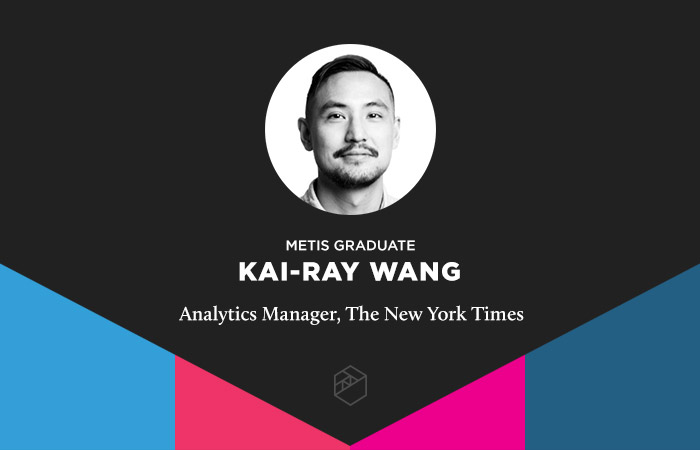 It's not breaking news to note that print media has been through a lot of change during the past decade, especially in terms of its forced and jagged transition to digital production. This well-documented shift has come with equally well-documented challenges, including the struggle to get readers to pay for digital subscriptions when free news online is often available with a click.
Metis graduate Kai-Ray Wang works to boost digital subscriptions at The New York Times as an Analytics Manager on the Consumer Acquisition team.
"I partner closely with the marketing and media teams to drive our digital subscription business.  My team's scope of work is primarily focused on maximizing the efficiency of our online and offline ad spend," explains Wang.
Before the bootcamp, and since graduating with a B.A. in Economics from New York University in 2010, Wang has worked in a variety of marketing analytics roles. But in 2016, he came across something that further shaped his career goals and trajectory.
"Early in my career, the majority of my modeling and coding experience was self-taught and somewhat limited," he said. "It wasn't until around 2016, when I was exposed to big data and machine learning while working at a programmatic ad tech company, that I truly understood the vast scope and power of data science and decided to pivot my career towards coding full-time."
He began doing research on next steps and started seriously considering bootcamps and other part-time coursework options.
"Ultimately, I decided that the immersive nature of a bootcamp would be the best way to build the skill set I was looking for," he said, adding that many of his friends had gone through bootcamp experiences and had positive feedback and career changes to show for it.
Within five months of graduating from Metis, Wang landed his current role at The New York Times. He credits his time in the bootcamp as critical to achieving his current on-the-job success, with particular emphasis on the importance of his classmates in shaping his learning experience and outcomes.
"One of the things I appreciated most about my time at Metis was the diversity of students in my class. Everyone comes in with a different background and varying levels of expertise in aspects of data science," said Wang. "It's important to leverage them as much as you would your instructors."
At The New York Times, Wang's ongoing projects include building out the company's Media Mix Modeling capabilities and executing tests for its ad targeting models. He's using many of the skills he gained while in the bootcamp, including working in Python and SQL (BigQuery) with a focus on data cleaning, modeling, and visualization. For analysis and visualization projects, he's been using Pandas, Plotly, and Seaborn.
Of course, the career transition hasn't come without challenges. For Wang, going from self-taught coder, to bootcamp student, then moving almost directly into a role at a high-powered company has caused some friction. While trying to learn the tech stack on-the-go, for example, he still has to focus some energy on boosting efficiency in Python and SQL, which can compound to feel like a double workload.
But the persistence is already paying off, and Wang has a plan in place to further positively impact the media giant and expand its readership.
"I'm looking forward to making a measurable impact on our media strategy," he said, "by increasing the speed and accuracy at which we are able to provide optimization recommendations through modeling and testing."
__________
Interested in reading more about the student/alumni experience? Check out more stories here.
---