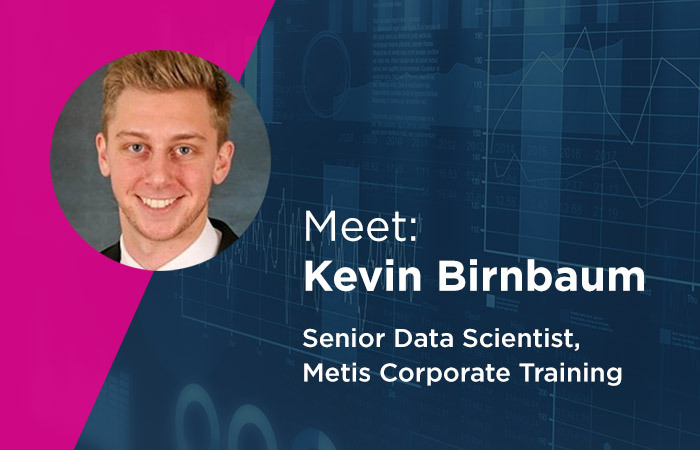 Kevin Birnbaum is a new Sr. Data Scientist on the Corporate Training team at Metis. Previously, he was the first data scientist at Munchkin, a global baby products company. In that role, Kevin incorporated machine learning, statistical testing, and data visualization into marketing and demand planning. Kevin established the first Data and Analytics team at Munchkin, where he continued to evolve the company culture by integrating data science into everyday decision making. Kevin earned a BA in Applied Mathematics and an MS in Information and Data Science from UC Berkeley. We recently caught up with him to ask a few questions about his career thus far, his new role at Metis, what interests him most about data science, and more.
You come to Metis after nearly 4 years at Munchkin, where you were the company's first data scientist. What were the pros and cons of being the first data scientist at a company of that size and scale?
I found that the pros and cons were almost always two sides of the same coin:

- There was a lot of opportunity for improvement and growth using data science tools, but also it consistently felt a bit behind data science industry standard.

- I had the freedom to decide my own projects and tackle subjects that interested me personally, but I did not have a technical team or mentor with whom to collaborate and bounce around ideas.

- I had the opportunity to build tools from scratch from start to finish. On the other hand, I did not have any strong prior reference points to build off of.
 Within your new role at Metis, you train corporate teams in data science. Why do you believe companies should skill-up their existing teams? What value can it bring?
This goes well with the first question. Being the first data scientist at my company, I was able to see the direct return on investment (in this case, I was the investment) of introducing a data science skillset to a company or team. Taking the organization  from having very little data science skills to having it as a core component of the team helped in the following ways:

- We were able to democratize the data and make information readily available for cross-functional decision making.

- We used machine learning in order to forecast future sales and save the company millions of dollars and hours of work.

- I was able to share my knowledge and understanding to spread data literacy to enable different teams to leverage the data made available for making decisions. 
What interests you most about data science at this point in time?
It's tough to say. Given that data science covers such a wide range of topics, I sometimes feel like a kid in a candy shop. Currently, I see myself diving into two topics. 
The first is time series forecasting. The major m4 forecasting competition just happened in December 2018 (first m-competition since 2000) and it was interesting to see the new methods that are now winning these competitions. There are a ton of exciting topics within time series to dive into, and so many new developments with deep learning/combination models, etc. Very fascinating.
The second is working with Python in Spark. The PySpark API has improved the process of analyzing data at scale.
What are some of your favorite data science blogs, books, etc. that you think others might benefit from checking out? 
A book I read when I first started – and still reference – is Hands-on Machine Learning with Sci-kit Learn and Tensorflow by Geron Aurelien. She is actually about to release a second edition that includes a large section on Keras, which I am excited for.
Another book that I consider an easy handbook – which isn't as much about data science, but could be useful for non-data science folks – is How to Lie with Statistics by Darrell Huff.  
Also: 
How do you like spending your free time?
I enjoy being active, whether that means hitting a new local exercise class, playing soccer or basketball with friends, or even just going out for a run. I just moved to New York City, so right now I am spending a ton of my free time (and money) exploring all NYC has to offer!
_____
Learn more about Metis Corporate Training, which enables businesses to capitalize on the talent already working under their roofs through on-site training on topics like Data Literacy, Machine Learning, Data Engineering, and much more.
---