This post features two final projects from recent graduates of our data science bootcamp. Take a look at what's possible to create in just 12 weeks.

__________
Bootcamp graduates Joyce Lee and Matt Maresca covered a lot of ground using geography as a framework to design their final projects. Lee did on a county-by-county analysis to predict mortality rates from overdoses, while Maresca used satellite imagery to map farmland, urban development, and natural resources in Shanghai. Read below to find out why they chose these topics and how geographic data was used to get results.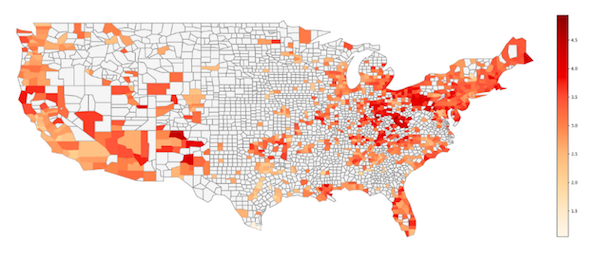 Predicting Overdose Mortality per U.S. County
Joyce Lee, Data Scientist at Clover Health
As Lee writes in her blog post on the project, the opioid epidemic has "turned into one of the major public health catastrophes for this generation of Americans. Similar to what tobacco/smoking or HIV/AIDS were to earlier generations, the opioid epidemic appears to be this era's defining public health crisis."
With that in mind, she set out to build a model that could predict opioid-related mortality on a county by county basis, with the overarching goal of being able to target interventions based on uncovered insights.
While she suspected that demographic and/or economic factors would be significant, she was more curious about something else. She wanted to uncover "whether or not other predictors which were more modifiable would turn out to be significant. For example, the common narrative is that the opioid crisis started when physicians started prescribing opioid painkillers much more liberally in the 1990s, in part due to pharmaceutical companies reassuring physicians that these painkillers had a low incidence of addiction and few side effects, neither of which was true. But is opioid prescribing rate still the main driver of opioid overdose deaths? Or are there are other variables that are stronger predictors by now, e.g. perhaps the volume of illegal opioids such heroin or fentanyl is stronger predictor?" 
Read on to find out how her project turned out. 
__________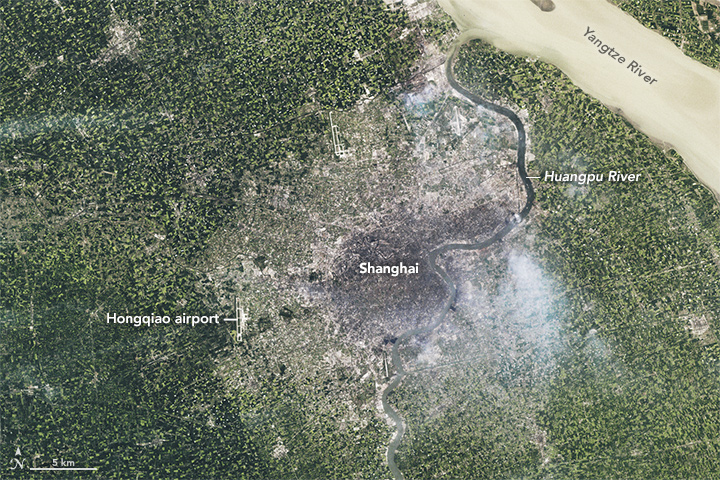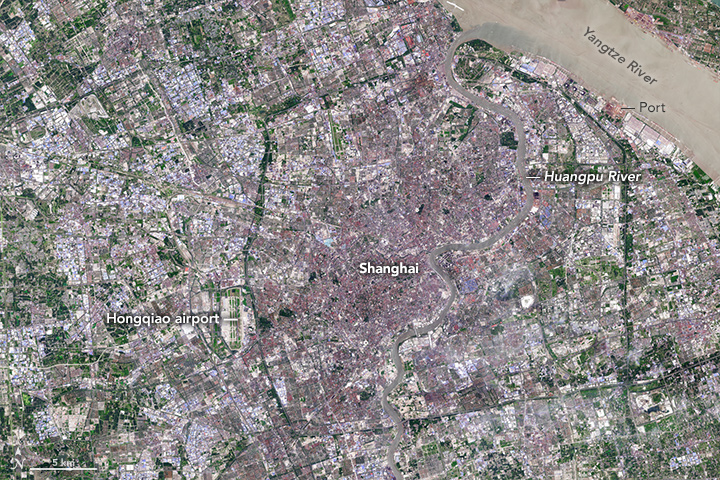 Mapping Farmland from Sattelite Imagery
Matt Maresca, Data Scientist, Annalect
As Maresca puts it, the goal of the project was "to perform semantic segmentation on satellite images in order to map out farmland around the city of Shanghai." Why Shanghai? The images above show the difference between Shanghai in 1984 vs. 2016. 
"Notice all that green surrounding the little bit of gray in the center of the 1984 image?" he writes in a blog post on the project. "Yep, that's mostly forest and farmland. Notice also that it's almost completely gone in 2016? That's why Shanghai."
His vision wasn't to restore Shanghai to a more agricultural time in its history, but rather, he wanted to "highlight a method that can be used to track farmland, urban development, and natural resources around the world in order to make better decisions for the future of our planet." 
Read the full post to learn more. 
__________
See more examples of Metis student projects here. 
---