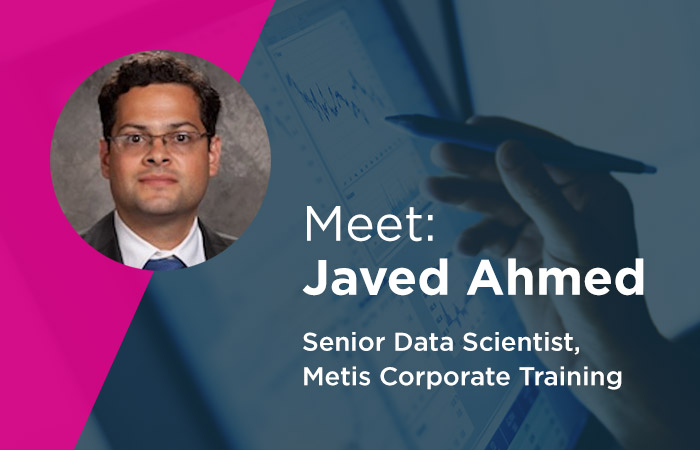 Javed Ahmed is a new member of our Corporate Training Sr. Data Scientist team and enjoys exploring the intersection of econometrics, traditional analysis, and machine learning to develop useful operational insights. An economist and data scientist with experience in banking, finance, forecasting, risk management, consulting, policy, and behavioral economics, Javed has led development of analytic applications for large organizations including Amazon and the Federal Reserve Board of Governors, and served as a researcher with the Office of Financial Research (U.S. Treasury). He holds a Ph.D. in financial economics and an MA in statistics from U.C. Berkeley. 
We recently caught up with Javed to discuss his new role at Metis, his views on the importance of corporate data science training, his past on-the-job experiences, and much more. 
Your career sweet spot is at the intersection of econometrics, traditional analysis, and machine learning. What set you on that path? What aspects of your educational/professional background led you to this intersection? 

Over the years, I've been fortunate to see many applications, from modeling businesses to customer behavior, retail sales and investments. Before graduate school, I worked in the investment industry forecasting business operations for capital raising, acquisitions, and private equity investments. Much of that work involved combining traditional and statistical analysis. My graduate studies in financial economics and statistics explored a wide variety of methods, framed in the context of measuring the impact of incentives and assessing causal relationships. There are a lot of similarities between econometrics and machine learning, both in tools and approaches, and I've found the background very useful for exploring new developments and machine learning applications.

In terms of your new role as a Sr. Data Scientist for Corporate Training...why do you value efforts aiming to upskill existing teams? And how do you think it's done most effectively?
As organizations turn to data-driven approaches, more people across functions interact with results produced by data science and analytic teams. Training can be very useful here to bridge gaps and bring teams closer together. We have a strong practice at Metis of developing data literacy for managers and people who interact with data scientists. We also offer in-depth technical training ranging from machine learning fundamentals to deep learning approaches to forecasting and natural language processing. There are several types of training available, including online-only materials, offsite courses, and onsite training. While all of these can be useful, in-person training provides a unique forum for active learning and development. Such training can be both effective and fun, combining hands-on development with active instruction and guidance.
You were a Sr. Economist for both the Federal Reserve and Amazon, among many other impressive roles. Can you talk about those positions at all? What did you enjoy, and what were some challenges? Any projects you're able to discuss?
I've enjoyed seeing analytics in practice at several organizations, including large banks, Amazon (where I focused on forecasting consumer revenues), and the Federal Reserve (where I focused on modeling credit risk). I've also spent time teaching graduate students both at Berkeley and Johns Hopkins and as a visiting researcher with the US Treasury's Office of Financial Research. 
Each organization faced significant modeling problems: identifying the right data sources, choosing models, and assessing the impact of factors have been common challenges. I've had many interesting projects, among them an analysis of how lending competition influences the accuracy of corporate credit ratings, and a study on how allowing choice influences individual outcomes for an equity-based social security alternative.
You recently hosted a webinar on Data-Driven Topics to Forecasting. Why did you choose this topic to focus on? What makes it so important, especially to your target audience of business leaders and data science managers? 

I think the topic is especially important because business leaders make many of their decisions based on some type of explicit forecast. Solutions range from heuristic approaches based on bottoms-up analysis or business judgment to more technical, data-driven approaches. 
The data-driven approaches are promising, but they are not always easy to use. They may have stringent assumptions that are difficult to evaluate, or fail to consider items the business knows will be true in the future but not in the past (like gaining or losing a new supplier). With many applications of forecasting and many models to choose from, finding the right approach is especially challenging. (You can access the webinar recording for free here!)
What interests you most about data science at this point in time, in 2019?

There are many new developments, particularly with distributed in-memory computing and increases in streaming analytics. As the focus turns to elections, I'm looking forward to seeing which approaches will be most successful in analyzing and predicting results.

What are some of your favorite data science blogs, books, etc. that you think others might benefit from checking out? 

In addition to Metis, several tech companies have noteworthy blog content. Good examples are Uber and Facebook Research. In researching data science topics, I often end up reading journal articles or posts on well-known sites like Medium or Stack Exchange. A great reference for forecasting is Hyndman and Athanasopoulos: Forecasting: Principles and Practice, which is available in a free online version.
How do you like spending your free, non-data science time?
I enjoy spending time with my family, especially my 4-year old daughter who loves swimming and rock climbing. I also enjoy tennis and other racket sports, traveling, and reading both fiction and nonfiction. 

_____


Want to hear more from Javed? Check out the recording of his recent webinar on Data-Driven Approaches to Data Science.
---