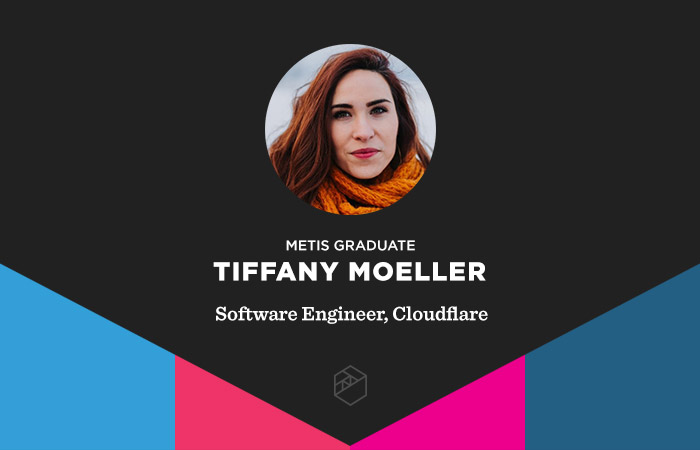 Considering her career path and where she is now, it's remarkable to think that Tiffany Moeller has never taken a college-level math course. As an undergraduate, she studied counseling with the intent of working with women and children, but soon realized she didn't want to pursue that line of work exactly (though she absolutely still wanted her work to help improve the safety and well-being of children in particular). 
After college, she landed a customer support role at an online marketplace for families and individuals looking to hire local in-home care. While there, she began to witness the possibilities of using data for social good. 
"I realized there were some really cool things happening on the operations side in terms of analytics, particularly because there was a trust and safety component to the business, which is critically important where child care is involved," said Moeller. "I began to wonder: is there an opportunity to leverage data to prevent harm?" 
That question has since guided her career. While still working for the online marketplace, she started doing outside volunteer work with nonprofits working on social issues related to child safety and anti-trafficking. Simultaneously, she started learning SQL and various other data analysis skills on the side. 
"I saw these two worlds come together between the work I was doing on the social impact side of things, and some of the technical skills I was starting to acquire," she said.
But it wasn't until she read the article, Using Machine Learning To Fight Child Abuse On The Dark Web, that she experienced a true "a-ha" moment. 
"I saw a huge opportunity for impact. I realized that a lot of the social issues I care about occur in spaces where technology is being leveraged by terrible people to do terrible things," said Moeller. "With this article, there was a model in front of me of someone who had taken technology and was using it to stand up for the vulnerable and victimized. To use it for good. I was really attracted to that."  
The following weekend, Moeller signed up for a data science and analytics course through Best Fit Analytics in Chicago, a startup formerly owned and operated by Alice Zhao, now a Metis Sr. Data Scientist. With that course as her foundation, she used the next year and a half to explore other part-time courses and workshops in an effort to build her skills, eventually moving into an analyst role for the online marketplace. 
But at a certain point, she realized that her quantitative skills were still lagging behind her data-oriented counterparts, and that in order to dive into the calculus, linear algebra, and statistics that she wanted to tackle, she needed an intensive learning experience. 
"I was really strong in certain things, but because I went to school for counseling, I did not have a quantitative background in my formal education and knew I needed to be intentional to fill that in," she said. 
She quit her job, applied to Metis in Chicago, got in – and coincidentally, found that Alice Zhao was her bootcamp instructor. She leaned hard into the required bootcamp pre-work, which all students have to complete before Day 1. 
"I really appreciated the pre-work," she said. "...it was so helpful to have this guide to show me where I really needed to spend more time with the fundamentals. I was still pretty intimidated going into the bootcamp, but the instructors did such a great job of explaining core concepts well and breaking down complex topics that I didn't have trouble building on those foundational concepts to understanding more complex algorithms"
For her final project, she built a proof of concept system for an anti-trafficking non-profit organization she had worked with in the past. The non-profit's goal is to use web-based data to collaborate with law enforcement and other human resource groups to offer legal help, medical help, and more to women who are being trafficked via online advertising. The project involved building a web-scraper and doing network analysis to build a probabilistic algorithm to identify individuals who are likely at high risk. It also involved some natural language processing and the building of a web app to display findings. 
After graduating from Metis, Moeller emailed a number of women in tech who she looked up to.  She got a response from one such figure who'd recently left a high profile role at Intel to launch a child safety startup called Minor Guard. After some back and forth and a brief interview process, Moeller was invited to join the small team as a third co-founder and as its data science lead, in charge of developing the company's technology in the image classification space.
However, after 8 months, Minor Guard ceased its efforts, right about the time Moeller was set to move to London. 
"It was the perfect period of time to go try out the really small startup environment," she said, especially because what came next was the opportunity to work at the total opposite - an established (but still young and growing) larger company with headquarters in San Francisco and offices in London, Singapore, Champaign, Austin, Boston, and Washington D.C. 
Upon moving to London, she landed her current role at Cloudflare, whose mission is to build a better internet by providing DDoS mitigation, Internet security, content delivery network services, and more. 
As a Software Engineer there, she builds internal tools for the Customer Support and Trust and Safety team. Though she didn't initially envision herself on the engineering side of things, it now feels just right.
"I wouldn't have it any other way," said Moeller. "The analytics skills that I was able to bring to the table early on helped me provide impact quickly, while I was getting up to speed on the tech stack and the software development lifecycle. It was great to feel like I could contribute in a really unique way, and my knowledge of Python, SQL, stats, and data analysis have been really helpful is this role so far." 
All of this continuous learning and interesting work takes place within an office that boasts a view of the London Eye to the right and Big Ben across the River Thames, adding a sense of wonder to Moeller's experience at Cloudflare and in London more generally. 
"I was kind of nervous because we moved from Chicago, which I love, and I didn't think that any other city could ever feel like home," she said. "But this is a really vibrant, international city, and it's just been so much fun. I love it."
_____
Read more alumni stories here.
---