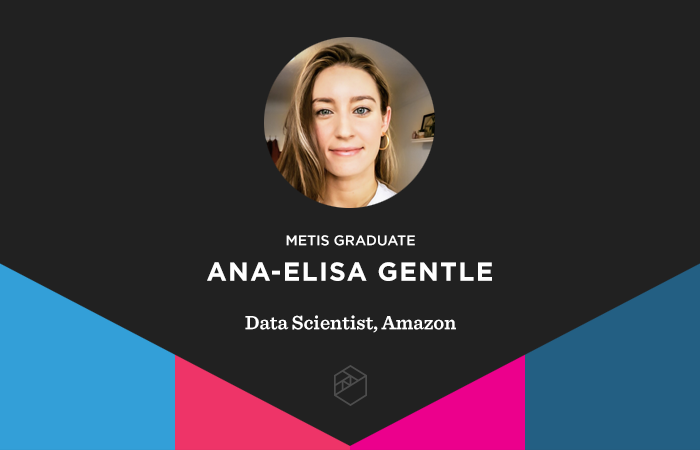 As an undergraduate with a concentration in pre-med bootcamp graduate Ana-Elisa Gentle was on her way towards a career in the medical field. 
Or so she thought; Upon completing her degree, she had a change of heart that led her to work at an Ed-Tech startup. Here is where Gentle first engaged with data science, which ultimately inspired her to pursue a career in data science! 
We decided to chat with Ana-Elisa to get further insight into her experiences at the Metis bootcamp, her role at Amazon, and the importance of expanding diversity in the data and technology fields. Here's what she had to say.
Could you tell us a bit about yourself? What's your professional and education background?
In college I studied Sociology and Anthropology with a pre-med concentration. At the time I thought I wanted to go to medical school, but when I graduated I decided this wasn't for me (I can't stand the sight of blood!). After school I wasn't sure what to do with my social sciences and hard sciences skill set. By chance, I started working for an Ed-Tech startup that was building out a data science masters degree. Working there was my introduction into the world of data science. After working with this company for a few years, I decided to pursue data science myself and applied to Metis. Eventually, I landed a role with Amazon. I currently work there as a data scientist!
What inspired you to pursue the data science field/industry?
I've always loved studying social sciences. Data science first intrigued me because it was a way to apply a deeper technical analysis of people and populations. This is more or less what I get to do in my current role!
Once you knew you were interested in data science and analytics, how did you decide on a bootcamp as your way into the field?
I was already really familiar with the data science field by the time I applied to Metis. I had spoken to professors and students who were in the field and partnered with the Ed-Tech company I worked for. I researched bootcamp options and compared them to formal degrees. I knew I wanted to go into business as opposed to pursuing a PhD and the bootcamp seemed like the best way to kick-start my career.
What confirmed Metis as your choice?
I narrowed down my bootcamp choices to two. I was impressed by the projects previous Metis students had done and the companies they ended up at afterwards. I remember looking up students on LinkedIn to see what they were doing after graduation! I was impressed by what I found, so Metis was an easy choice.
Currently, you're a data scientist at Amazon - could you describe your current role?
Amazon is a huge company, so everyone's experience is different. Right now I work on recruiting initiatives at the company. Amazon is pretty big with well over a million employees. Hiring quality candidates at a speed that keeps up with Amazon's growth is a huge challenge. My team and I carry out research so executives can have a better understanding of what we do well and where we can improve. On the technical side, this is a lot of data pulling and modeling, followed by writing and presenting a research paper.
What drew you to that role and Amazon?
Working for a company like Amazon early in my career was a no-brainer. There is a ton of opportunity to apply data science to different fields and see your work have a real impact. I feel really fortunate to have found this role. It allows me the flexibility to structure my questions and research as well as the influence to drive real change!
Based on your experience as a woman working in data science,, what advice would you give to other women debating a) starting a career in data science and analytics and b) going the bootcamp route to do so?
It can be difficult to put yourself into an environment where you don't feel like you fully identify with the group. Especially when you don't see women in executive decision-making roles. A lot of women I've spoken with (and myself included) have talked about struggling with imposter syndrome. One thing I've learned though is that everyone struggles with this at some point. Voicing your opinion, even when it isn't perfect, is an important way to establish yourself in a team or meeting.
As for going the bootcamp route, how you identify shouldn't hold you back! My experience with Metis was that they are welcoming to everyone.
We firmly believe we need to see more women in data science. What are your thoughts on that, and what would seeing more women in the field mean to you?
It's been very obvious to me at each point in my career that tech fields are dominated by men. I can think of plenty of times when I was the only woman on a team or in a meeting. I can say through first hand experience that men are making the technical decisions in many cases. If anything, I hope this inspires more women to enter into tech roles and have an influence on the products and decisions being made. This isn't just a gender issue, it's a race one as well.
Any resources, groups, or communities you'd like to share with other aspiring women in data science?
This might be an obvious one, but the Metis alumni community was a huge resource to me when I was job searching. I still keep in touch with many of my classmates!
-- 
This interview has been edited for clarity. Want to learn more about our graduates? Read more. 
---