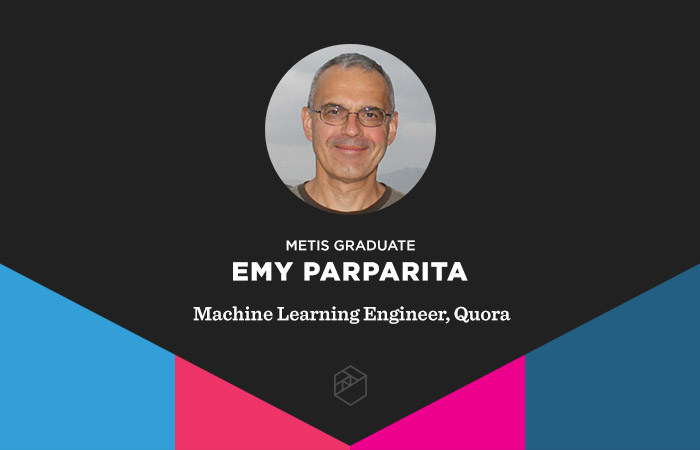 For any number of reasons, individuals apply and enroll in our Data Science Bootcamp with a desire to either kick-start a new career or move onto a new career path. For Emy Parparita, the latter applied in a big way. Coming into the bootcamp, he had more than 20 years of experience working as a senior-level software engineer for companies like Goldman Sachs and Bank of America.
During that time, the emergence and growth of machine learning piqued Parparita's interest. At the root, he wanted to know how it worked, so he took a few online courses to find out. With time, the interest developed into a passion, and he decided on a career shift toward machine learning.
"I needed guidance and a more structured and disciplined framework, preferably surrounded by like-minded people," he said in a recent interview. "A bootcamp fitted perfectly my goal of bootstrapping a new career by providing such an environment to acquire basic knowledge in a reasonable time frame."
As a bootcamp student, he built a portfolio of projects ranging from predicting movie ratings on Rotten Tomatoes to exploring ways to counter adversarial attacks against image classifiers. He also completed a project on Detecting Duplicate Quora Questions, which ties directly into his current role at Quora, though at the time, he had no way of knowing it would.
"It was purely coincidental," he said. "While I was at Metis, I had no specific company in mind to apply to."
But he did have a specific role in mind. He wanted to become a Machine Learning Engineer, as opposed to a Data Scientist or Data Analyst like many of his fellow bootcamp graduates.
"To my mind, the distinction is that machine learning engineering is applied, with emphasis on the software engineering side, and that fits my background," he explained.
Soon after graduating from the bootcamp, Parparita landed his current role as a Machine Learning Engineer at Quora, where he works within the Machine Learning Transition program. This program helps software engineers or data scientists transition further into machine learning via on-the-job training. Responsible for ranking, he and others on his team work with learning to rank (LTR) algorithms, plus code using Python and C++ and use many other tools developed in-house.
"I don't think I would be working at a company like Quora – where machine learning is a core component of the product – without the knowledge I received during the bootcamp," said Parparita. "Metis was instrumental in helping me fulfill my dream of becoming a Machine Learning Engineer after a long past of software engineering, but without prior data science or stats experience."
__________
Interested in reading more about the student/alumni experience? Check out more stories here.
---