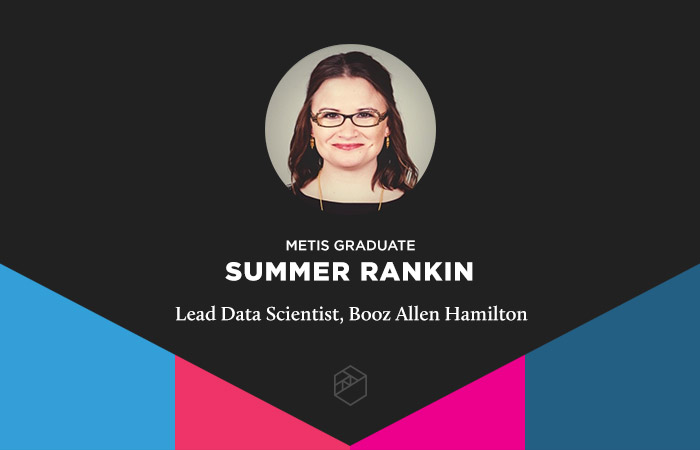 Metis graduate Summer Rankin is currently working on her favorite project to date as a Lead Data Scientist for the consulting firm Booz Allen Hamilton. Along with epidemiologist Roselie Bright, Sc.D., M.S., P.M.P., at the Food and Drug Administration, she's trying to understand if there are patterns in the chart notes of electronic health records that could alert researchers and others to adverse events before human minds alone can figure them out.
For Rankin, the project represents a fusion of her two professional worlds: data science and academia.
"We're studying a few different cases and sources of data," said Rankin. "It's really fun because working with Roselie is like being part of an academic lab. She's interested in the exploration and research rather than a product and that makes it more fun for me because, as a data scientist, I love looking at how and why things happen the way they do."
Familiar with academia, Rankin earned her Ph.D. in Complex Systems and Brain Sciences from Florida Atlantic University before becoming a postdoctoral fellow at Johns Hopkins School of Medicine. There, she focused on music cognition and auditory perception and studied a lot of data, from time series to music (also a time series, she notes) to fMRI.
"I enjoyed uncovering patterns, like fractals, in musical and behavioral data," she explained.
She enjoyed it very much, actually. So much so that after finishing her postdoc, she realized that perhaps she was more interested in being a postdoc – which allowed her to "get my hands dirty" – than she was in moving on to a full-time role in academia. Left at somewhat of an impasse and not sure what to do next, Rankin took a teaching job at Bard Early College Baltimore but continued to feel a growing sense of dissatisfaction.
"I liked the teaching, especially computer science, but the hours were insane and it completely pulled me away from any of my coding and scientific pursuits. So I decided to apply to some data science positions because it seemed like the best way to get back into doing analysis and learning more about programming," said Rankin.
But as a self-taught programmer with an academic CV (read: a really long CV), she wasn't getting many responses. Rankin knew she needed to fill in her skill and knowledge gaps if she truly wanted to move into data science. But how?
After taking a couple courses on Coursera, she was ready to think about something more intense, rigorous, and hands-on. Enter Metis, which she learned about after hearing our Chief Data Scientist Debbie Berebichez interviewed on the Becoming a Data Scientist podcast.
"I liked Debbie's attitude about women and minorities in technology and appreciated that she's a physicist – they don't tend to water down the math and programming, which is what I wanted in a training program," explained Rankin.
What happened next created an interesting scenario for Rankin. After a successful application process, she was offered a seat in the Metis Chicago bootcamp. She lived in Washington D.C. and has been under the impression that Metis operated from there. After some consideration, she decided to go for it, with positive results.
"I met some really great people in Chicago, had an awesome time, and was forced to focus all of my energy on the bootcamp, which was a great way to get the most out of it," she said. "I highly recommend going out of town for the training."
Within four months of graduation, Rankin landed her current role as a Lead Data Scientist at Booz Allen Hamilton, an information technology consulting firm based back home in the D.C. area. Life at a consulting firm offers a level of variety that Rankin appreciates. The list of data science tools she uses regularly goes on for miles, and the projects she's tackled so far involve NLP, time-series signal analysis, fraud detection, anomaly detection, and more.
In many ways, the training structure of a bootcamp represents ideal preparation for consulting work, which can change dramatically from project to project and requires a broad range of skills and knowledge, as well as the ability to work with rotating teams and individuals. After the bootcamp, Rankin felt prepared to transition into her role at Booz Allen in large part because she'd used her 12 weeks of training to stretch herself beyond her comfort zone when it came to projects, choosing ones that were sure to challenge her.
"Don't do more than one project that you consider to be in your 'wheelhouse,'" she said when asked what advice she'd give to incoming bootcamp students. "Push yourself to learn something new while you have experts around to help you when you get stuck."
__________
Interested in reading more about the student/alumni experience? Check out many more stories here.
---