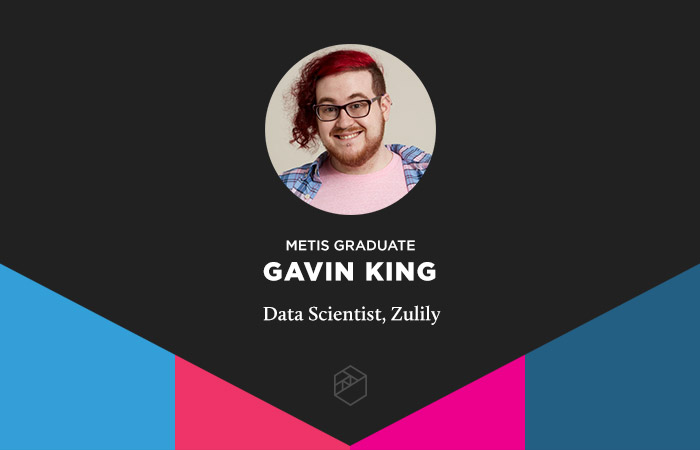 Gavin King grew up in Arizona, got a Ph.D. in Mathematics from the University of Wyoming, and now lives and works in Seattle, where they've found a home in the bustling data science community as a Data Scientist at Zulily, a growing e-commerce company.
"I decided to move to Seattle because this is where the best data science jobs are. It's kind of here, or the Bay Area, or New York, and I didn't want to live in either of those other areas, just personally," said King. "Tech, in general, is growing in Seattle, and there are a lot of Meetups happening all the time and several bootcamps in the area that are always hosting events," they added.
One such bootcamp is, of course, our own, and we're proud to call King a recent graduate. Upon realizing academia wasn't for them – pretty much right after graduation – they began researching industry jobs for those with advanced Math degrees. Data science kept popping up, but after applying to some jobs and coming up short, King started looking into bootcamps that could help fill their skills gap.
And it did, indeed, help to bridge that gap, but for King, the even more challenging challenge was on the career development side. At times, the job search was demoralizing, they said.
"There's often no feedback, and you send things out into the void and you just get back this blank 'no' three months later for no reason you can discern, so it's really bad for your mental health," said King.
But with the help of Metis Career Support, along with a job tip from Metis President Jason Moss, King was put in touch with Zulily and the interview preparation swung into full gear.
"I didn't really know how to write my resume properly and I didn't really know how to network properly, so learning all of that was just incredibly helpful in terms of career development," they said.
At around 3,000 employees, Zulily rests somewhere between a startup and a tech giant, which is a "nice intermediate space," according to King, who is one of just five data scientists on staff.
"One of the things I really like about this position is that because we're the data science team for the whole company, we get to look at a lot of interesting problems that come from various different fields," they said. "We're also kind of the last step in the road for any kind of difficult technical problem that comes across anybody's desk. It'll get forwarded and forwarded and forwarded until it ends with us. We're the ones expected to handle the weird questions."
While that may sound daunting to some, it's a welcome challenge for King, who enjoys various aspects of data science and likes to work on a breadth of problems. At Zulily, part of the online shopping experience includes multiple sales, deals, and offers per day. In fact, according to King, the site launches a hundred and twenty of these events every single day and each lasts three days. Because of that, the pace of work is quick, but it comes with an overarching goal of improvement over time.
"We have just this constant, constant churn of stuff going in, stuff going out, and everything moves at a breakneck pace here so there's always interesting problems to solve and it's always on a tight enough time frame, but people aren't too upset when something's not perfect, which is kind of nice," said King. "The attitude is, 'Okay, we need this to be better than it was but you only have three weeks to do it, so if you can get something that's better than what we have, that's awesome, and then we'll move on to the next thing because we can't spend forever on any one item."
Though they've now found a good professional fit, King is quick to remind that is wasn't an easy process and it took a lot of hard work and teamwork. They're advice to anyone considering or currently going through the bootcamp process?
"Learn as much as you can from your career advisor with Metis," said King. "As much as I learned at Metis, I think the number one best part of the program was the fact that we had the full-time career coordinator you could talk to any time."
_____
Interested in reading more about the student/alumni experience? See more stories here.
---