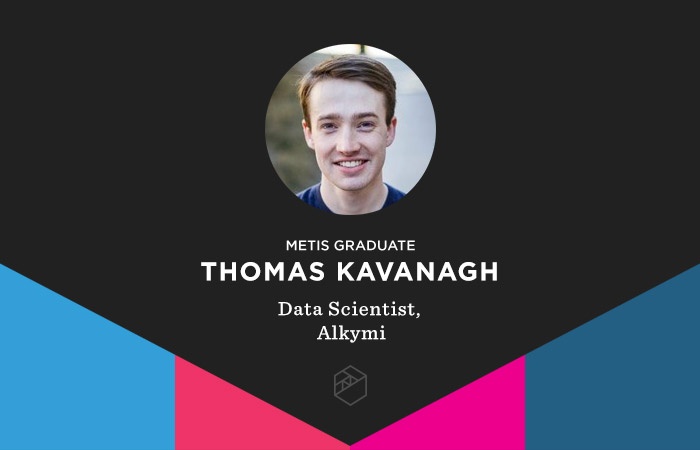 In a roundabout way, in part via experimental New York theater, bootcamp graduate Thomas Kavanagh made his way to data science. After graduating from college with a degree in Mathematics, he moved to NYC for his first foray into the professional world, working with an inventive, media-forward theater artist he admired. 
In that role, he worked as an Audio Visual Engineer and Projection Designer, installing and programming interactive media systems for live performances, gallery installations, and dance shows.

Alongside that creative and technical pursuit, he gathered additional experience working at the meditation startup, Ziva Meditation, originally joining as a video producer. Soon after, his responsibilities expanded to include web design and Customer Relationship Management (CRM) automation.

This combination of roles proved influential to Thomas, who was at the time open to a variety of career possibilities. His love of coding rose to the top, as well as his burgeoning interest in the CRM work he'd been exposed to. 
"I found the marketing campaign design in our CRM to be really intellectually stimulating. I liked the experience design involved," he said. "It gave me access to the company data because I was responsible for getting to know the consumer data really well so I could provide targeted experiences."
He liked it so much that he eventually decided to follow its path and learn more. With no desire for additional formal schooling, he started considering bootcamps, thinking about software engineering, UX, and more. But with his budding interest in data, along with a solid math foundation, he chose data science. 
By September 2019, he was officially a Metis Bootcamp student. He recalls how he was the first to join the cohort's Slack channel three months ahead of the start date. 
"I wanted to get in there and introduce myself because I was just so excited. I wanted to get started right away," he said. "I hadn't yet proven to myself that data science was going to be appropriate for me, so a three-month exploration was ideal. And I knew that I wanted an intensive environment. I was ready to sort of drop everything and give this a shot."
During his bootcamp experience, he found that data science was, in fact, for him. In large part, he figured this out by paying close attention to his own interests and letting them lead the way whenever possible, especially during project work. 
"I measured how fun each activity was to do, and just tried to put my eggs into the baskets that I thought were fun," said Thomas. "I tried to let myself go down the rabbit holes that were interesting for me to keep myself going because if I had tried to force my identity into some aspect of data science that wasn't interesting to me, I imagine I would have gotten burned out." 
This mindset often led him to work in pairs or groups because he felt that working in collaboration was more interesting than working alone. Additionally, it led him to pursue a final project based on his pre-bootcamp interest in consumer behavior. (Read about the project here.)
Soon after the bootcamp, Thomas was hired as a Data Scientist at Alkymi, an NYC-based company that recently transitioned to fully remote work. Alkymi aims to free data from email and documents to boost user efficiency. According to Thomas, the data science team is small but mighty and the work is challenging and constantly evolving.
"What's really stimulating for me is that I get a new set of documents, and I have to come up with a new strategy every two weeks or so in order to attack them and find out what we need," he said. "And I need to do it in a way that doesn't require constant maintenance."
Among many tools, he uses computer vision to get a sense of each document's visual layout, a variety of NLP tools, and does most of his work in Python, which was new to him when he first started as a bootcamp student. 
He's proud of the work he's done so far at Alkymi, including how he recently advocated for fellow Metis graduate Alex Weston to get hired onto the team. The two had cultivated a collaborative relationship during the bootcamp, which carried over into a successful post-Metis data science competition, and will now take a new form in a professional setting.
For Thomas, a team-first type of worker, it's an ideal scenario. 
"I like to be very social when I work," he said. "I think I'm just very motivated by collaboration with other people." 
---