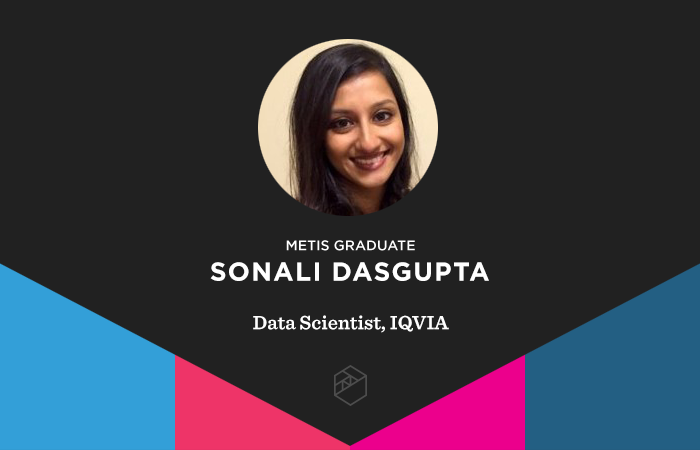 As a self-described lifelong learner that's inspired by scientific and technological advances, it's no surprise that bootcamp grad Sonali Dasgupta made her way to Metis. 
With a biotech background and a penchant for running experiments to gain insights for her team, it was only a matter of time before Sonali made the transition to Data Scientist. We recently caught up with Sonali and asked her a few questions regarding her bootcamp experience and a new role at IQVIA. 
What's your professional/educational background? How did you become interested in data science?
SD: My educational background is in biology, and I went to graduate school to study pharmacology. This prepared me to work in drug development in the biotechnology industry, where I was for about four years. I became interested in data science because I enjoyed designing experiments and constructing hypotheses to answer questions for our team, and a large part of my job was data/statistical analysis to draw insights for our projects. I learned that these skills were important in many aspects of data science, as well.    
What made you consider a bootcamp as a way into the field?
SD: I started learning some basic programming and reviewing mathematical concepts on my own but quickly realized I wanted a structured curriculum and instructors that could guide me. I was also familiar with Metis from people who had attended it, and they had great things to say!
Once in the bootcamp, do any particular memories stand out?
SD: It was really interesting to see everyone in the cohort apply what we were learning to their passions and do presentations that were so different from my own. As the weeks progressed, the projects also got more complex, and it was rewarding to see how much we had all learned.    
Describe your current role at IQVIA. What drew you to the role and company? What do you like about it -- and what are some challenges?
SD: In my current role, I'm working with healthcare/patient data, an area I wanted to continue working in after the bootcamp. I was drawn to this industry because there are large sources of real-world data and a lot of potential for data science tools to make data processing more efficient. The company has many very talented people who have worked in healthcare data for a while but are open to new ideas. Personally, one challenge has been starting a new job remotely, but regular meetings and good communication with the team have helped make the transition easier.
At IQVIA, what aspects of data science are you using regularly?
SD: I regularly use Python and Pandas in my projects, and the knowledge of statistics and math we reviewed for Metis has been useful. I've gotten a chance to implement some simple predictive models, and I'm excited to continue working in that area.   
While at Metis, what did you choose to do for your final project?
SD: My final project was an image classification algorithm that I used to categorize whether an X-ray was from a regular patient or one with pneumonia.    
What advice would you give to someone just starting or interested in the bootcamp? 
SD: Be ready to learn a lot and fast! At times, it definitely gets overwhelming, but the Metis team told us at the beginning of the bootcamp that we shouldn't expect to remember every single thing we learned during the program. I think that was important to keep in perspective because it helped relieve some pressure when certain concepts were difficult for me to grasp fully. This also helped motivate me to continue reviewing material after the bootcamp ended to solidify topics I wanted to learn more about.
-- 
This interview has been edited for clarity. Want to learn more about our graduates? Read more. 
---