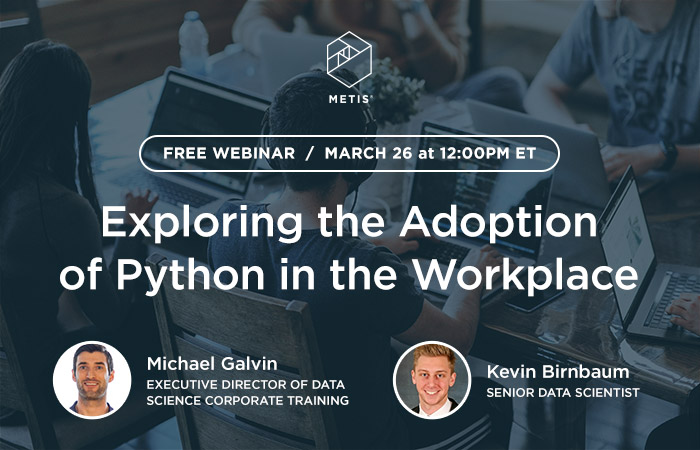 Python is the darling of the data science community. Data and analytics professionals have embraced the programming language because it provides them with the necessary tools to perform key functions, libraries that help speed development and QA, a passionate community of enthusiasts, and a low learning curve. Studies have shown that approximately 40% of data professionals surveyed prefer Python over other tools like SAS, R, and even Excel. The preference for Python with early career professionals indicates that usage will continue at least into the near future.
However, many companies are still hesitant to adopt Python, largely because leaders who've attempted to persuade teams to embrace new tools or processes understand that it can be an uphill battle. Your senior management may have a background that predates Python's rise in popularity. Your project managers would need to put in extra time to lay the groundwork by identifying and prioritizing tasks that could be positively impacted by a transition to Python. But if business leaders don't find ways to capitalize on what Python has to offer, they may miss opportunities to increase efficiency or discover insights that could lead to game-changing innovation. 
During an upcoming free webinar (March 26th at Noon ET), Mike Galvin, Metis Executive Director of Corporate Training, and Kevin Birnbaum, Metis Senior Data Scientist, will break down Python for data science and analytics, explain what is driving adoption in the field, and discuss how industries and companies are reacting to the shift. Finally, they'll showcase why data and analytics professionals are so excited about Python via live demonstrations.
Business leaders and analytics professionals will gain the tools to:
- Explain what Python is and its importance to the data science and analytics field

- Build a business case for adopting Python

- Identify the best way to begin introducing Python into their environment

 
Invite your team and senior leaders to participate and ask questions during the live Q&A. It'll be a great opportunity to begin the conversation!
About Mike 
Michael enjoys using data to create new things and solve previously "unsolvable" problems. At Metis, he oversees the data science training and curriculum development for all corporate clients, including Wells Fargo, Intel, and Fortune 500 companies across industries. He came to Metis from General Electric, where he worked to establish their data science strategy and capabilities for field services and to build solutions supporting Global operations, risk, engineering, sales, and marketing. He also taught data science and machine learning for General Assembly. Prior to GE, he spent several years as a data scientist working on problems in credit modeling at Kabbage and corporate travel and procurement at TRX. Michael holds a Bachelor's degree in Mathematics and a Master's degree in Computational Science and Engineering from the Georgia Institute of Technology, where he also spent 3 years working on machine learning research problems related to computational biology and bioinformatics. Additionally, he spent 12 years in the United States Marine Corps, where he held various leadership roles within aviation, logistics, and training units.

About Kevin
Kevin came to Metis from Munchkin, a global baby products company, where, as the first data scientist, he incorporated machine learning, statistical testing, and data visualization for marketing and demand planning. He established the first Data and Analytics team at Munchkin where he continued to evolve the company culture by integrating data science into everyday decision making. Kevin went to UC Berkeley, where he received his BA in Applied Mathematics and his MS in Information and Data Science. 
_____
Learn about Metis Corporate Training, which enables businesses to capitalize on the talent already working under their roofs through on-site training on topics like Data Literacy, Machine Learning, Data Engineering, and much more.
---