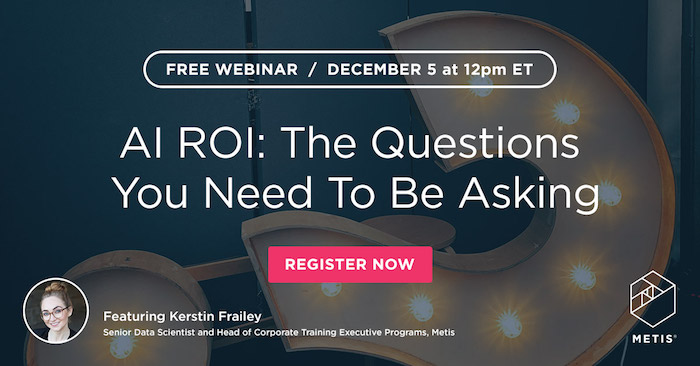 On Thursday, December 5th, you're invited to join us live online for a free webinar on AI ROI: The Questions You Need To Be Asking, hosted by Kerstin Frailey, Metis Sr. Data Scientist and Head of Corporate Training Executive Programs. 
As business leaders increase investment in advanced analytics, data science, and AI, many struggle to recognize a return on those efforts. This is not because those initiatives don't deliver results, but rather, because of inaccurate measurement and reporting of success. Technical teams deliver transformative contributions to their companies, but they aren't being acknowledged for it. 
Meanwhile, other teams are frustrated because their successful data science projects are not being translated into successful business projects. This often occurs because leaders are unable to differentiate high impact data science projects from low impact ones. Without the ability to do so, leaders cannot effectively lead a team to choose impactful projects.
If leaders keep struggling to understand and identify data science impact, they will eventually stop investing in it. When that investment stops, companies lose the competitive advantage that these teams are indeed bringing to the business. 
Fortunately, we can do better. Teams can pursue high ROI projects if they know what questions to ask and when to ask them. 
In this talk, Kerstin Frailey will walk through what you need to ask before, during, and after a data science project. This talk will give leaders the tools to: 
- Identify and assess the possible impact of potential data science projects

- Support projects with a high probability of success

- Identify sunk costs and appropriate stopping points

- Transform data science success into success in your business

 



More About Kerstin Frailey 
As the Head of Corporate Training Executive Programs at Metis, Kerstin Frailey leads executive, management, and data literacy program development. Prior to joining Metis, she worked as a Data Scientist for the data, growth, and marketplace teams at Postmates and as the Director of Data Science at GuideStar. She holds graduate degrees in statistics, mathematical statistics, and mathematical computer science from Cornell University and the University of Illinois at Chicago. She was a data science fellow at the University of Chicago and is Ph.D. ABD in Statistics from Cornell.
_____
Learn more about Metis Corporate Training, which enables businesses to capitalize on the talent already working under their roofs through on-site training on topics like Data Literacy, Machine Learning, Data Engineering, and much more.
---