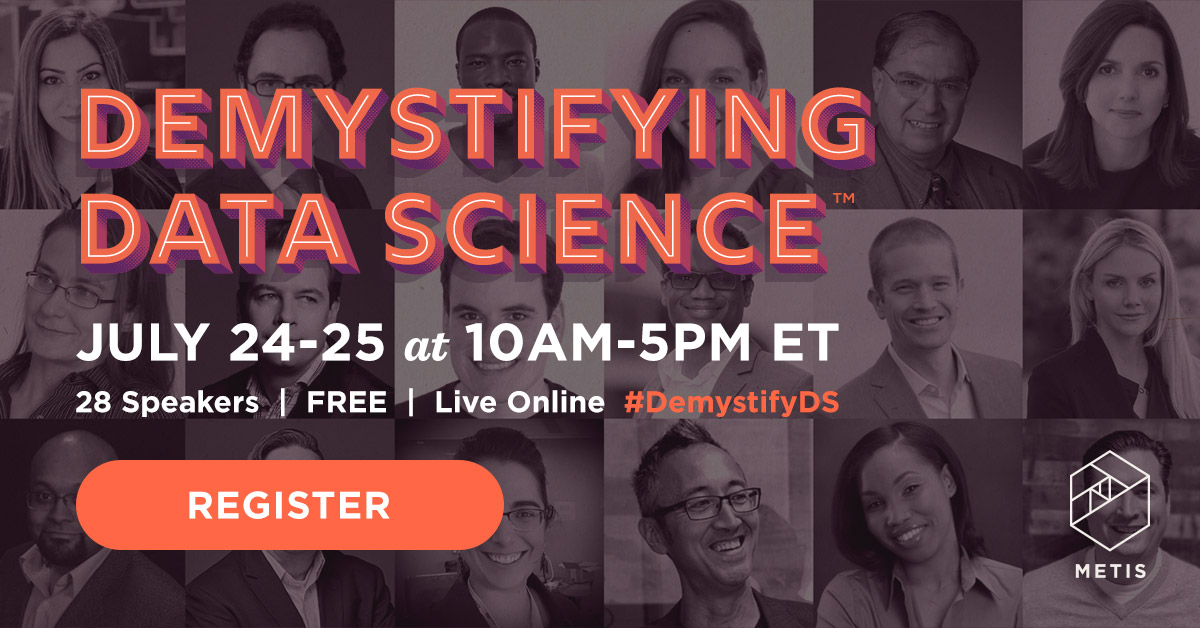 Last year, our inaugural Demystifying Data Science conference attracted thousands of attendees from more than 100 countries worldwide. We're aiming to shatter those numbers this year as we gear up for our second annual Demystifying Data Science conference – free and live online from July 24th-25th. For aspiring data scientists and data-curious business leaders, the conference will consist of 28 interactive data science talks from industry-leading speakers over two intensive days. It will be held from 10AM-5PM ET both days.
Demystifying Data Science is designed to be equal parts informative and interactive, with top data science talent holding consecutive 18-minute live presentations, each followed by Q&A. All sessions will include real-time chat, with opportunities to ask questions, answer polls, and share socially. The full list of speakers and the conference schedule are available here, with a lineup of industry-leading speakers that includes:
- Lillian Pierson - CEO, Data-Mania LLC and author of Data Science for Dummies (keynote speaker, Day 1)
- Beth Comstock - Change Maker & Author, Former Vice Chair of GE (keynote speaker, Day 2)
- Kirk Borne - Principal Data Scientist at Booz Allen Hamilton
- Mico Yuk - CEO of BI Brainz and author of Data Visualization for Dummies
- Jake VanderPlas - Director of Open Software at the University of Washington's eScience Institute
- Bob Hayes - President of Business Over Broadway
- Kamelia Aryafar - Director, Head of Data Science at Overstock
Day 1 of the conference (July 24) will help aspiring data scientists understand the training, tools, and career paths to the best job in the United States (according to Glassdoor). This day is designed for data analysts, software developers, engineers, technical product managers, statisticians, physicists, STEM Bachelor's/Graduate degree holders, and PhDs who are interested in learning more about data science.
Day 2 of the conference (July 25) will help business leaders, managers, and practitioners learn how data science applies to their business, what needs to be done to integrate data science into an organization, and how to achieve this integration. This day is designed for L&D leadership and C-suite, VP and director level cross-functional leaders in roles dealing with data, including marketing, product, finance, analytics, and technology.
Hosted on Day 1 by Metis Chief Data Scientist, Debbie Berebichez, and on Day 2 by Metis Executive Director of Data Science Corporate Training, Michael Galvin, the conference is part of our larger Demystifying Data Science campaign, comprised of in-person and live-streamed events, online communities, a blog series, and resources that make it possible for aspiring data scientists to start building expertise in the field.
We hope you can join us! Register here. (And if you do register by June 28th, you'll be automatically entered to win a free seat in our upcoming Beginner Python & Math for Data Science course.)
__________
To speak with a Metis spokesperson about Demystifying Data Science, please contact Michael Tague at 212-974-2785 or [email protected].

---