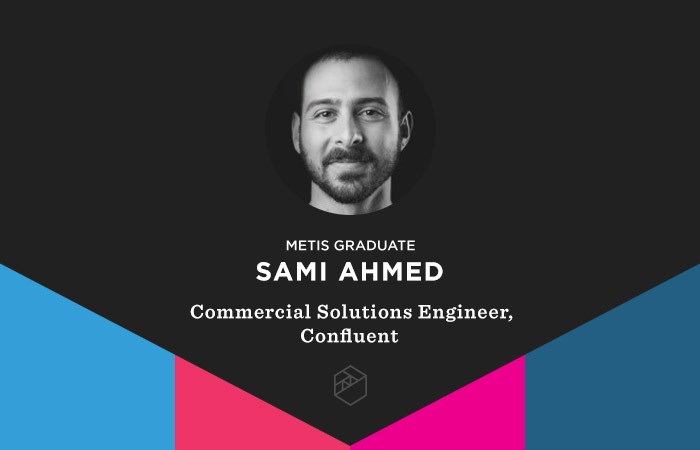 Years before attending the bootcamp and switching to a career in data science, Metis graduate Sami Ahmed was focused on music. He studied film scoring and music business in college and worked as a musician, mostly composing for commercial media.
He left that career largely due to changes in the industry as the business model started looking less stable over time. 
"Streaming services were rising, and the revenue model for artists and writers like me was really in turmoil," said Sami. "That's when I chose to do a kind of "alternative MBA" called Experience Institute,  which took me to China and Portugal." 
While studying and traveling, he had apprenticeships, many at tech startups, so it felt like a natural bridge when he returned home to Chicago and started tapping into the emerging and fast-growing tech scene in the city. He took a position as a Senior Presales Engineer at Uptake, which allowed him to interact with engineers and data scientists. 
"The data scientists I worked with were inspiring, and the open-source culture the team championed was really collaborative and just felt right," said Sami. "But I did not understand details behind model selection, making feature engineering decisions, etcetera."  
In order to gain an understanding of these technical details and skills, he started looking into courses and bootcamps. When he came across Metis, he decided to first take the Beginner Python and Math for Data Science course, which acts as bootcamp preparation. 
"I found it helpful to do the Beginner Python course," said Sami. "Having a good foundation of Python really helps you navigate the bootcamp, where there are pair programming challenges every morning, and it can be discouraging if you can't even start a problem because of Python hurdles."
After that course, better able to maneuver over, around, or through those hurdles, Sami applied for the bootcamp and got in, ready to become a data scientist like the ones he'd been inspired by initially. With the project-based curriculum in mind, he came into the bootcamp ready with ideas, which he advises incoming students to think about, too.  
"Start thinking of projects you've always wanted to do," he said. "You only have a few weeks for each project during the bootcamp, and factoring in the time it takes to acquire data for [each one], you really do not have a lot of time to waste brainstorming projects."
For his final project, he sought to merge his expertise in audio with his growing collection of data science skills. His guiding question was: is it possible to create an anomaly detection model based on the audio (or more technically, based on the electromagnetic waves within human audible frequency range) from the Van Allen NASA mission? 
"I miss playing live music, but I like finding out where the two worlds collide. Like using data science for audio analysis for my final project, when I clustered audio from outer space," said Sami. "In order to do this, I web scraped the audio files, extracted features from the files, and used unsupervised learning to cluster the audio based on the features." 
(You can read more about the project here and here.)
After the bootcamp, he landed a short term contract as a Data Scientist for Saturn Cloud, an NY-based analytics startup. The contract ended earlier this summer, but the amount of experience gained will stretch well beyond his time spent there. 
"I was drawn to [Saturn Cloud] because they focus on bleeding edge services for data scientists," said Sami. "I enjoyed learning about this new tech and the challenges included. The company is really new, so often I would be pioneering new ways of doing things."  
Fresh off of that opportunity and with an even larger skillset at the ready, he's now moving into a new role as a Commercial Solutions Engineer at the event streaming platform, Confluent. 
_____
To read more Data Science Bootcamp alumni stories, visit here.
---