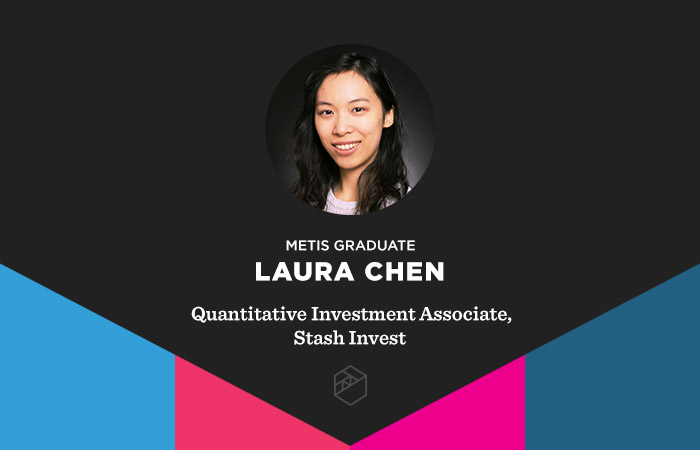 Laura Chen has always been deeply curious about human behavior. While earning her Bachelor's degree in Business (with a concentration in Finance and Economics) from New York University, she took a behavioral economics course that made her realize the possibility of fusing that interest with her passion for finance and technology.
But first, after graduating from NYU, and with a quantitative education in tow, she began work as a technology consultant. She enjoyed the work of providing various clients with efficient technology solutions, but the weekly travel demands started taking a toll after about two years on the job. She started thinking about a change and felt a pull toward data.
"I had done some side projects in data analytics and felt it was something I wanted to pursue further," said Chen. "I had been teaching myself Python for a while and enjoyed building useful tools to help at work, but I wanted to take my skills to the next level."
She started with self-study, but as topics and tasks grew increasingly advanced, she craved in-person guidance.
"I felt I needed structure, and a full-time commitment, to really learn enough to make a career change," she added.
Chen applied to and enrolled in our data science bootcamp in New York City, where her fascination with human behavior emerged again, guiding one of her bootcamp portfolio projects.
"One of my favorite projects was a natural language processing analysis of anonymously published secrets from the website Whisper," she said. "It was fascinating to see the common themes of anonymous secrets, especially compared to the way people talk about things in public forums of social media."
Just a month after graduating from the bootcamp, Chen was hired as a Quantitative Investment Associate at Stash Invest, a technology and finance company in NYC.
"I work on the Investments team...to help evaluate the investments we add to the app and to analyze user investing behavior," she explained. "I studied finance for my undergrad degree, but there was still a lot to learn about the industry and about quantitative finance specifically. It's been a fun challenge."
And yet again, she's run into a direct tie-in to her fascination with human behavior.
"I get to observe a lot about users' investing behavior," she said. "For example, I completed some analysis on how users react to market volatility, and how we can encourage users to remain calm and weather the inevitable ups and downs that come with investing."
Similarly, frequent ups and downs can come with working at a startup. But Chen is well-suited for the fast pace and for the opportunities to break new ground.
"I think working at a startup is exciting because we're able to work on new challenges and try things that nobody has done before. When we're making decisions we have to move really quickly, and there aren't always a lot of precedents to look at," she said. "I'm really excited about what's being done at Stash, and I believe in the mission of helping empower people of all backgrounds through personal finance."
__________
Interested in reading more about the student/alumni experience? Check out more stories here.
---