Mollie Pettit is the instructor of Data Visualization with D3.js, the part-time Metis course starting October 30th and running through December 13th on Monday and Wednesday evenings in Chicago. You can learn more about the course and enroll here.
*For those interested in learning Data Viz outside of the Chicago area, we're also running this course in a Live Online format (aka you can be located anywhere!) starting November 6th. Register for a free sample class.*
_____

Mollie Pettit is a big believer in the power that visualizations can wield in helping people to understand data, which can often be otherwise complex and cumbersome. Currently a full-time Data Scientist at Datascope Analytics (a Chicago-based data science consultancy), she uses visualizations regularly to communicate progress, findings, and results to clients, in addition to working on related projects outside of work for the pure love of it. We're excited to have such a skilled and passionate instructor on board for the upcoming part-time Data Visualization with D3.js course in Chicago. 
Before transitioning into data science, Mollie worked as a petrophysicist in Abu Dhabi and as a scientific researcher at Stanford University. She has a bachelor's degree in mathematics and geology from West Virginia University and a master's in geology from Stanford.
We caught up with her to discuss her passion for data viz, her recent Star Trek-focused visualization project, what work inspires her own, and more. 
Check out a brief video interview with Mollie below, as well as a full Q&A. 


Describe what data visualization means to you. How do you see the field/art? 
Direct communication is something that has always been important to me, in both my personal and professional life. I think this is the reason I have always been drawn to data visualization – because it is often the best way to efficiently communicate complex data quickly and effectively. If the goal is to tell a story, a clear and engaging data visualization can showcase complicated information and help an audience to understand a dataset faster and more fully than if they'd just looked at the raw data. As an added bonus, data visualizations can also be really beautiful and/or fun! Data visualization is also extremely useful when doing exploratory data analysis, in which case creating some quick and dirty plots to be able to see the data helps one to find answers to their questions more quickly, and come up with more intelligent questions to investigate.
What projects have you worked on recently that you're particularly proud of? 
Unfortunately, many things I do at work cannot be shared. However, I have a few examples that are totally shareable!
Last year I created a webapp for visualizing network graphs of the various combinations of Star Trek characters.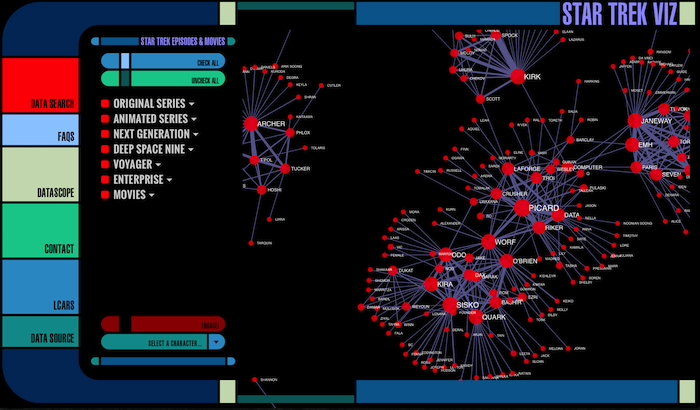 One client project I worked on involved creating a simple interactive visualization for displaying text-based survey results. Additionally, anyone interested can check out my bl.ocks page; it's not super populated at the moment, but I am planning to fix that in the coming months.
Whose work inspires your own? 
Amanda Cox (graphics editor of the NYT's The Upshot) is definitely one of my data viz heroes. A really awesome example of her work is the one on Voting Habits of Americans Like You, in which she takes a very large and complex data set, showcases a vast amount of information, but breaks it down in a way that makes it more manageable to both understand and explore. Really good stuff. Other New York Times folks whose work I drool over are Kevin Quealy (graphics editor at New York Times) and Mike Bostock (former New York Times editor and D3 creator).
I really enjoy articles and accompanying visualizations created by Matthew Daniels (and the rest of the clan at The Pudding). They do an amazing job at creating visualizations that are the perfect accompaniments for their explorations into pop culture topics. An entertaining example that I enjoy is Matthew's look at The Etymology of Shorty in Hip Hop, but there are a lot of great ones.
How do you stay up-to-date on the changing field? What resources do you rely on?
To be honest, there isn't a particular resource I use. Working on various projects at Datascope naturally exposes me to a variety of tools. Additionally, this is where it is helpful to be a part of a community of fellow data scientists who share resources and discoveries. At Datascope we have a slack channel called #the-radar where Datascopers will post the latest tech news related to data science or related topics.
When teaching data visualization, what do you focus on – skills, theory, a mix?
I think it's important to focus on both! There will be a lot of learning by doing, but it's also important that students understand why it is they're doing what they're doing.
Want to learn Data Visualization with D3.js from Mollie in Chicago? Enroll in her upcoming part-time course starting October 30th here!
---