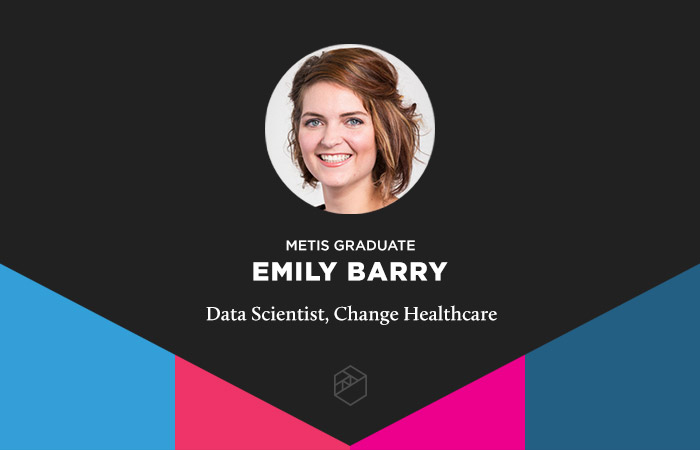 Emily Barry's mind works in two distinct ways – she's technological and analytics-driven, and she's also creative to her core. Her interest in technology stems from a desire to know and understand how things work, while she's naturally drawn to creative pursuits, having spent years as the lead vocalist, keyboardist, and bassist for a signed, touring band, and having helped launch and manage a community-focused flea market in Davis, California.

For many years, these two sides of herself felt disparate, and she notes that her broad background made it difficult to pin down her desired professional niche. After graduating with a bachelor's degree in International Relations, she spent the next few years planning inventory at an e-commerce company. It was then and there that a path to data science began to come into view.

"I started to become really interested in data during that role, as I noticed it struck a chord with a rabid curiosity I hadn't indulged since briefly considering majoring in design during college," said Barry. "I also started teaching myself how to write VBA code to automate tasks I didn't want to do myself, which is when one of my coworkers suggested I look into data science."

She pushed that idea away initially, not wanting to pursue a master's or Ph.D., but that same co-worker told her about data science bootcamps, and from there, she was hooked. She applied to Metis the following month and was soon accepted into the next San Francisco cohort.

"It fell into place really amazingly well," she said.

For her final project at Metis, she took each and every Supreme Court case in history and topic-modeled all of them.

"Once I had the results of the algorithm, I visualized the topic contributions as an area chart over time. At the point that this became a functioning, interactive visualization, I realized I really had something," she said."

She wrote about her project in a compelling blog post, shared it on Twitter, and got a positive response from a wide audience.

"It led to interviews and being recruited for my first role as a Data Scientist, which allowed me to work on NLP projects nearly full-time," she said, speaking of her former role as a Data Scientist at LegalServer. "Looking back on it, I think it was important that I chose a project out of passion that led to potential employer interest, rather than focusing on a project that I thought could get me a job quickly."

While working as a Data Scientist at LegalServer, she continued harnessing the power of her personal blog, pursuing freelance data science writing and speaking gigs.

"Nothing is more 'put yourself out of your comfort zone' than standing up in front of 20-60 strangers and speaking confidently about the linear algebra behind Non-Negative Matrix Factorization," she said. "So that's why I started reaching out to people about speaking engagements as well as accepting basically every opportunity presented to me. Over time, the goal kind of became to make my name known in the field, as well as talk about things I'm interested in to people who are interested."

Two months ago, she landed her current role as a Data Scientist at Change Healthcare, one of the largest independent healthcare technology companies in the nation. The company aims to increase innovation and customer service through advancements in software, analytics, network solutions, and technology-enabled services. It's a great blend of tech-focused creativity, and thus a perfect fit for Barry.

"[My role has] the mix of skills, tools, and projects I've been looking for since I completed Metis. I basically get to do Machine Learning projects all day that have an impact on how our health industry functions, with the ultimate goal of making medicine cheaper for people like you and me," she said.

When asked if she had any advice for incoming bootcamp students, she highlighted the importance of communication, but also touched on the idea that success lies where technology and your personal interests meet. It's this very same idea that has allowed her to find the bridge between her tech side and her creative side – a bridge that has led to a promising and fulfilling start to her data science career.
_____

Interested in learning more about the Metis Data Science Bootcamp? Check it out!
---