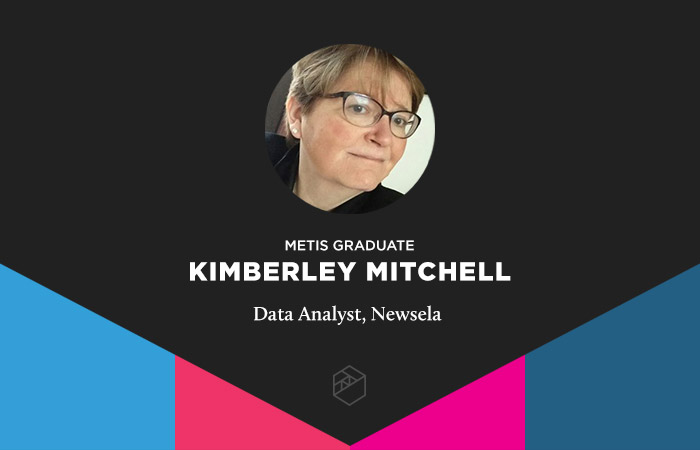 Bootcamp graduate Kimberley Mitchell, now a Data Analyst at Newsela, always had a significant interest in one crucial pillar of data science – statistics. This propelled her toward degrees in industrial engineering and economics, and into a career that has clear a delineation between before and after the birth of the mainstream internet. She worked as a Quality Engineer for AT&T and as a Statistician for Universal Instruments, among other roles, before the web took off and she wanted to take off with it.
"I wanted to be a part of that," she recently recounted, "so I started learning some front end development and then that proceeded to do backend stuff and all kinds of other things. That's how I started working with relational databases."
She went on to the follow the internet boom to Credit Suisse, where she worked as a Web Application Developer and then as a Business Analyst for a total of nearly a decade. In that time, data science began to increasingly emerge as a professional field, and so did her interest in it. While she already had some of the necessary skill set under her belt, she began to realize from looking at job listings, going to conferences, and taking some programming courses on her own, that the knowledge needed was rapidly expanding to include things she didn't yet know at all, like machine learning, Python, and advanced analytics.
"My analytics knowledge was out of date. It was decades out of date. I already had the approach of wanting to use analytics to solve problems...but I needed the tools to solve them and I definitely was behind," she said, before adding: "As an older worker, I needed to show that I could use the new tools."
A little more than a year ago, in her 50s as she is now, Mitchell took our Data Visualization with D3.js part-time professional development course at our New York City location before looking seriously into our full-time data science bootcamp. She decided it was right for her based on a variety of factors, including the $3,000 scholarship provided to women. In the months after completing the 12-week bootcamp, she found her current job as a Data Analyst at Newsela, an instructional content platform focused on boosting K-12 education.
"It's a great company, and it's growing very fast," she said. "The Newsela application is used in 70% of the elementary and high schools in the U.S."
It's fulfilling to work in a role that positively affects a student's ability to learn, she said, especially because she holds the belief that learning can and should be a lifelong pursuit. Her day-to-day work includes using data and analysis to ensure teachers who've purchased the pro features offered by Newsela are satisfied and will (hopefully) renew their licenses. She's been on the job since April 2017 and has run into some exciting but challenging data science-related problems so far. The first one she had to tackle? The huge Redshift database.
"The database is enormous," she said. "It has data from the application. It has data from Salesforce, from the sales team. It has data from the behavior on the website, who clicked on what. It has data based on outside information about the schools. It's pretty complicated and so it took several weeks just to figure out where all the data was."
She's also routinely using data visualization and data exploration tools, as well as making plans for future projects involving predictive analytics.
"What I'd like to do is look at renewals based on the engagement factors. That would tie in with my team really well," she said. "Because it's such a growing company and there aren't years and years of history of how we've always done things, people are really open to things that will help make the job better." 
It's Mitchell's longtime love of statistics, numbers, and data, mixed with her lifelong passion for continuous learning, that combines for an exciting future built upon her already accomplished past. 
"I think that my particular story of wanting to get back into data analytics in my 50s is interesting," she said," it makes me feel really good to know that I've been able to do it."
_____
Interested in learning more about the Metis Data Science Bootcamp? Check it out!  
---