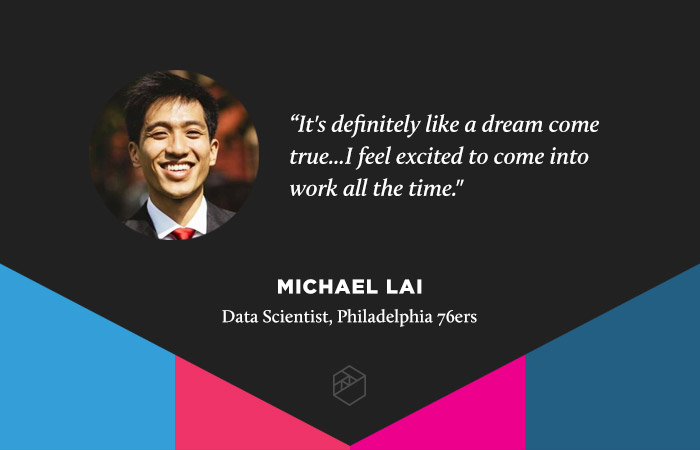 This post was written by George McIntire, a graduate of the Metis Data Science Bootcamp, former freelance journalist, and current Data Science Instructional Associate at General Assembly.

_____

A percentage of people have jobs they enjoy and find fulfilling, but how many can truly say they've landed the job that suits them best? Chicago native Michael Lai is a lifelong basketball fan (he grew up adoring the Michael Jordan-led Bulls) with a passion for programming, data, and analytics. He recently got a job as a Data Scientist for the Philadelphia 76ers and considers working for an NBA organization a dream come true.
"I think about how it was working for other places, and this is so much better. I feel excited to come into work all the time," he said.
In his role, Lai fuses his passion for basketball with his extensive business and analytics experience. Previously, he was a data scientist for IBM, and before that was a financial trader. In both of those roles, analytical expertise presented solutions to obvious needs. But one of the biggest challenges of working as a data scientist in sports is that it's a relatively new area of interest, according to Lai.
"Sports, in general, is kind of more traditional; there aren't a lot of people who understand technology or understand what we're doing or what we're capable of doing," he said. "There are ideas and strategies that we not only want to communicate but [we want to] get people to buy into as well." 
With that said, the 76ers have long been one of the most data-oriented organizations in the NBA. Lai is one of eight analytics professionals employed by the team, the largest such department in the league.
"There is an organizational acceptance of analytics. Our coaching staff and executives are used to having analytics people around," he said. "They all believe in that kind of work."
On a day-to-day basis, the largest component of the job is the programming. Lai and the other 7 members of his team spend the majority of their time building infrastructure in Python and JavaScript for the purpose of hoovering data from a variety of sources. Though he can't divulge much about the specifics of his data-related work (guarding your secrets is key to gaining an advantage in this extremely competitive league), he says the team is applying a collection of machine learning algorithms to vast amounts of complex data.
Lai credits the Metis Data Science Bootcamp curriculum with helping him understand which machine learning methods to use for certain situations and for improving his coding skills through pair programming exercises, among other things. He graduated from the bootcamp in New York City in April 2016 before moving on to IBM and then the 76ers.
Aside from the satisfaction of doing work he loves, Lai also enjoys the occasional perk of interacting with the players during lunches and around the team facilities. That sort of face time allows room for even an avid Chicago Bulls fan to become an admirer of another NBA team.
"It's easy to be a fan of the team when I see the players and am able to interact with them and other staff," he said.  "The team that we have now is very young and promising, and it's nice to be around."
_____

Interested in learning more about the Metis Data Science Bootcamp? Check it out!
---