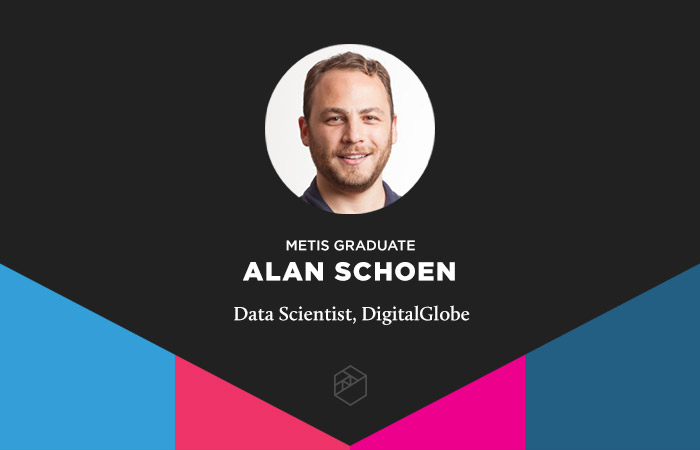 This post takes quotes from a blog post written by Alan Schoen for DigitalGlobe. He gave us permission to use and share it. You can read it in full here.
_____

He wanted to experience it all – every bit of its nearly 2,200 miles, over hills and mountains, through dense woods, and across multiple state lines. When Alan Schoen took six months to hike the Appalachian Trail, he'd just returned to the United States after 10 years of studying and working abroad. He was celebrating some in-between time by accomplishing an ambitious personal goal before diving head first into the competitive job search.

"Things can get pretty uncomfortable on the trail. I was outside in all weather, so there were hot days in the summer, cold nights in the fall, and I had to survive mosquito season. There was even one night when a couple of bears came and tried to steal my dinner," he said. "But I saw many places I would not have been able to see any other way, and I met great people in the big community of hikers and people who help hikers."

The long journey ended in Georgia, after which he moved to the Washington D.C. area in search of a data job. He'd earned a master's degree in neuroscience from McGill University and had some years of experience in data science roles abroad, but he knew the gap in his recent work history might add to the challenge of finding a role. Even so, he says he underestimated just how challenging it would be, and having a professional network largely based in Canada and Germany didn't help his situation either.

"After applying to about 300 data scientist jobs in D.C. and New York, I concluded that I lacked the necessary experience with modern programming languages. I had previously worked with research and proofs of concept but not with production-level solutions," he said. "To become an attractive job candidate, I needed new skills."

He decided to look into bootcamps, and after researching various options, he chose Metis, in large part because of our use of the Python programming language.

"I knew Python had a lot of the same capabilities as Matlab, which I had previously used extensively, but was free, flexible, and open source, which means many tools are available to help you use Python for nearly every purpose – a huge advantage," he said.

He calls the bootcamp the "most intense experience of my life," which says a lot for someone coming off of a six-month hike that included multiple bear encounters. But it paid off. At Career Day (the event at the end of each bootcamp, during which students present their final projects to a room full of hiring partners), he met his future boss, who hired him just two weeks later. He's now a data scientist at DigitalGlobe, the world's leading provider of high-resolution Earth imagery, data, and analysis, which ties directly into an interest he stumbled upon while on the trail.

"I got interested in geospatial data on my hike. I learned firsthand that you miss a lot of information when you average data over large spatial areas," he said.

He's covered a lot of ground physically and now covers even more digitally. He's currently working on neural network models on the company's cloud platform, which can scan hundreds of thousands of square kilometers per day. In addition, he's helping with other projects like an immersive virtual reality experience with machine learning.

The combination of his time spent on the trail and his time spent in the bootcamp prepared him for the work he's now doing. Both paths were challenging, yet rewarding – and that theme certainly continues on in his new role.
_____
Interested in learning more about the Metis Data Science Bootcamp? Check it out!  


---