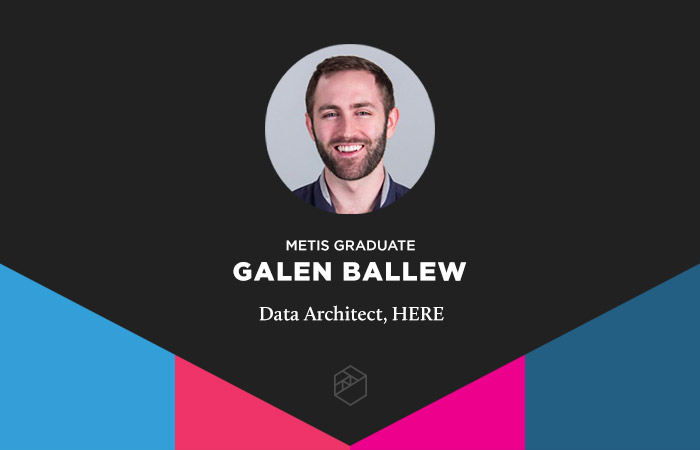 This post was written by George McIntire, a graduate of the Metis Data Science Bootcamp, former freelance journalist, and current Data Science Instructional Associate at General Assembly.
_____
Self-driving cars, once only existent in the realm of science fiction, edge closer to reality with each passing day. Data scientists like Galen Ballew, a graduate of the first Metis bootcamp in Chicago, are working day in and day out to make it so.

Now a Data Architect at HERE, based in Boulder, Colorado, Ballew works on the Highly Automated Driving Machine Learning (HAD ML) Services platform as part of the Sensing and Perception team. He helped develop and continues to maintain the platform, which allows data scientists to publish their models, training and testing images, and labels so other scientists can use them.

"My role is part software engineer and part support," said Ballew. "I work closely with research and data scientists who develop cutting edge deep neural networks for image segmentation and classification in self-driving cars."
The company is preparing to launch a feature allowing models to be trained on the service, meaning that scientists will be able to train bigger models on more data and all of the computation will occur on scalable, serverless architecture in the cloud. In addition to this excitement, Ballew loves the new HERE location in Boulder – and it's about to get even better. They'll soon be sharing a facility with a new team from Mercedes-Benz, Audi, and possibly BMW.
"Working closely with the OEMs (original equipment manufacturers)...means that our solutions will be that much more viable," he said. "We will be able to understand what tools, sensors, and data are being used from start to finish and build our solution accordingly."

Though he doesn't currently "work with the nitty gritty of machine learning," as he puts it, learning and understanding the expansive topic while at Metis student has helped immensely with in-house communication on the job. 

"It is important for my role to understand data science lingo and to be able to speak the language. If I can't understand the goals of my coworkers, then I can't help them. Having this fundamental understanding of machine learning and data science was a key factor in my getting the job and being successful in it," he said.

Another key factor in his landing this role? His final project at Metis. Ballew's capstone project was about…you guessed it…self-driving cars! He built a traditional computer vision solution for self-driving cars and trained a deep neural network for vehicle detection.

"My final project was a huge boon to finding my job at HERE," he said. "This project is almost exactly what HERE is doing, except that they have a lot more money and Ph.D.'s than I do. Being able to demonstrate my passion and hard work to the hiring manager was a huge factor in receiving the offer."

Prior to Metis, Ballew studied both math and art in college, perhaps a seemingly inharmonious combination at face value. But it's the mix of the two that drew him to data science and continues to inspire his work.   

"To me, data science is a mix of mathematics and art," he said. "While I work on quantitative problems and get to code on a regular basis, I have a tremendous amount of creative license in the approach and communication about the solution."
_____
Interested in learning more about the Metis Data Science Bootcamp? Check it out!
---