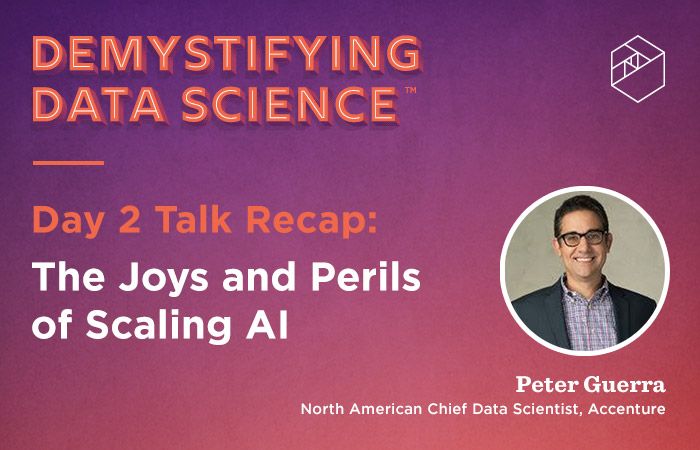 This is the 5th installment in an ongoing blog series to recap the talks given on Day 2 of our 2019 Demystifying Data Science live online conference. The content presented on Day 2 was designed for Business Leaders, Managers, and Practitioners. 
At Accenture, where Peter Guerra is the North American Chief Data Scientist, the team likes the phrase "applied intelligence" as opposed to "artificial intelligence" because they want to help clients drive application and value from their given situations. Applied Intelligence is made up of data, analytics, and automation, and it's a popular topic with Accenture's global clients. 
"The genesis of this talk was around how we help our clients who are going into this space, and how we help them learn about the disruption that's happening, as well as the joys and potential perils of implementing AI at scale," said Guerra at the beginning of his talk. 
Back in 2018, Accenture conducted a large-scale study about AI transformation of business. The results helped the company predict that by 2035, "we expect at least 12 global economies and 16 major industries to be transformed to a value of about 14 trillion," said Guerra.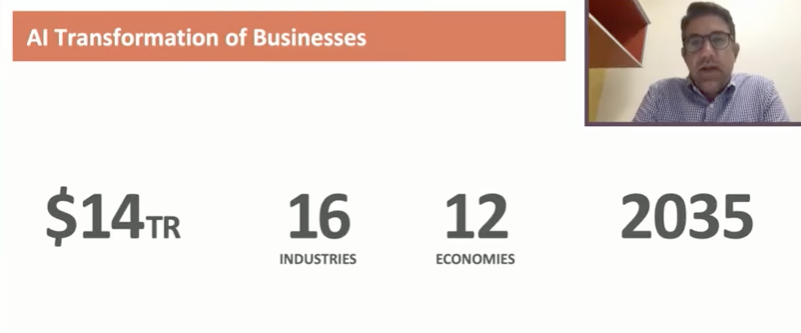 And we're already seeing these results play out in the world today. Take the slide below as an example. In 2008, many of the highest-value companies in the world produced physical goods. By 2019, there's a shift toward valuing companies that rely on data and AI to drive growth.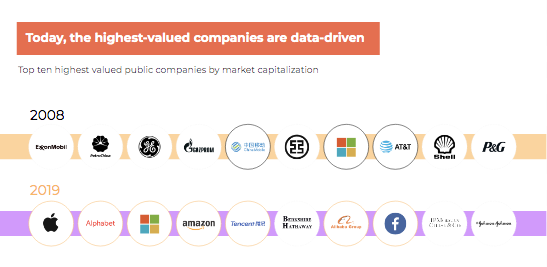 To further illustrate this point, Guerra shared a slide showing industries that are currently being disrupted by data and AI, along with ones that are most susceptible to future disruption.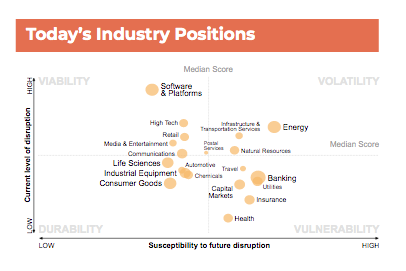 For the remainder of his talk, Guerra walked through three different Accenture use cases that illustrate the joys and perils of scaling AI. First, he discussed a European home retailer client. 
"They wanted to understand how to get better bottom-line cost controls in their retail enterprise," he said. "They wanted to do this by predicting future sales and better enabling the supply chain." 
Accenture worked with the company to organize its data, do predictive analytics around sales, and much more. You can see the results of this work on the slide below.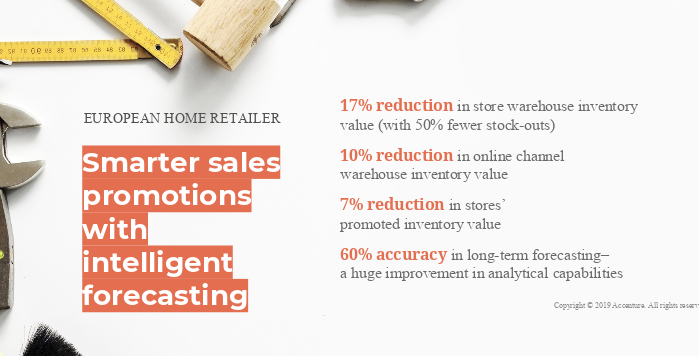 But it wasn't easy every step of the way, notes Guerra, who is careful to highlight the perils of these projects along with the successes. 
"The data they had was in different formats, it was in different systems, it was siloed all over the place; they had a hard time taking and translating even one particular item from one system to another. They also used multiple languages. It was inconsistent and very difficult to work with," he said. 
According to Guerra, when thinking about scaling AI, it's important to make sure you have an enterprise data strategy so that your data scientists and others working on projects can make the best use of the data. 
In his second use case example, Guerra discussed the safety concerns of a steel manufacturer that wanted to use computer vision and deep learning to improve factory employee safety.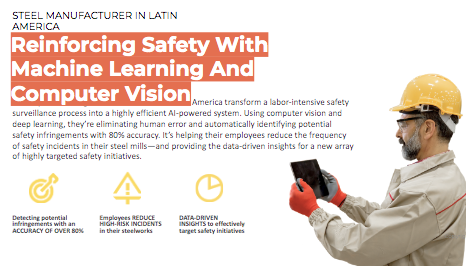 The joy of this project came from improving the safety of workers, said Guerra – but the perils involved these very same workers. After the project came to a close, the company ran into issues actually implementing the new safety strategies, as the workers were resistant to the change. This is common, according to Guerra, who refers to this as the "people dimension." Organizations often overlook this dimension when scaling AI, but it's important to think about how people will actually use new tools and strategies. According to Guerra, you have to ask yourself: what is our people-focused plan for implementing the AI work once it's done? 
In his final use case example, Guerra highlighted work done with a large global brewer seeking to pursue informed investments.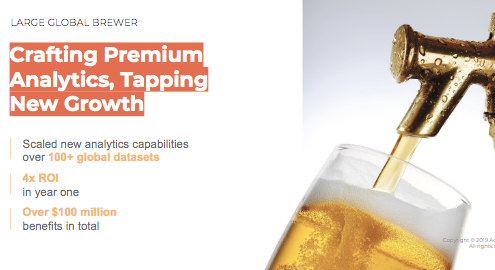 Accenture was able to take various global datasets and provide the company with a single picture of their customer, which enabled them to make the right investments moving forward. In terms of challenges, Guerra noted that the brewer had questions about the use of outside data. But when it comes to AI, "the more data the better," he said. It's important to understand how outside data can play into your strategy. 
To round out his talk, Guerra provided some tips for how to get started with scale, which you can see in the slide below.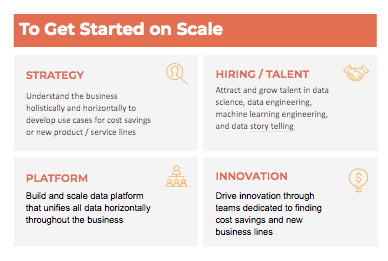 Want more? To watch his talk in full, register for free here and receive a link via email for access to this and all other Demystifying Data Science talks.
---