This is the 3rd installment in an ongoing blog series to recap the talks given on Day 2 of our 2019 Demystifying Data Science live online conference. The content on that day was designed for Business Leaders, Managers, and Practitioners. 
At the time of this talk, speaker Adrian Cartier worked at Bayer*, where the motto for its Crop Science division is "science for a better life." According to Adrian, that statement drove everything Bayer did in relation to helping its farmer clients with the 40+ key decisions they needed to make every growing season. The Crop Science division aimed to help them answer questions like, What do I plant? When do I harvest? What's the best fertilization approach? etc. using data science solutions.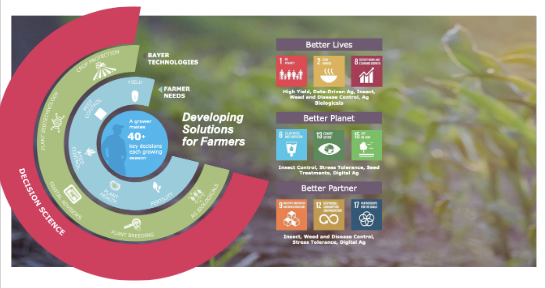 During his talk, Adrian spoke about the unique challenges that these farmers face and how the challenges are evolving in real-time.
"More and more, the agricultural environment is becoming challenging," he said. "Growers are trying to maximize every bit of land possible while minimizing the resources it takes to do it, getting the most out of their fields. Bayer provides tailored solutions to help them accomplish this." 
On the following slide, he demonstrated the approach to creating those solutions.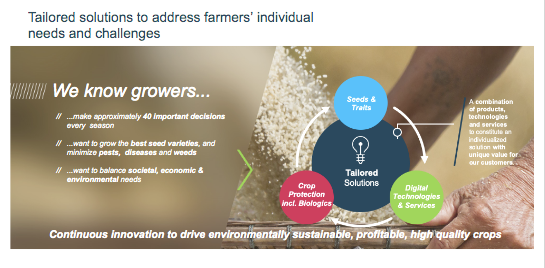 Cartier then described the overall digital transformation at Bayer, which took time and energy over the span of multiple years. It was a total rethinking of the business.
"Digital transformation is not only an IT transformation," he said. "It requires a holistic change top to bottom, internally."
To get to that desired goal, he suggested tactics like data literacy courses and programs for your teams, modernizing your infrastructure, hiring leadership with a broad digital understanding and/or training current leadership, and more. He mapped out Bayer's digital transformation journey on the slide below: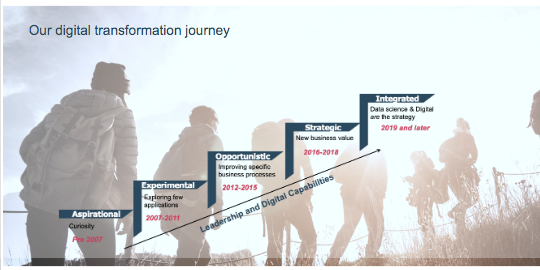 In Adrian's experience, he's learned that everything starts with a business strategy. That's why, during his time at Bayer, he partnered closely with business leadership.
"It's important for data science leads and data scientists to understand the business strategy," he explained, noting that once you know the strategy, you can start thinking about what decisions to make in order to reach goals and move the needle.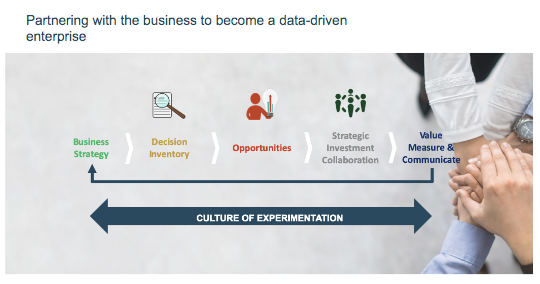 "Combining all of this, we knew [it would] be important to build a culture of experimentation," said Adrian. "It's not enough to build models in a lab setting or just on your own computer. You also need to be able to test in the field, get iterative feedback, let the user interact. The business has to be comfortable with testing things and things maybe not working. But as you create this culture, it increases the level of adoption as you push things into production." 
_____
Want more details? This recap isn't comprehensive, by any means, and within the talk, Adrian shares much more valuable insight and goes deeper into the work. To watch his talk in full, register for free here and receive a link via email for access to this and all others Demystifying Data Science talks. 
*Adrian is now the Head of Data Science at Enterprise Holdings.
---