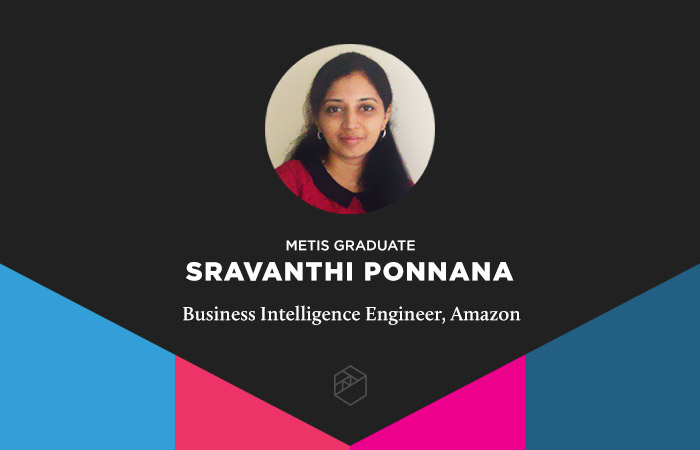 While working as a software engineer at a consulting agency, Sravanthi Ponnana automated computer hardware ordering processes for a project with Microsoft, attempting to identify existing and/or potential loopholes in the ordering system. But what she discovered underneath the data caused her to rethink her career.
"I was surprised at the wealth of information that was underneath all the unclean data that no one cared to look at until then," said Ponnana. "[The project] involved a lot of research, and this was my first experience with data-driven research."
At that point, Ponnana had earned an undergraduate degree in computer science and was taking steps toward a career in software engineering. She wasn't familiar with data science, but because of her newly piqued interest in the consulting project, she attended a conference on data-driven techniques for decision making. Afterward, she was sold.
"I was determined to become a data scientist after the conference," she said.
She went on to earn her M.B.A. in Data Analytics from the Narsee Monjee Institute of Management Studies in Bangalore, India before deciding on a move to the United States. She attended the Metis Data Science Bootcamp in New York City months later, after which she got her first role as Data Scientist at Prescriptive Data, a company that helps building owners optimize operations using an Internet of Things (IoT) approach.
"I would call the bootcamp one of the most intense experiences of my life," said Ponnana. "It's important to build a strong portfolio of projects, and my projects at Metis definitely helped me in getting that first job." 
But a move to Seattle was in her not-so-distant future, and after 8 months with Prescriptive Data, she relocated to the west coast, eventually landing the job she has now: Business Intelligence Engineer at Amazon.
"I work for the supply chain optimization team within Amazon. We use machine learning, data analytics, and complex simulations to ensure Amazon has the products customers want and can deliver them quickly," she explained.
Working for the tech and retail giant affords her many opportunities, including working with new and cutting-edge technologies and working alongside some of what she calls "the best minds." The scope of her work and the chance to streamline complex processes are also important to her overall job satisfaction.
"The magnitude of the impact that I can have is something I like about my role," she said, before adding that the biggest challenge she's faced so far also comes from that same sense of magnitude. "Coming up with accurate and feasible findings is definitely a challenge. It is easy to get lost at such a huge scale."

Soon, she'll be taking on work related to identifying features that could impact the total fulfillment costs in Amazon's supply chain and help quantify the impact. It's an exciting prospect for Ponnana, who is enjoying not only the challenging work but also the data science community available to her in Seattle, a city with a growing, booming tech scene.
"Being the headquarters for companies like Amazon, Microsoft, and Expedia, that invest heavily in data science, Seattle doesn't lack opportunities for data scientists," she said.
_____
Interested in learning more about the Metis Data Science Bootcamp? Check it out!
---