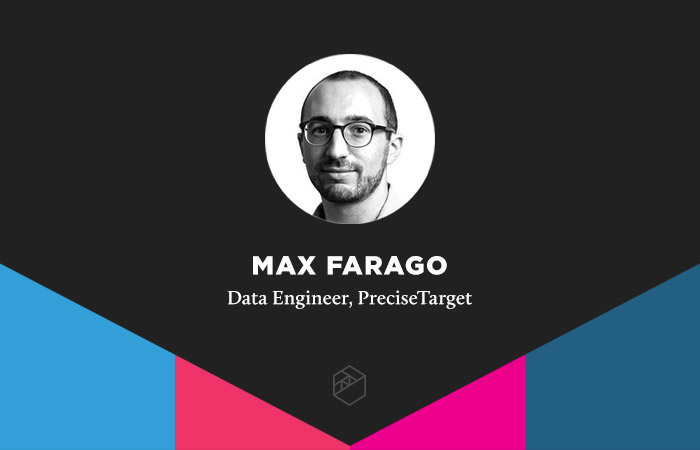 This post was written by George McIntire, a graduate of the Metis Data Science Bootcamp, former freelance journalist, and current Data Science Instructional Associate at General Assembly.

_____

Like many Metis alumni, Max Farago came from a career quite different than data science. He worked for nearly four years as a lawyer – even running his own practice – and is now a Data Engineer at PreciseTarget, where he's one of two people with a data background at the retail-oriented startup.
Farago's day-to-day work involves wearing multiple hats due to his data expertise. One of his most important tasks is overseeing the collection and munging of data.  
"We have a pipeline that takes raw retail data and transforms it in a few ways, ultimately visualizing it in a single-page web app. We're constantly adding data from different sources, which means new edge cases are always emerging," he said. "When I'm not helping with that, I'm working on projects focused on manipulating that processed data."

Before making the switch to data science, being a lawyer was satisfying to a certain degree, but not entirely. Farago was bogged down with office work and didn't appear in court as much he would have hoped. And while running his own practice, income stability was a persistent problem.

In 2015, it dawned on him that it was time to make a career change. He began to consider pivoting toward data science, in part because he possessed considerable programming skills and was versed in C, C++, Java, Javascript, and HTML/CSS. Farago had been programming since he was a kid and recalls when Javascript was first released. His skillset went a long way in helping him transition to data science, but his mathematical abilities were rusty, having not been exercised in a decade.

He officially quit his job the following year and spent the next several months brushing up on his stats skills while also learning Python in preparation for Metis. His goal entering the bootcamp was to make an absolute shift into data science (not to become a lawyer who uses data science).

But he left room for some overlap throughout the bootcamp. Farago was able to apply his legal knowledge to projects. For an NLP project, he used topic modeling to find themes in court opinions, and for his final project, he created a real-time legal advice web app called Pocket Lawyer, which matched user questions about legal issues to relevant answers and articles.

Now at PreciseTarget, he's working on building a multi-class classifier with NLP. The goal of this project is to match each clothing item with its correct category on a web app.

"Our data spans a really large and diverse set of categories, so categorizing the data accurately has been challenging," explained Farago. "Even if your model is 99% accurate it isn't really good enough. Despite that score, the mistakes are very noticeable because you're potentially putting a pair of men's briefs in the toddler's shoes section every hundred items, and a viewer flips through a few hundred items on an average visit."

These sorts of challenges keep things interesting for Farago, who says he has absolutely no regrets about the career switch and that he has everything he wants out of his current career.

_____

Curious to learn more about our Data Science Bootcamp? Check it out here!
---