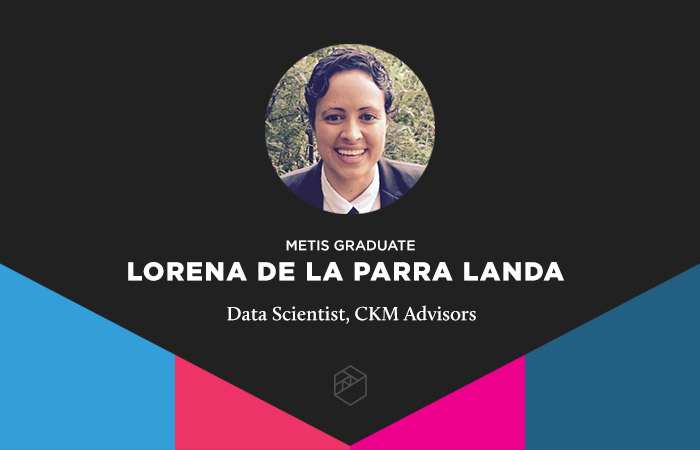 Lorena De La Parra Landa's career spans the globe – literally. After graduating with a degree in International Relations from Fundación Universidad de las Américas Puebla in Mexico, she served as a Peace Corps volunteer for three years in Togo and South Africa, where she was focused on developing and executing NGO trainings on topics like strategic planning, financial systems, program development, and more.

In the years after that formative experience, she set off on a career in international development, working for nonprofit organizations with causes ranging from disaster relief in the United States, hunger eradication in Latin America, and education reform in Haiti. In each of her roles, she focused on asking questions like, "What are we doing?" "What can we do better?" and "How are we keeping track?"

These questions, along with being an inquisitive person in general, are fundamental to success in data science, a field she began feeling tugged toward as the years went by, even while experiencing a high level of professional and personal fulfillment out of her then-career in international development.

"I started getting more into the quantitative side of things, especially when I started to see new, accessible technologies coming out," said De La Parra. "So I started digging in and found all these free online classes, and that's how I started getting involved with data science, by just teaching myself."

But eventually, she got tired of teaching herself online – a method that can be effective in some ways but daunting in others. She applied to Metis, got in, and entered the bootcamp in New York City, fully knowing it would change the course of her career in a couple of significant ways. She knew she'd likely become a data scientist and she knew she'd likely transition out of international development, as it tends to lag behind the for-profit sector when it comes to technology use and advancement.

After presenting her final project at Metis Career Day – an event at the end of each bootcamp during which hiring partners attend to see presentations and network with students – she was contacted by someone from the data science firm CKM Advisors and was later hired as a Data Scientist. CKM's mission is to leverage the expansive world of data science for business insights, boasting a slew of clients in various industries, which is a huge perk in and of itself, according to De La Parra.

"You get your hands dirty with different data and tools, and that's exciting," she said. "You spend a few months with one client, but in the next round, you're with another client, and their problem is completely different, so you're not just using the same technologies over and over. I'm very excited about the diversity of projects, data, and people I get to interact within the firm."

Projects are tackled in teams made up of data scientists and business analysts, which is a great way to learn on the job, according to De La Parra. She's constantly working side-by-side with others, including many who are more experienced than she is who can help her along the way with technical tasks, how to use new tools, and how to elicit insights.

"We are looking at data for the most part during our work days, but we also sit in meetings and present our findings, and try and figure out how we can best show clients how they can transform our insights into actual action," she said. "It's something that really fascinates me."

Even though she's only been on the job for a few months, she's looking for ways to tie aspects of her former career into her new one, bridging the gap between her nonprofit work and the more advanced data-driven work being done in the for-profit sector. She's been in talks with members of the organization about starting a committee that uses data science and their talented team to partner with organizations that tackle social issues.

Whether surrounded by data and challenges related to a specific cause or helping a business streamline its processes and improve its overall impact, De La Parra is no stranger to the idea of nearly drowning in data while figuring out the best solution for surviving and flourishing. Her advice to any incoming Metis student is, quite simply, to dive right in.

"At Metis, you're completely surrounded by information and data, and are forced to figure it out," she said. "I think that's one of the most important things you'll experience while there – that you're submerged in data, but that you are also very capable of swimming.'"
____
Interested in learning more about the Metis Data Science Bootcamp? Check it out! 
---