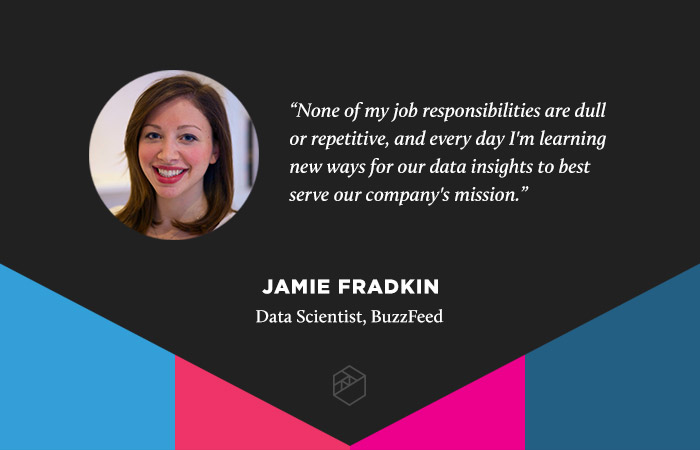 Jamie Fradkin's work as a Data Scientist at BuzzFeed is applied to optimizing viral posts that you've probably read and shared hundreds (or more) times.
"My team and I provide analytics to inform writers, video producers, and publishers how our content is performing on our website and app, along with various social media platforms. Our goal is to tighten the feedback loop between content creation and audience consumption," she said in a recent interview with Metis. 
But the science of online virality is not an exact science. It's difficult to know precisely which posts will take off online, ripping through the digital landscape and spreading to phones, tablets, and laptops.
"One challenging component of modeling and analytics at BuzzFeed is that it can be tough to predict which pieces of content will be mega-viral. We often learn from past successes and strive to create content that our audience can identify with and share as much as possible," she said.

Before she knew exactly what she wanted to do in her career, she naturally gravitated toward technical, quantitative disciplines, which led her to double major in Biomedical Engineering and Applied Math at Johns Hopkins. She worked as an engineer for a medical device company for a year post-graduation but soon realized she wasn't leveraging her education in statistical analysis as much as she anticipated and desired. It was around this time she became aware of some emerging industry options.

"I read about the growing fields of data science machine learning and realized they were becoming a pillar of analytics in a variety of different industries and companies," she said. "The opportunity to get involved in this area was too exciting to pass up, and I knew it would be a great fit for my skills and interests."

She attended the Metis Data Science Bootcamp in New York City with the goal of boosting her statistics skills and learning about the modeling tools and methods essential to insightful data science.

"Bootcamps are the most efficient, practical, and rewarding route to embark on a career in data science," she said. "They cater to students from all backgrounds and provide sufficient pre-work so that everyone comes in with the required knowledge base for the rest of the curriculum." 

Now at BuzzFeed, she uses Python, Pandas, SQL, matplotlib, and a variety of NLP tools for all the data acquisition and analytics. Data scientists at BuzzFeed also uses a variety of internal learning tools and dashboards used to monitor the performance of the content. She used many of these same tools on her final project for Metis, which focused on text analysis to determine which components of binge-worthy Netflix shows hooked viewers most. This project "certainly aligns well with BuzzFeed's strategy," she noted.

The strategy, coupled with a culture of constant experimentation and learning, inspires her and her team and consistently lends itself to an overarching desire to solve problems and exceed expectations.
"I'm fortunate to work with people in many different departments," she added. "None of my job responsibilities are dull or repetitive, and every day I'm learning new ways for our data insights to best serve our company's mission."

_____

Curious to learn more about our Data Science Bootcamp? Check it out!
---