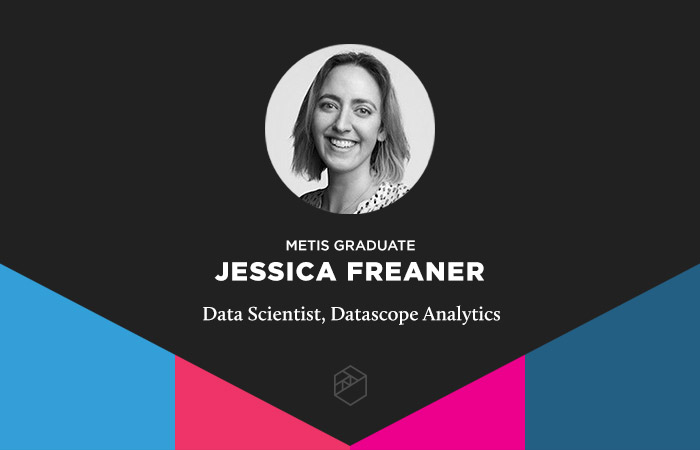 Since this article was written, Jessica has moved on to new, exciting roles in data science. Check out her LinkedIn profile for details.
Sometimes things fall into place as they seemingly should. While doing research on various bootcamps back in 2014, looking to transition out of her career in trade finance, Jessica Freaner came across Metis and was drawn to the program based on the involvement of Datascope Analytics. The Chicago-based data science consulting firm, with whom Metis has an ongoing partnership, was instrumental in developing the bootcamp curriculum and taught the first two cohorts in New York City, including Freaner's.

"I stumbled across the Datascope Analytics blog and pretty much stayed up all night reading the majority of it...and I was sold," she said. "That was kind of what helped tip me over, just the way they approached things and the way they communicated it. It was really appealing."
At that time, Freaner wasn't even entirely sure what data science was – and most other people weren't, either. It was a relatively new term in popular vernacular that represented a new way of collective thinking about a wide range of traits and skills combined to solve data-related problems. She took the leap in large part because of her positive impression of Datascope. 
Freaner graduated from Metis in September 2015. Throughout the bootcamp, she'd gotten to know the instructors well, and had come to deeply appreciate their approach to data science, with an emphasis on projects and communication. Cut ahead to 7 months later, after a productive stint as a data scientist consultant with IBM Advanced Analytics and Watson Experience, when she's hired by Datascope Analytics to be a Data Scientist.

"When Datascope reached out to me, when they were ready to hire and they were looking to grow their team, it was a really easy decision even though it involved a relocation to a new city, to Chicago," said Freaner, a native of the greater New York City area. "It was easy not only because of the kind of work environment I was going to be part of, but also the challenges and interesting work that I was going to be able to participate in. And it's been great."

Datascope has hired and built a small, tailored team of highly skilled data scientists who are for hire. They work with clients spanning a variety of industries, meaning they have to remain agile and adaptable to new topics, concepts, personalities, and goals based on the given client and project.

"We get to wear many hats here, which is really interesting because you get to go into different modes," she said.

But no matter the mode or project, communication reigns as the supreme skill to master, according to Freaner. When working with clients, it's vital to communicate realistic expectations to them in terms that make sense to all.

"Sometimes it'll happen that you get results that are suboptimal, like not exactly the dream that the client was going for. Really being aware and conscientious of communicating that possibility is one of the things that's really important," said Freaner, before adding that setting expectations, and communicating in an accessible way, can often lead to the positive result of over-delivering, which is the goal every time.
Beyond client projects, staff data scientists like Freaner are involved with running and growing the Datascope business itself. This includes project management large and small, presenting at conferences, mentoring new hires, and a current project: creating a comprehensive data and ethics manual for external use.

Her passion for data science runs deep, as proven by her involvement in the industry even outside of the job. She routinely goes to data and tech Meetups throughout Chicago, and sometimes presents at them, as well.

"It's a really great way to build your network, to give back to other people, and to learn more about what's going on," she said. 

This emphasis on networking is something she says she picked up while at Metis, and not surprisingly, it also aligns with the work culture put forth by Datascope. As with anything, the results often match the inputted effort, and she advises any incoming bootcamp student to put in the maximum in order to get the most out of the intense, potentially formative, experience.

"You really do get what you put into it," she said. "It seems like a long time, 12 weeks, but really, it goes by in a flash."
_____
Interested in learning more about the Metis Data Science Bootcamp? Check it out!
---