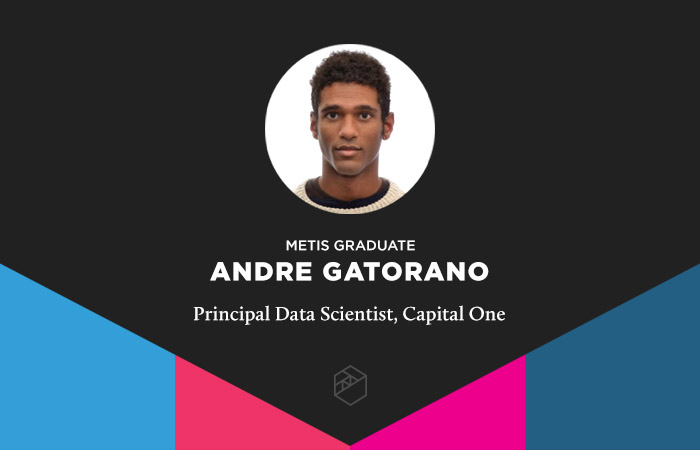 This role is different for Andre Gatorano – and that's a good thing. He's now a Principal Data Scientist at Capital One, where he enjoys the fruits of the company's noticeably strong commitment to a comprehensive data strategy.

"My manager, my manager's manager, and my manager's manager's manager are all data scientists. My director and the VP are data scientists," he said. "Two-thirds of our corporate mission right now internally is related to data science or data engineering, and that really changes the conversations, which are about data science and providing helpful products or meaningful models instead of pushing out half-understood, vague goals."

Though data science is now a well-established field, it's still a growing one. Not all companies boast large data teams, and many don't yet have a sound strategy concerning how to best utilize the massive amounts of data pouring in. In his previous role, as a data scientist at a startup retail website, this could sometimes be an issue, as management didn't fully understand what he was doing or all that he was capable of. But in his current role, where he's been for the last seven months, that's not the case. 

"At Capital One, I'm leveraged very efficiently. It's a very low-stress environment, is what I would say," he said. 
Before these data science roles, it took Gatorano time to fully understand the capacity of data and realize his potential within the field. 

"I had experienced an enormous amount of change in my interests and career pursuits before reaching data science," he said. "Upon reflection, the only thing holding them all together was my interest in the problems that data science gives you the tools to solve."

Those career pursuits included being a bioengineer who ended up working in a genomic cancer research lab and working at the San Diego Supercomputer Center analyzing and visualizing huge data sets involving international torrent use. During that time, he came to find that the data he worked with "felt powerful" — and it was addicting. 

He attended the Metis Data Science Bootcamp in New York City in order to dig deeper into that feeling, honing his data skills, learning new concepts about the expanding field, and networking with his cohort. Afterward, he took the aforementioned startup job, where his overarching goal was to help the company understand its customers better based on data.

Now at Capital One, he works within the customer experiences team on projects that involve converting image to text, improving handwriting recognition, and creating models to identify customers' wants and needs, among other things. His attitude toward this role (and any role he's ever had) is rooted in an innate, unending curiosity and in being willing to admit he doesn't know how everything works. 

"I just approach it like: 'How does this work? Let's find out,'' he said. "I find most things extremely interesting...and I like to mix the academic and the business. I'm not afraid to read papers. I'm willing to present in front of a hundred people. It leads to me being well prepared, and that's where I get confidence in my work." 

While it might seem counterintuitive to gain confidence by admitting you don't know it all, it's precisely that type of attitude that leads to an openness to learning new things and being likely to get along with peers who are happy to help and teach and share their expertise. In his specific case, most recently, Gatorano has had to adjust to working within a large corporation with high regulatory standards after time as the only data scientist on a staff at a fast-growing, but still small, startup.
Knowing that he can continually learn, no matter what challenges come or what the role brings, ensures his on-the-job confidence stays in tact. 
"Once you're working, you don't want to feel intimidated by an area of data science," he said. "You can always learn more about something once you're on the job."
 _____
Interested in learning more about the Metis Data Science Bootcamp? Check it out! 
---