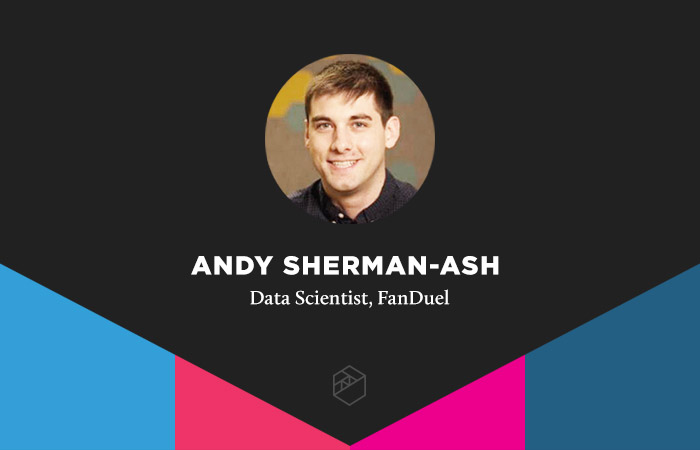 This post was written by George McIntire, a graduate of the Metis Data Science Bootcamp, former freelance journalist, and current Data Science Instructional Associate at General Assembly.
_____

Before he'd even heard of data science, Andy Sherman-Ash was employing the powers of artificial intelligence in his career as a professional poker player. He taught himself how to code by crafting a neural network-based poker AI that used the machine learning software Weka.

After internet poker was banned in the United States, he moved to Montreal to continue his career, and in the process, also continued training a machine to play poker. He realized he'd become a better player by teaching the machine how to play but hadn't yet achieved his desired goals for the actual machine itself.

"It dawned on me that I didn't really know what I was doing or how to make it better," he said.

Additionally and simultaneously, Sherman-Ash began to "grow weary of the inevitable swings poker brings," as he put it, and a relative suggested he look into technical bootcamps based on his interest in, and natural knack for, machine learning and coding. He attended Metis in New York City before landing his current role as a Data Scientist at FanDuel, the second largest daily fantasy sports company in that industry.

"[FanDuel] is a natural fit for me given the intersection of data science, skill-based competition, and sports statistics," said Sherman-Ash, who also holds an economics degree from West Virginia University. "I like that I've been given a lot of freedom to create models and explore different aspects of data science."

The company's built-in culture gives him license to roam the world of daily fantasy sports data, where he wields his analytical tools to derive insights. He isn't confined to working with a certain type of data or modeling and regularly applies both unsupervised and supervised learning techniques, recommendations, and time-series modeling. He works within a relatively small data science team that's using every aspect of the discipline they know, all the while trying to learn more as they go. 

"We're lucky to have an excellent data engineering team that maintains our database and ETL pipelines, so we can focus on forecasts, modeling, and analysis," he said.

Though like any job, it's not without challenges. Time is a big one, as well as the related challenge of determining when to use which model. 

"We stand on the shoulders of giants," said Sherman-Ash. "All of these complex algorithms are already written, optimized, and open-source, but because the tools have become so powerful and easy to use, understanding when to use which model can be the hardest part."

Sherman-Ash largely credits his final project at Metis with helping him land his first data science gig. In it, he predicted fantasy sports performances of NBA players, enabling users to create custom, optimized daily fantasy sports lineups – and it could not have been more applicable to his current employer.

His portfolio of projects, along with the skills learned throughout the bootcamp, helped fill his employment gap, and led him to FanDuel, where he's happily blending many interests and talents into one role. 

"In a sense, I went from being broke and unemployed to landing my dream job in six months," he said. "I felt like I needed a bridge between being self-employed and being on the job market. Sometimes employers are afraid of a resume gap and wonder if your skills will translate, but the bootcamp gave me an opportunity to build a portfolio and become more job-ready."

_____
Interested in learning more about the Metis Data Science Bootcamp? Check it out!
---