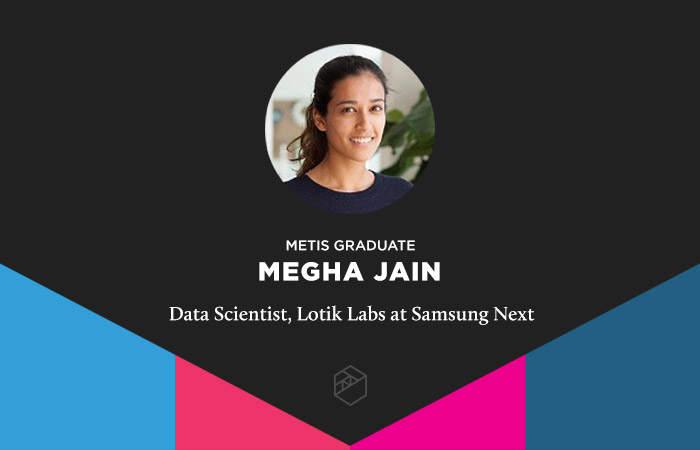 Since taking a formative environmental science course in high school, Megha Jain has had her sights set on working in environmental policy. 
"It's always been a fascinating area for me because it combines many different fields, from the psychology of how humans interact with and value intangible goods, to risk communication and the strategies used by scientists and politicians, in addition to the environmental and social justice components," she said. 
As she moved on to the University of Pennsylvania, where she studied Sustainability and Environmental Management, she didn't necessarily envision her future career having such a direct tie-in to data science – for no other reason than being unaware of how the two fields could blend and push one another forward. But after graduation, while a research assistant with the Urban Green Council, she was assigned to a project with the New York City Mayor's Office of Sustainability to analyze buildings' energy and water use. In order to facilitate the analytics that her team was working on, she taught herself how to use Python, which sparked a deluge of realizations about the many powerful data science tools that could help people in her line of work.

She began looking into ways to expand her data science skill set and decided to take the Metis bootcamp in New York City, where she ran into continued exposure to various aspects of the complex field. Her final bootcamp project used natural language processing to understand how the conversation around climate change has evolved over time, and whether there were any regional differences in how the conversation was portrayed across the U.S.

She's now a Data Scientist with Lotik Labs at Samsung Next, a company with an environment-first approach, boasting a smart water system of wireless sensors that provides point-of-use water monitoring to track usage and detect leaks. At Lotik, Jain's two trails of education come together and complement one another.

"I was really excited to take this position because it combines my environmental background with an interesting application of data science," said Jain. "It's been a fantastic experience so far, allowing me the opportunity to dive deeper into machine learning and also to explore other fields, such as signal processing, hardware/IoT, and software engineering."

Her current responsibilities center on developing a model that can predict water flow based on pipe vibrations. The idea is to create a low-cost alternative that allows building owners and tenants to monitor water usage and identify leaks at point-of-use (i.e. sinks, toilets, and other plumbing fixtures). While working on that project, she's also thinking ahead.

"Some of what has been fun – and what I look forward to continuing to do – is looking at how similar types of problems are being solved in the world of image recognition and finding ways to apply those methods to our own task," she said. "We have seen some promising results from that kind of experimentation so far, so I'm looking forward to researching to see what else we can learn."

This ambitious approach to her work ties into her overall attitude about her time at Metis, which she regarded not as a means to an end, but as a starting point.

"Data science is a much more vast and quickly growing field than I realized when I started at Metis," she said, before adding this bit of advice to incoming bootcamp students: "Take what you can from the bootcamp, and get excited for what is going to be a lifelong journey of learning."
_____
Interested in learning more about the Metis Data Science Bootcamp? Check it out! 
---