Last month, we had the pleasure of hosting our 3rd annual Demystifying Data Science live online conference. Spread across two days, we saw over 3500 attendees tune in from 118 countries to learn about data science topics ranging from deep learning to data science best practices for business, and more. 
Day 2, specifically, was filled with talks and workshops geared toward an audience of Data-Focused Business Leaders and Practitioners. In this post, we'll briefly recap what happened on that day, including who spoke, what they discussed, and how you can access each and every recorded talk and workshop for learning on your own time. 

30-MINUTE TALKS
We began the day with a keynote address from Hilary Mason, General Manager of Machine Learning at Cloudera. She gave a riveting talk about Building Effective Data Products and compelled the audience to listen closely as she went over what makes an enterprise product great, how to capitalize on opportunities for data product innovation, how to properly frame a data science problem, and so much more.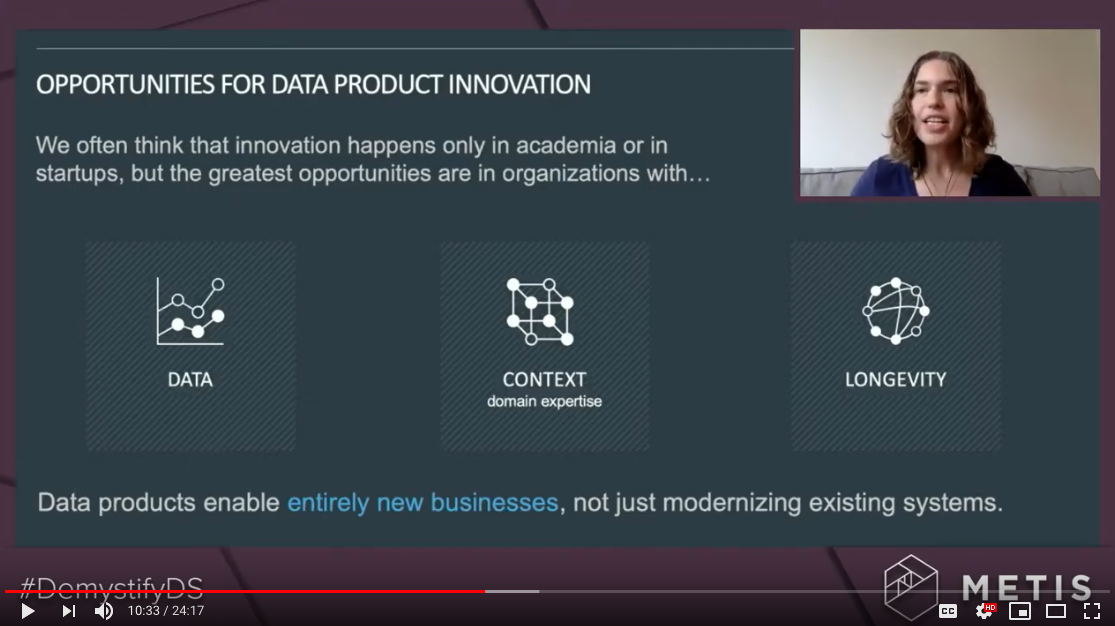 Hilary's talk led into back to back sessions from experts in data science and analytics.  Peter Guerra, North American Chief Data Scientist at Accenture on The Joys and Perils of Scaling AI used real-world examples from his career to illustrate the ups and downs of using AI for business. We also heard from Aubrey HB, Director of Advanced Analytics at Nationwide Building Society on The Challenges "Legacy" Companies Face in Becoming "Data-Centric". She emphasized the difference between "data-driven" and "data-centric", with a preference for the latter. 
Natalie Evans Harris, Co-Founder and Head of Strategic Initiatives at BrightHive, Inc. discussed The Ethics & Opportunities of Data Governance, including a dive into the challenges to achieving data-driven social impact and how to overcome them.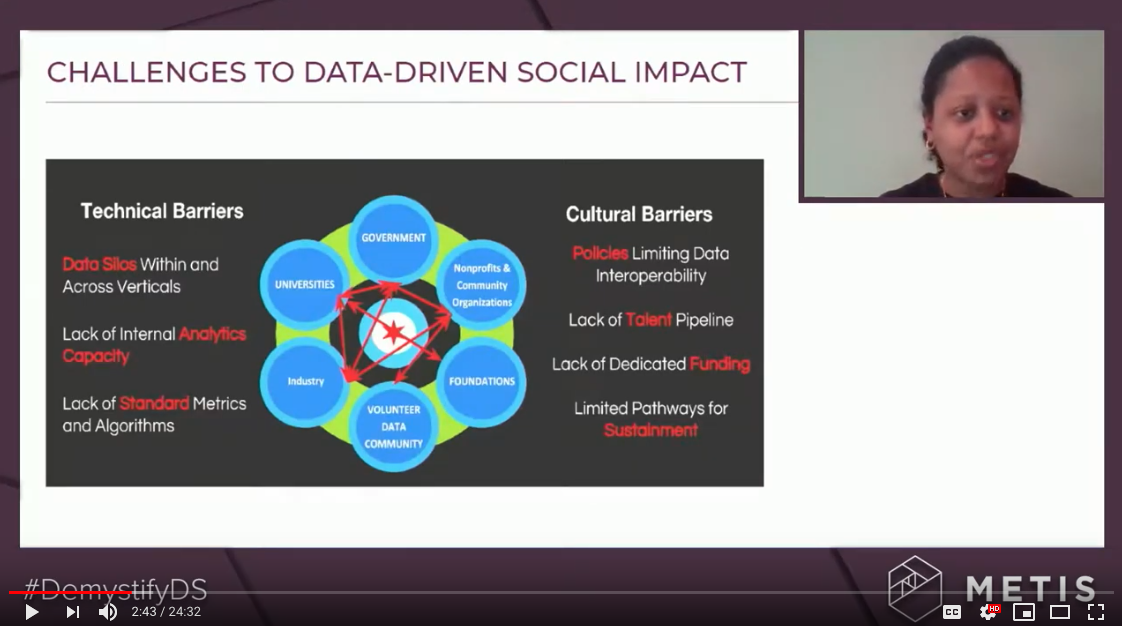 Usama Fayyad Ph.D., Chairman at Open Insights gave a talk called Licensed to Analyze? Who Can Claim to be a Data Scientist? based on insights from the most comprehensive research effort to-date on the data analytics profession, conducted by the Initiative for Analytics and Data Science Standards (IADSS). 
Adrian Cartier Ph.D., Director of Data Science at Bayer who presented Data Science Unleashed: From Cottage Industry to an Industry Force, a talk based on his experiences not only creating a data strategy but more importantly, driving sustainable digital and business transformation.
Atif Kureishy, VP of Global Emerging Practices / AI & Deep Learning at Teradata discussed Retail Vision: Applying AI to Understand Customer Behaviors, exploring emerging approaches for improving retail operations. 
Tom Schenk Jr., Director of Analytics at KPMG presented Smart Cities Doing Good with Data Science, providing real-life examples of how cities, towns, and the like can use data to improve the lives of their citizens. 

WORKSHOPS 
The team at Metis decided to try something new for #DemystifyDS 2019 by hosting workshops that focused on business-oriented topics with practical applications. Attendees could choose from workshops on Essential Data Literacy with Metis Sr. Data Scientist Kerstin Frailey, Practical Data Science Ethics with Metis Sr. Data Scientist Sophie Searcy, and a longer workshop on Practical Issues in Machine Learning with Metis Instructor Damien Martin. 

Want to watch some or all of the talks and workshops mentioned above? Anyone interested can access all recordings for free by simply signing up here. You'll receive an email within minutes with a link to all recordings. 
_____


Learn more about Metis Corporate Training, which enables businesses to capitalize on the talent already working under their roofs through on-site training on topics like Data Literacy, Machine Learning, Data Engineering, and much more. 
---