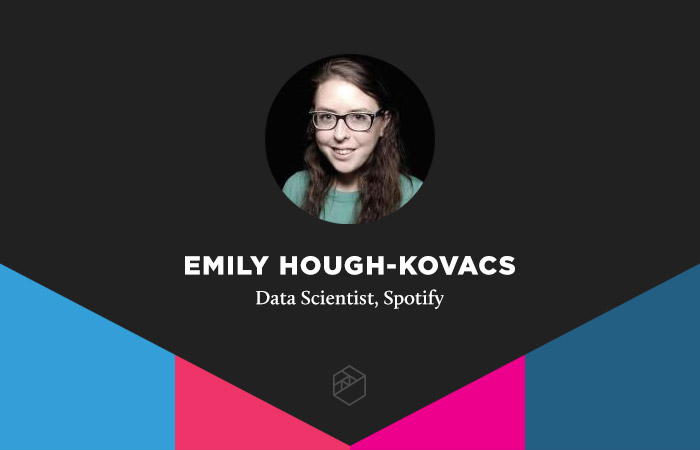 For Emily Hough-Kovacs, it's not just about the final product when it comes to music. It's about the intricacies of production, the record label dealings, and the entire creative and business process. Now a Data Scientist at music streaming giant Spotify, where she works on the Creator Products Insights Team, her daily work aligns with her interest in the creative music process from start to finish – and she's certainly not alone in that.
"Every single person here is very creative and passionate; they're problem solvers and are just very curious people, especially on Product Insights," she said. "They want to learn about why things are happening the way they are and to uncover any patterns that may exist underneath the surface. I think it's really great to work with people who are so inspiring and smart."
Her team develops and provides tools for artists, songwriters, producers, and other creators to use for building their careers, thus spurring growth within the music industry as a whole. Data plays a large role in how users discover music and connect with artists on Spotify – and vice versa – and those working with company data certainly have ample material to work with. As of March, 2017, Spotify boasted 50 million paid users with millions more using the service for free (monetized through paid ads), while its music catalog surpassed 30 million songs.  
It's impressive to note, then, that Hough-Kovacs is considered the company-wide expert on creator metrics.
"It still gets me every time, but coworkers tell me, 'Emily, you're absolutely the expert in in this specific area,'" she said. "I know more about creator metrics than anybody else at this company. It's amazing, but it can also be pretty overwhelming when you realize that you're the keeper of the secrets and you have to be good at communicating that."
And communication is key, according to Hough-Kovacs. During her time at Metis, she learned a mix of hard and soft skills – everything from machine learning to public presentation skills – and often finds herself leaning most on the latter.
"The nature of my role is about finding alternate solutions to problems, scoping out the landscape of what the problem is, finding the right approach, and then taking it and not being afraid," she said. "It's about having the confidence and the communication skills to really deliver and collaborate well."
For her final project in the bootcamp, she fused her natural interests in syntax, structure, and language with another passion – hip-hop music. A huge fan of rappers like Nicki Minaj, Drake, and Lil Wayne, as her fandom grew over time, she began to notice she wasn't just interested in specific artists but also in particular producers. DJ Mustard and London on da Track started to emerge as favorites who had imprints on various songs and albums she adored. She realized she enjoyed the work of these producers and was a fan of them "the same way there were certain artists I'm a fan of," she said. 
Her project dug into this, using the Genius API to investigate the relationship between artists and producers in hip-hop songs. But even before she started that project, about halfway through her time at Metis, a recruiter from Spotify reached out to her largely because of her frequent bootcamp and project updates published on her blog, Github, and LinkedIn. They spoke casually while she was still a bootcamp student and it inspired Hough-Kovacs to pursue a music-focused final project, which felt like a natural direction for her and certainly helped her in the interview process at Spotify.
"It showed I had an interest in not just the artist community, but the entire community of people who are creators, including the producers, and songwriters, and that constellation of people who put work in to make art," she said. "I didn't realize I was going to be on the Creator Team when I was working on my final project, but it's really nice how it matches up with the work I'm doing now."
_____
Interested in learning more about the Metis Data Science Bootcamp? Check it out! 
---