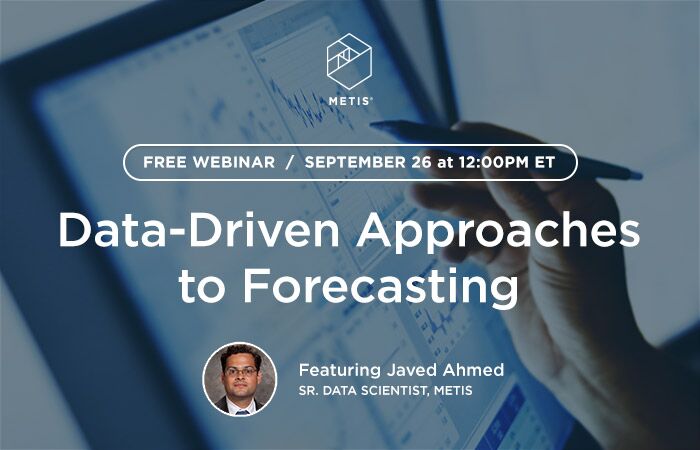 On Thursday, September 26th, you're invited to join us for a live (and free!) webinar on Data-Driven Approaches to Forecasting with Metis Sr. Data Scientist Javed Ahmed. 
Whether it's demand forecasting, supply chain management, or any other application, getting it right requires balancing the need for performance with the constraints of implementation and complexity. 
"Business leaders make decisions based on some type of explicit forecast. Data-driven approaches are promising, but not always easy to use," said Ahmed. "However, there can be huge upside: applied correctly, data-driven forecasting can lead to new and important insights."
So how do we know which forecasts to trust for our most critical business decisions? When stakes are high, big data and machine learning techniques can drive significant value across a wide variety of applications. However, finding the right approach is difficult. A tempting solution may perform well in one context but poorly in others, rely on unavailable information, or incur impractical costs.

This webinar is designed for business leaders, data science managers, and decision-makers seeking to understand how data-driven approaches can improve forecasting and planning. Javed will discuss examples of forecasting applications, explore some of the methodologies available, and address effective implementation. 
Attendees will leave equipped with the tools to:
Identify types of forecasting applications and issues 

Understand the range of techniques available and related challenges

Evaluate potential data-driven approaches for your business 

Measure performance in the context of business objectives
Javed is an economist and data scientist with experience in banking, finance, forecasting, risk management, consulting, policy, and behavioral economics. He enjoys exploring the intersection of econometrics, traditional analysis, and machine learning to develop useful operational insights.

He led the development of analytic applications for large organizations including Amazon and the Federal Reserve Board of Governors and served as a researcher with the Office of Financial Research (U.S. Treasury). He holds a Ph.D. in financial economics and an MA in statistics from U.C. Berkeley, as well as undergraduate degrees in operations management and systems engineering from the University of Pennsylvania. In his spare time, Javed enjoys tennis, squash, and reading.

_____


Learn more about Metis Corporate Training, which enables businesses to capitalize on the talent already working under their roofs through on-site training on topics like Data Literacy, Machine Learning, Data Engineering, and much more.
---